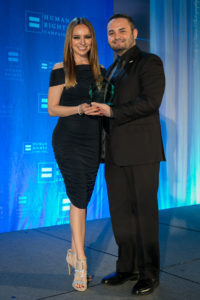 Univision News Anchor Heidi Renpenning and Human Rights Campaign – Arizona's Board of Governors & Co-Chair David Martinez III at the 2017 HRC Arizona Gala held at the Renaissance Phoenix Downtown Hotel on Saturday, February 25 – (Photo credit: Randy Bingham and Sophia Gonzales-Bingham of Randy's Vision Photography)
---
PHOENIX, AZ – FEBRUARY 28, 2017 – Univision Arizona received the 2017 Corporate Equality Award from the Human Rights Campaign (HRC) Arizona at the 2017 HRC Arizona Gala held at the Renaissance Phoenix Downtown Hotel on Saturday, February 25.
The award recognizes Univision Arizona's dedication to diversity and multiple initiatives to promote equality. These efforts include ensuring well-balanced media coverage in Spanish-language for the LGBTQ community, annual media training events to ensure journalists are familiar and comfortable using LGBTQ inclusive practices in reporting, and partnerships to provide televised phone banks on LGBTQ resources available to the large Spanish-language community in Arizona, among others.
Univision Arizona's work is done in collaboration with Univision's company-wide employee impact group for lesbian, gay, bisexual and transgender employees, Orgullo|Pride@UCI.
"We are honored to be recognized with the 2017 HRC Arizona Corporate Equality Award in our steadfast pursuit of embracing the diverse voices that exist in our community," said Roberto Yanez, vice president and general manager of Univision Arizona. "We remain committed, now more than ever, to celebrating equality and creating opportunities to raise awareness, generate action and drive impactful conversations about the issues that affect all members of Hispanic America."
Each year, HRC recognizes the efforts of community leaders and organizations with a shared belief in a world where members of the LGBTQ community are ensured of their basic equal rights, and can be open, honest and safe at home, at work, and in the community.
CONTACT: Yvette Pacheco 646.560.4879 ypacheco@univision.net @UCIPRTeam
###
---
UNIVISION ARIZONA RECIBE EL PREMIO A LA IGUALDAD CORPORATIVA 2017 DE LA CAMPAÑA DE DERECHOS HUMANOS EN ARIZONA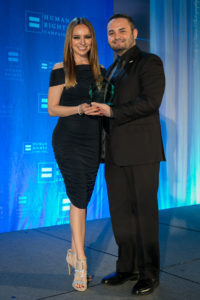 La presentadora de Noticias Univision Heidi Renpenning y David Martínez III, miembro de la Junta de Gobierno y codirector de la Campaña de Derechos Humanos de Arizona, en la ceremonia de gala de HRC Arizona 2017, realizada en el Renaissance Phoenix Downtown Hotel el sábado, 25 de febrero – (Fotografía por: Randy Bingham and Sophia Gonzales-Bingham of Randy's Vision Photography)
---
PHOENIX, AZ –28 DE FEBRERO DE 2017– Univision Arizona recibió el Premio a la Igualdad Corporativa 2017 de la Campaña de Derechos Humanos (Human Rights Campaign o HRC) de Arizona en la ceremonia de gala de HRC Arizona de 2017, que tuvo lugar en el Renaissance Phoenix Downtown Hotel el sábado, 25 de febrero.
El premio es un homenaje a la dedicación de Univision Arizona hacia la diversidad y múltiples proyectos para promover la igualdad. Estos esfuerzos incluyen, velar por una cobertura mediática equilibrada en español de la comunidad LGBTQ, la organización de eventos anuales de capacitación para asegurar que los periodistas conozcan y se sientan cómodos usando prácticas que incluyan a las personas LGBTQ en sus reportajes, y la formación de alianzas para transmitir por televisión llamadas telefónicas sobre recursos e información acerca de LGBTQ disponibles para la comunidad hispanohablante en Arizona, entre otros.
La labor de Univision Arizona se realiza en colaboración con el grupo de impacto Orgullo|Pride@UCI de Univision, un grupo conformado por empleados homosexuales, bisexuales y transgénero a nivel de toda la empresa.
"Es un honor para nosotros recibir este reconocimiento de la HRC por nuestro firme compromiso de acoger las diversas voces que existen en nuestra comunidad", dijo Roberto Yáñez, vicepresidente y gerente general de Univision Arizona. "Permanecemos comprometidos, ahora más que nunca, a celebrar la igualdad y crear oportunidades para generar conciencia, promover la acción e impulsar conversaciones que tengan impacto sobre los asuntos que afectan a todos los miembros de la comunidad hispana en los Estados Unidos".
Cada año, HRC otorga reconocimiento a los esfuerzos de organizaciones y líderes comunitarios que comparten el ideal de un mundo donde los miembros de la comunidad LGBTQ tengan sus derechos básicos de igualdad asegurados, y que puedan sentirse seguros en espacios abiertos y honestos dentro de casa, en el trabajo y en la comunidad.
CONTACTO: Yvette Pacheco 646.560.4879 ypacheco@univision.net @UCIPRTeam
###