The Award-Winning Univision Houston News Anchor to Host Univision Network's Top-Rated Newsmagazine Alongside Pamela Silva Conde Beginning March 13, 2017
MIAMI – FEBRUARY 24, 2017
Univision's award-winning newsmagazine "Primer Impacto" (First Impact) welcomes a new co-host: Michelle Galván will join Pamela Silva Conde at the anchor desk of the top-rated program beginning Monday, March 13, 2017. "Primer Impacto" airs Monday through Friday at 5:00 p.m. ET/PT, 4:00 p.m. CT on Univision Network.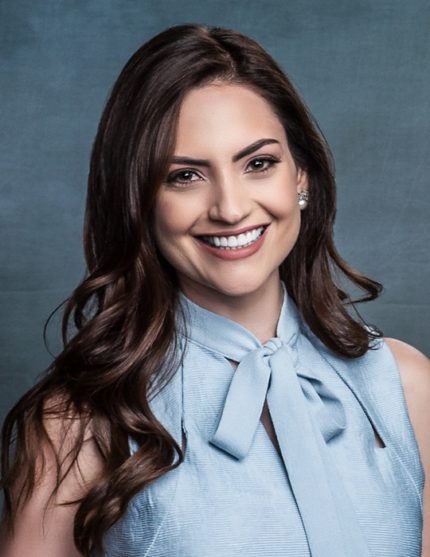 Galván comes to "Primer Impacto" from Univision Houston's television station where she anchored the 5:00 p.m. and 10:00 p.m. newscasts and served as Special Segments Reporter since 2012. During the November 2016 and the January 2017 sweeps, Univision Houston delivered the No. 1 early local newscast in the Houston area among Adults 18-49 and Adults 18-34. Galván's investigative reporting for the station earned her three Emmy Awards and six Emmy nominations between 2013 and 2016.
Prior to joining Univision Houston, Galván presented the international news segment for "Primero Noticias," a daily morning news program from Mexico's Televisa Network, and previously served as Anchor on Foro TV, a cable news network also owned by Televisa. She began her uninterrupted and highly successful career in broadcast journalism at TV Azteca in Monterrey, Mexico, from where she advanced to ESPN Latino and later to Televisa.
Galván graduated from Universidad TecMilenio in Monterrey, part of the Monterrey Institute of Technology and Higher Education, with a degree in Marketing. She also holds certificates in Journalism from the same university.
"Primer Impacto" made its debut in 1994 and has since maintained its place among Univision's highest rated programs. It is also recipient of some of the media industry's most prestigious honors, including dozens of Emmy Awards and an Edward R. Murrow Award.
Follow "Primer Impacto" via @primerimpacto, @michelle_galvan and @PAMELASILVA on Twitter and Instagram, and comment along with others on the "Primer Impacto" Facebook page.
Contact
Michelle Galván se une a "Primer Impacto" como copresentadora. La galardonada presentadora de noticias de Univision Houston conducirá el popular magacín de noticias de la cadena Univision junto con Pamela Silva Conde a partir del 13 de marzo de 2017
MIAMI – 24 DE FEBRERO DE 2017
"Primer Impacto", el galardonado magacín de noticias de Univision, le da la bienvenida a su nueva copresentadora: Michelle Galván se unirá a Pamela Silva Conde en la mesa de conducción del popular programa a partir del lunes 13 de marzo de 2017. "Primer Impacto" se transmite de lunes a viernes a las 5:00 p.m. ET/PT, 4:00 p.m. CT por la cadena Univision.
Galván llega a "Primer Impacto" desde la estación local de Univision Houston, donde fue presentadora de los noticieros de las 5:00 p.m. y 10:00 p.m. y reportera de segmentos especiales desde 2012. En las mediciones de audiencia denominadas "sweeps" de noviembre 2016 y enero 2017, el noticiero vespertino de Univision Houston ocupó el primer lugar de sintonía en el área de Houston entre Adultos 18-49 and Adultos 18-34. Los trabajos de periodismo investigativo realizados por Galván para la estación obtuvieron tres premios Emmy y seis nominaciones al Emmy entre 2013 y 2016.
Antes de incorporarse a Univision Houston, Galván presentaba el segmento de noticias internacionales de "Primero Noticias", un noticiero matutino de la cadena de televisión mexicana Televisa, y previamente fue conductora de Foro TV, el canal de noticias por cable de Televisa. Galván inició su ininterrumpida y exitosa carrera en el periodismo televisivo en TV Azteca en Monterrey, México, de donde avanzó a ESPN Latino y luego a Televisa.
Galván se graduó de la Universidad TecMilenio, parte del Instituto Tecnológico y de Estudios Superiores de Monterrey, con una licenciatura en Mercadotecnia. También obtuvo diplomados en Periodismo de la misma universidad.
"Primer Impacto" se estrenó en 1994 y desde entonces se ha mantenido de manera continua entre los programas de mayor sintonía de la cadena Univision. Ha sido reconocido con algunos de los galardones más prestigiosos de la industria mediática, entre ellos decenas de premios Emmy y el premio Edward R. Murrow.
Siga a "Primer Impacto" vía @primerimpacto, @michelle_galvan y @PAMELASILVA en Twitter e Instagram, y comente junto con otros en la página de Facebook de "Primer Impacto".
Contacto