Love is in the air at Univision Network with Valentine's Special "Cita con Cupido" (A Date with Cupid). Hosted by power couple Angelique Boyer & Sebastian Rulli, "Cita con Cupido" will air Friday, February 10 at 8 p.m. ET/PT (7 p.m. CT)
WHAT
Univision Network celebrates romance with an unforgettable Valentine's Day special "Cita con Cupido" (A Date with Cupid) showcasing Hispanic America's favorite celebrity love stories. Hosted by the it couple of the moment, Angelique Boyer and Sebastian Rulli, our audience will embark on a romantic voyage through the stories of telenovela characters who became real life couples, the crazy things people do for love, relationship advice from renowned therapist Dr. Nancy Alvarez and international speaker Dr. Cesar Lozano.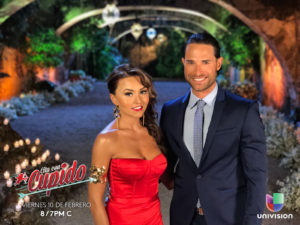 Viewers will enjoy interviews with Omar Chaparro, Lupillo Rivera, will learn more about Hollywood power couples, and how they got there, as well as tips for love on a budget and the connection between graphology and love from expert Maria Fernanda Centeno. Set in the picturesque town of Cuernavaca, this special is an ode to the greatest of all feelings: Love.
WHEN
Friday, February 10, 2017 at 8 p.m. ET/PT (7 p.m. CT)
WHERE
Univision Network
ADDITIONAL INFORMATION
"Cita con Cupido" will also be available via Univision Now, UCI's live streaming service of the Univision Network available on iOS, Android and the web.
Viewers can start the Valentine's celebration this Friday on social media by following the hashtag #CitaConCupido on Twitter and Instagram as well as on Facebook.com/Univision. For more information, please visit www.univision.com.
CONTACT
El amor está en el aire con el especial de san valentín "Cita con Cupido" en la Cadena Univision. Presentado por la pareja del momento Angelique Boyer y Sebastian Rulli "Cita Con Cupido" se transmitirá este viernes, 10 de febrero a las 8 p.m. Este/ Pacífico (7 p.m. Centro)
QUÉ
La Cadena Univision celebra el romance con un especial inolvidable del día de San Valentín "Cita con Cupido" presenta las historias favoritas de amor de famosos Hispanos. Presentado por la pareja del momento Angelique Boyer y Sebastian Rulli, nuestro público embarcará en un viaje romántico a través de las historias de amor de telenovela que han traspasado las fronteras de la pantalla chica a la vida real, las locuras que la gente hace por amor, consejos de relaciones de parte de la experta en el tema del amor la Dra. Nancy Alvarez y el conferencista internacional Dr. Cesar Lozano.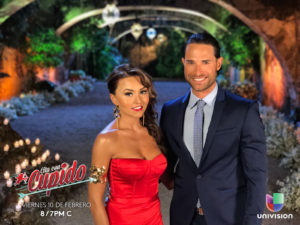 Los televidentes también podrán disfrutar de entrevistas con Omar Chaparro y Lupillo Rivera, conocer más sobre las parejas más poderosas de Hollywood y cómo llegaron allí, además de consejos para celebrar el amor con poco presupuesto, y la grafóloga Maria Fernanda Centeno nos explica como la escritura puede describir nuestra personalidad en el amor. Ubicado en la pintoresca ciudad de Cuernavaca, este especial es un homenaje al más grande de todos los sentimientos: el amor.
CUÁNDO
El viernes 10 de febrero de 2017 a las 8 p.m. Este/ Pacífico. (7 p.m. Centro)
DÓNDE
Cadena Univision
INFORMACIÓN ADICIONAL
"Cita con Cupido" también se podrá ver vía Univision Now, el servicio de streaming en vivo de la Cadena Univision de UCI, disponible en iOS, Android e internet.
Los televidentes pueden comenzar la celebración de San Valentín este viernes a través de las redes sociales durante todo el evento siguiendo el hashtag #CitaConCupido en Twitter e Instagram, como también en Facebook.com/Univision. Para más información, por favor visiten www.univision.com.
CONTACTO