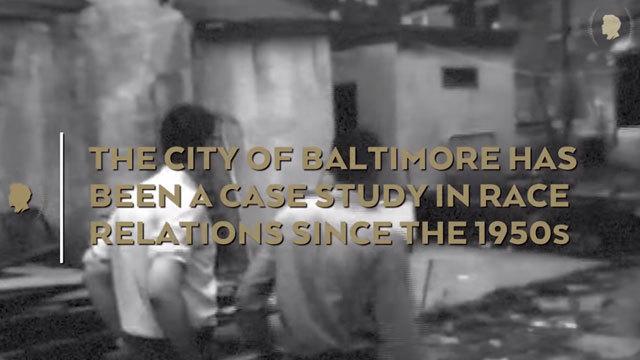 Peabody taps into its vast archive of footage for an exploration of black history and culture with The Root and Fusion
---
By: Corinne Grinapol
When the announcement of the creation of the Media Center at Peabody was delivered this past fall it made Peabody's extensive archive, the third-largest collection audiovisual content in the country, a key component of the center, along with a plan to create new programming using the deep resources found in its archive.
For Black History Month, the Media Center at Peabody is partnering with Fusion and The Root on the creation of four programs designed to explore and highlight different aspects of black history and culture in America.
The first piece in the series, Baltimore: Then & Now, available now on The Root, Fusion and on Peabody's site, looks at Baltimore's long history of racial tension and unrest, with clips of civil rights protests from the '60s juxtaposed against clips of the 2015 protests in response to the death of resident Freddie Gray while in police custody. The piece also looks at past attempts of addressing race relations, including footage of a weekly WJZ-TV series from the 1960s called Conversations in Black and White, which brought together black and white residents to talk about race and the city.
What the video demonstrates is an everything old is new again sense of the extent to which civil rights issues raised in Baltimore's past have gone unresolved. As author and Baltimore resident Dwight Watkins puts it to MSNBC's Chris Hayes in a segment featured in the video, "Freddie Gray was the tipping point, but there's a whole laundry list of systemic issues that brought these things about."
Subsequent videos include: Black Power and Creative Expression, which will showcase past footage of programming featuring black artists and performers; Storytellers: Giving African-Americans a Voice, which will look at the work of black directors and will include commentary from director and producer Stanley Nelson and The Root co-founder and chairman Henry Louis Gates Jr.; and African-American Narratives Today, which looks at how discussions about currently race play out and will highlight a conversation with comedy duo Keegan-Michael Key and Jordan Peele.
The partnership will extend past Black History Month, with additional videos coming out after February's quartet.
Watch the first segment here.
Source: Adweek