Because they truly believe in love "until death do us part"
New series premieres on Tuesday, February 14 at 9PM ET/PT (8PM CT)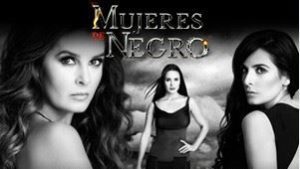 Mayrín Villanueva, Alejandra Barros and Ximena Herrera in UniMás' new crime mystery series, Mujeres de Negro
---
MIAMI, FL – FEBRUARY 8, 2017 – This Valentine's Day, UniMás invites you to discover the web of lies and deception built by three women who plot to murder their abusive husbands in hopes of living happily ever after – and they learn why death is only the beginning of their problems. Executive produced by Carlos Moreno, the series stars Mayrín Villanueva, Alejandra Barros, and Ximena Herrera, along with Arturo Peniche, Alexis Ayala, Diego Olivera, and Leticia Calderón.
The story features these women living in constant fear as the secret of their crime continues to haunt them, and they struggle to keep it from being exposed.  Their dream of a happy ending vanishes with the death of their husbands as they are left with more problems than they ever imagined. This dramatic tale will use dark humor to answer the age-old question, is it possible to begin again? And if so, at what cost? With a smile on their faces, three women say good-bye to their husbands at the dock. A few minutes after the men take off in their boat, it explodes in front of their eyes. Finally free to live their lives without their abusive husbands, the women hope this terrible "accident" opens the door to happiness… but instead, it leads to deception and fear as they struggle to keep their secret safe. Even in death, their husbands have created more problems than they did while alive.
"This engaging crime mystery series combines dramatic and suspenseful plot elements with strong female characters that will have our audience on the edge of their seats…and rooting for the 'bad girls'," said Lourdes Diaz, President of Entertainment, Univision Communications Inc. "We think this is the perfect Valentine's Day gift for drama lovers everywhere."
The series is also available via Univision Now, UCI's live streaming and on demand service of the Univision and UniMás Networks available on iOS, Android and the web. Fans are welcome to follow along on social media on Instagram and Twitter and via the hashtag #MujeresDeNegro and #ellosOnosotras, as well as comment along with others on Facebook.com/UniMas.
CONTACT: Candice Georgi (305) 471-4057 cgeorgi@univision.net @UCIPRTeam
###
---
LAS "MUJERES DE NEGRO" TOMAN CONTROL DE UNIMÁS EL DÍA DE SAN VALENTÍN
Porque ellas realmente creen en el amor "hasta que la muerte nos separe"
Nueva serie se estrena el martes, 14 de febrero a las 9PM Este/Pacífico (8PM Centro)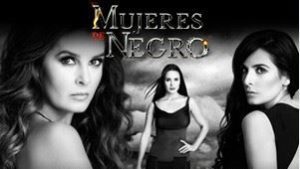 Mayrín Villanueva, Alejandra Barros y Ximena Herrera en la nueva serie de misterios policiacos de UniMás, Mujeres de Negro
---
MIAMI, FL – 8 DE FEBRERO DE 2017 – Este Día de San Valentín, UniMás te invita a descubrir una maraña de mentiras y engaños creada por tres mujeres que confabulan para asesinar a sus esposos abusivos con la esperanza de vivir felices para siempre, y que luego se dan cuenta que la muerte es tan solo el comienzo de sus problemas. Carlos Moreno es el productor ejecutivo de la serie protagonizada por las estrellas Mayrín Villanueva, Alejandra Barros y Ximena Herrera, junto con Arturo Peniche, Alexis Ayala, Diego Olivera y Leticia Calderón.
Es la historia de mujeres que viven en constante temor, pues el secreto de su crimen las atormenta sin cesar y viven en una constante batalla para evitar que se revele. Su sueño de un final feliz desaparece con la muerte de sus esposos, pues luego enfrentan más problemas de los que imaginaron. Este dramático relato usa humor negro para responder la antigua pregunta: ¿Es posible hacer borrón y cuenta nueva? Y si lo es, ¿cuál es el precio? Con una sonrisa en el rostro, las tres mujeres se despiden de sus esposos en el muelle. Minutos después de que los hombres salen en su embarcación, explota frente a sus ojos. Libres por fin de hacer su vida sin sus abusivos esposos, las mujeres esperan que este terrible "accidente" dé paso a su felicidad… pero en vez, las lleva al engaño y el temor, pues luchan por resguardar su secreto. Incluso muertos, sus esposos les han creado más problemas que cuando estaban vivos.
"Esta cautivadora serie de misterios policiacos combina elementos de una trama dramática y llena de suspenso con fuertes personajes femeninos, lo que hará que la audiencia permanezca al borde de su asiento… y se pongan del lado de las 'chicas malas'", dijo Lourdes Díaz, presidenta de Entretenimiento de Univision Communications Inc. "Pensamos que este es el regalo perfecto para todas aquellas personas amantes del drama en el Día de San Valentín".
La serie también está disponible en Univision Now, el servicio de streaming en vivo y a pedido de las cadenas Univision y UniMás de UCI, disponible en iOS, Android e internet. Los fans pueden seguir la serie en las redes sociales, en Instagram y Twitter, y vía el hashtag #MujeresDeNegro y #ellosOnosotras, además de comentar junto con otros en Facebook.com/UniMas.
CONTACTO: Candice Georgi (305) 471-4057 cgeorgi@univision.net @UCIPRTeam
###