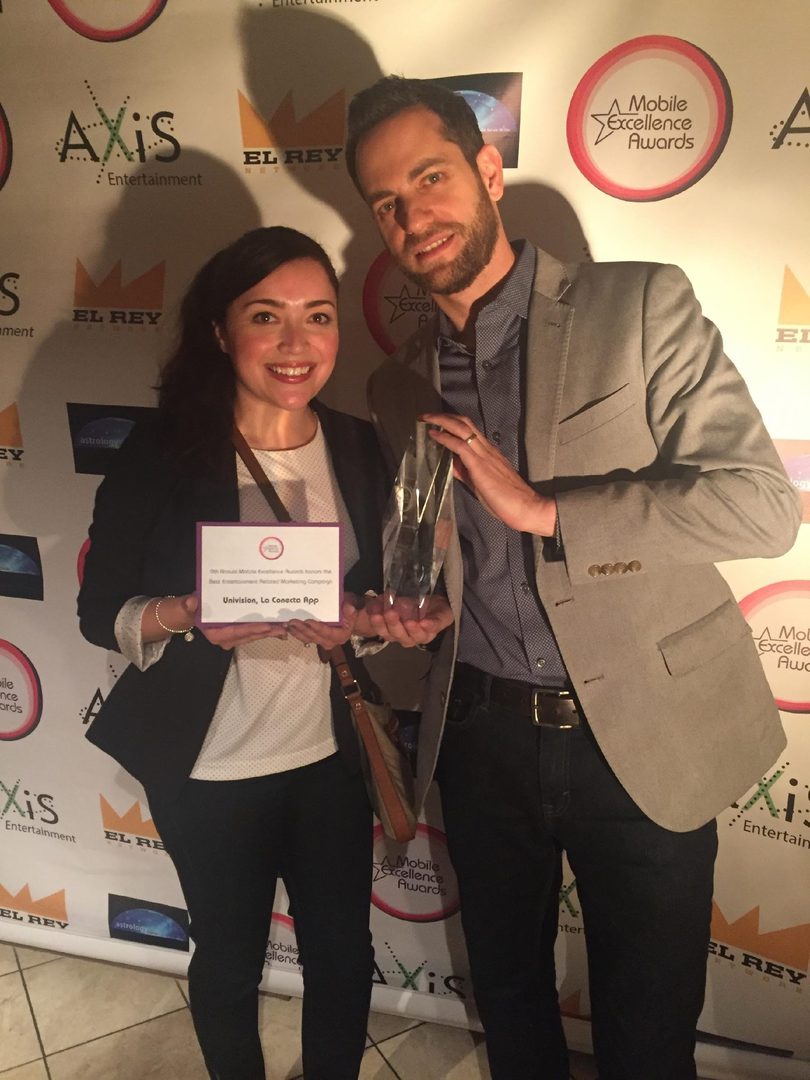 Jennifer Perri, director of Partnership Development and Multi-platform Strategy, and Steven Benanav, vice president of Content Partnerships
---
MIAMI – FEBRUARY 1, 2017 – Univision Digital, the digital division of Univision Communications Inc. (UCI), which includes the leading digital platforms serving Hispanic America, today announced it was bestowed a Mobile Excellence Award in the Best Entertainment Related Marketing Campaign category for the Univision Conecta App campaign promoting the hit music-reality based competition show, "La Banda."
The Univision Conecta App provides fans with an immersive and interactive second screen viewing experience. For "La Banda," the Univision Conecta App drove a cross-platform interactive experience that gave fans the opportunity to experience the show across their favorite social channels such as Twitter, YouTube, Snapchat Live Stories, Periscope and Facebook.
The 9th Annual Mobile Excellence Awards honors the 2016 Best of Mobile across entertainment, technology, media and marketing. Dubbed 'The Oscars of Mobile,' the awards celebrate achievements by companies and individual executives who have furthered the mobile industry and influenced how the world engages with mobile devices. "La Banda" made best use of viral marketing to enhance a brand's consumer awareness through mobile engagement, beating out MEC for "Mission: Impossible – Rogue Nation," Tecate's "Have a Champion in Your Corner" and "Kings of Fi$h."
The Mobile Excellence Awards ceremony was held Thursday, January 26, 2017, in the exclusive Soho House in Los Angeles, California. Leaders and global media outlets representing the mobile global industry attended the event.
CONTACT:
Julissa Bonfante
305-894-8635
jbonfante@us.univision.com
@UCIPRTeam
---
UNIVISION DIGITAL RECIBE EL PREMIO 'MOBILE EXCELLENCE' POR CAMPAÑA A TRAVÉS DE UNIVISION CONECTA APP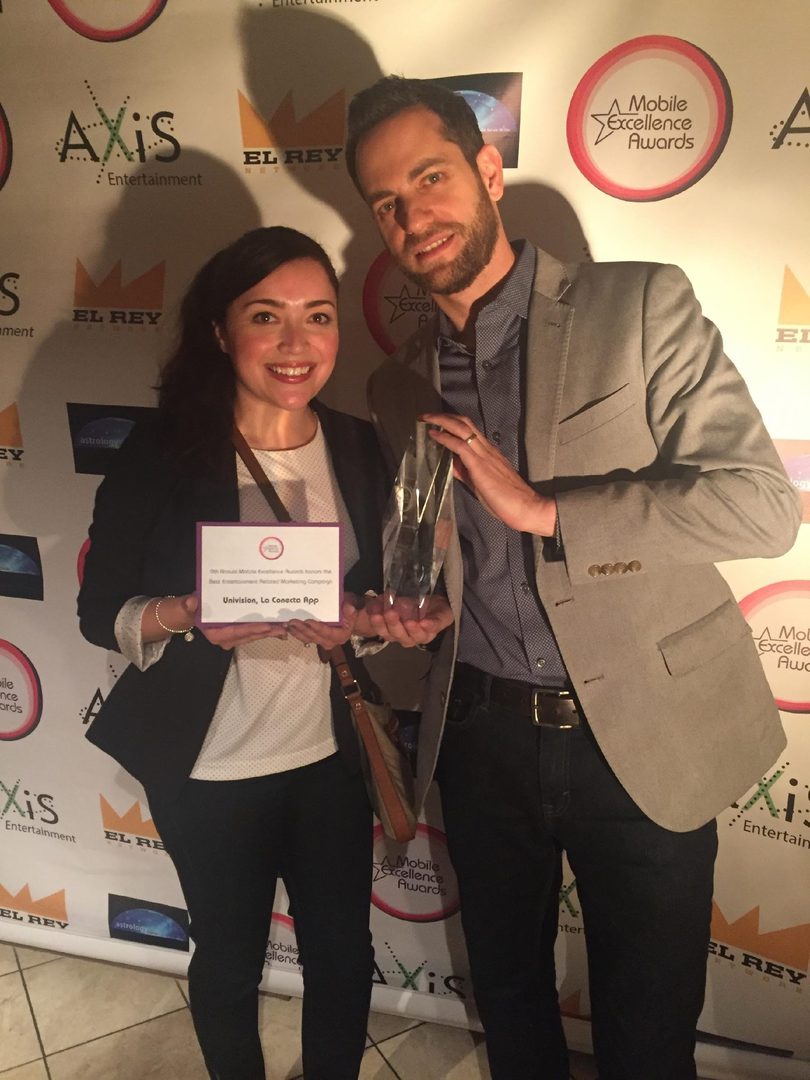 Jennifer Perri, directora de Desarrollo de Asociaciones y Estrategia de Plataformas Múltiples, y Steven Benanav, vicepresidente de Sociedades de Contenido
---
MIAMI – 1 DE FEBRERO DE 2017 – Univision Digital, la división digital de Univision Communications Inc. (UCI), que incluye las principales plataformas digitales al servicio de la comunidad hispana en Estados Unidos, anunció hoy que fue premiada con el Mobile Excellence en la categoría a la Mejor Campaña de Mercadeo Relacionada con Entretenimiento, por su campaña a través de Univision Conecta App que promovió la popular competencia musical tipo reality "La Banda".
Univision Conecta App proporciona a los fans una experiencia de inmersión gracias a una segunda pantalla interactiva. Para "La Banda", Univision Conecta App creó una experiencia interactiva en plataformas múltiples que les daba a los fans la oportunidad de experimentar el programa en todos sus canales sociales favoritos como Twitter, YouTube, Snapchat Live Stories, Periscope y Facebook.
La 9ª edición anual de los Premios Mobile Excellence Awards otorga reconocimiento a lo mejor en el 2016 en entretenimiento, tecnología, medios y mercadeo. También conocidos como 'Los Óscares del Móvil', los premios celebran logros de compañías y ejecutivos individuales que han propiciado el desarrollo de la industria móvil y alcanzado un impacto en la manera en que el mundo interactúa con dispositivos móviles. "La Banda" hizo el mejor uso de mercadeo viral para realzar la conciencia de marca por el consumidor a través de su dispositivo móvil, venciendo a MEC por "Mission: Impossible – Rogue Nation", "Have a Champion in Your Corner" de Tecate y "Kings of Fi$h".
La ceremonia de los premios Mobile Excellence Awards fue llevada a cabo el jueves, 26 de enero de 2017 en la exclusiva Soho House en Los Ángeles, California. Líderes y representantes de medios internacionales asociados a la industria móvil asistieron al evento.
CONTACTO:
Julissa Bonfante
305-894-8635
jbonfante@us.univision.com
@UCIPRTeam