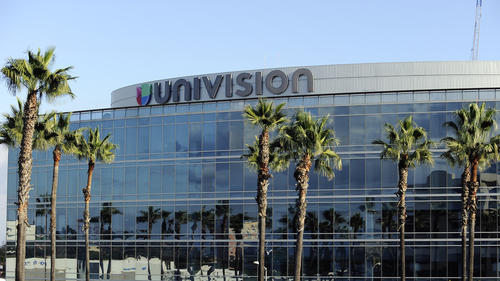 ---
By: Meg James and Esmeralda Bermudez
Latinos throughout Los Angeles were stunned Wednesday when they discovered their favorite Spanish-language television station, Univision's KMEX-TV Channel 34, had been taken off the air — replaced by a blue screen.
The station blackout came early Wednesday when Univision Communications Inc.'s tense standoff over carriage fees paid by cable operator Charter Communications escalated.
The nation's largest Spanish-language media company late Tuesday demanded that Charter drop Univision channels from its cable service. That left 2.5 million Latino homes nationwide without access to such popular broadcast networks as Univision and UniMas, as well the cable channels Galavision, El Rey and the sports outlet Univision Deportes.
Tens of thousands of customers in the L.A. region — which is the largest market for both companies — were subject to the outage as Charter provides its Spectrum service to more than 1.6 million homes in the region.
"This is a crucial news source so many of us depend on," said Miguel Luna of Westlake. "Taking it away is like telling the community, 'You don't matter. You're not worthy of receiving information.' "
Some community leaders, such as Father Richard Estrada of Church of the Epiphany in Lincoln Heights, began planning a campaign to take action. The priest, who on Wednesday was headed to an immigrants rights meeting with other clergy members, said he would ask others to write letters of complaint to send to Spectrum.
The blackout's timing couldn't be worse, he said, given the current political climate, which has many Latinos on edge.
"People are afraid and nervous of what [President] Trump will do next," Estrada said. "A lack of access to news and information will only make things worse. It makes you wonder, 'What's next? What will they take away next?' "
Univision's dramatic move — after months of attempts to start contract talks — comes as Charter and other pay-TV operators are struggling to hold the line on programming costs. There are several other blackouts around the country, including one affecting Frontier Communications customers in Portland and Seattle who have lost easy access to their ABC-affiliated station, owned by Sinclair Broadcast Group.
It was unclear how long the Univision blackout will last. The outage does not affect customers of Dish Network, DirecTV or other pay-TV systems or customers who watch Univision and UniMas with an antenna.
"The blackout of Univision on Charter Spectrum cable — which includes millions of former Time Warner Cable customers — is an unfortunate development that shows how disparities in bargaining power between programmers and distributors can leave customers in the lurch," John Bergmayer, senior counsel with the Public Knowledge nonprofit organization, said in a statement Wednesday morning.
In Cypress Park, 92-year-old Lorenza Muniz reached for her remote at about 5 a.m. and found a blank screen on Univision's channel. "Is this Trump?" she asked her son, Ramon. "Is he doing this so Mexicanos don't get any information?"
Spectrum customers in 36 other markets, including Dallas and New York, also were affected by the outage.
Univision and Charter have been under pressure.
Univision, which has been struggling to improve its financial performance in anticipation of a public offering, is demanding that Charter renegotiate the fees that it pays to distribute the Univision channels.
Charter, however, wants to pay the lower rates of its predecessor. In May, Charter purchased the larger cable operator, Time Warner Cable, and Charter wants to abide by Time Warner Cable's contract for another five years. Charter is looking to reduce its expenses, in part, because the Connecticut cable operator took on a mountain of debt to finance the transaction.
Time Warner Cable was paying considerably lower rates than was Charter. Time Warner Cable had last negotiated its deal with Univision in 2014 and that contract runs until 2022.
"We have a contract with Univision and we expect them to honor it," Charter said in a statement late Tuesday.
But New York-based Univision has countered that Time Warner Cable no longer is in business, and that Charter must negotiate a new contract. Univision sued Charter over the issue in July, but waited until the Charter contract expired to demand that Charter remove the channels from Spectrum. Charter has also faced legal action from Fox News and CBS Corp.'s Showtime Networks over the issue.
"Charter still refuses to value Univision's content and the audience we serve," Univision said in a statement, adding that Charter had rejected Univision's "repeated, good-faith efforts to reach an agreement.… As a result, Charter has decided to deny its subscribers continued access to Hispanic America's most popular entertainment and sports, and most trusted news content."
Charter faced another legal broadside Wednesday when New York Atty. Gen. Eric T. Schneiderman alleged in a lawsuit that Time Warner Cable (now owned by Charter) conducted a "deliberate scheme to defraud and mislead New Yorkers by promising Internet service that they knew they could not deliver."
In a statement, Charter said it was "disappointed" by the lawsuit. "Charter has already made substantial investments in the interest of upgrading the Time Warner Cable systems and delivering the best possible experience to customers," the company said. "We will continue to invest in our business and deliver the highest quality services to our customers while we defend against these allegations involving Time Warner Cable practices."
Los Angeles Councilmember Jose Huizar said he hoped Charter and Univision could resolve their dispute, citing the importance of Spanish-language stations in L.A. Newscasts on KMEX typically draw more viewers than many English-language TV stations in Los Angeles.
"It's disheartening to see this happening, at this moment," Huizar said. "The majority of our folks get their information visually from the television."
Among them is Muniz, the Cypress Park grandmother. She enjoys a daily line-up of Univision news and telenovelas, but she will have to stick to knitting and praying the rosary for now, said her son.
"It's very frustrating," Ramon Muniz said. "We're paying all this money and it's like we're being held hostage."
Source: Los Angeles Times