Univision News Anchor Enrique Acevedo Relocates to Washington D.C. to Cover the First 100 Days of the Trump Administration.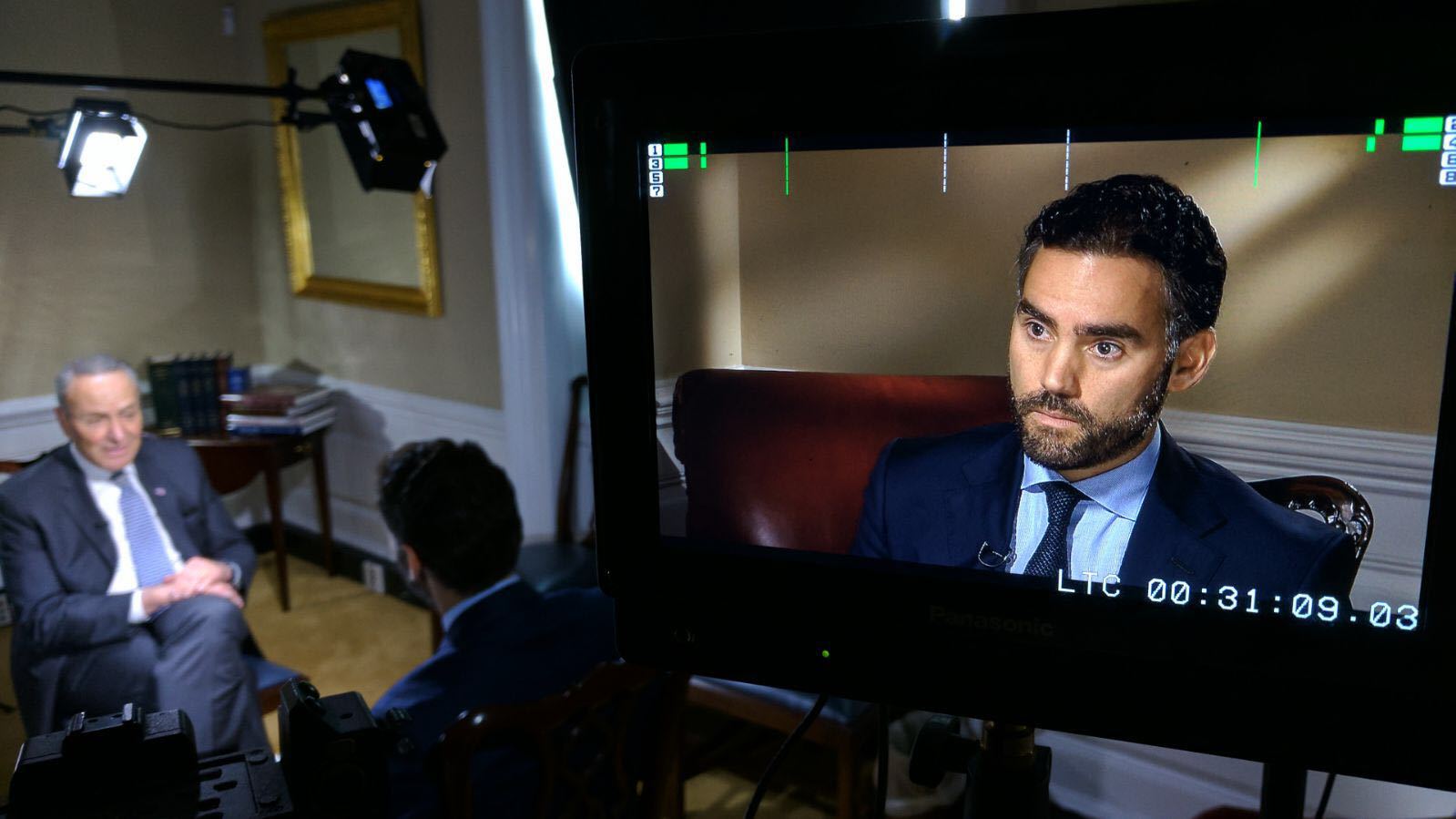 "Noticiero Univision Edición Nocturna," The Late Night Edition of Univision's National Newscast, Begins Airing Live from Washington D.C. Tonight at 11:30 p.m. ET (10:30 p.m. CT) – Featuring a One-On-One Interview with Senate Democratic Leader Chuck Schumer
MIAMI – JANUARY 30, 2017 – Enrique Acevedo, anchor for the late night edition of Univision Network's award-winning newscast, "Noticiero Univision," has relocated to Washington D.C. to provide Hispanic America with ongoing, comprehensive coverage of the Trump administration's first 100 days. Acevedo will begin anchoring the network newscast from the nation's capital tonight at 11:30 p.m. ET (10:30 p.m. CT). Additionally, he will contribute in-depth reporting and analysis to all Univision News platforms, including other Univision Network programs and UnivisionNoticias.com, as well as FUSION.
Acevedo's first broadcast of "Noticiero Univision Edición Nocturna" from Washington D.C. tonight will include an interview with Senate Democratic Leader Chuck Schumer. Additionally, Acevedo's interview with Senator Schumer will broadcast in its entirety next Sunday on Univision's morning show, "Al Punto."
Last Friday during "Noticiero Univision Edición Nocturna," Acevedo announced his relocation to viewers by stating:
"I say good night with very good news. Beginning next Monday, I will be taking on new responsibilities, working for you from Washington D.C. during President Donald Trump's first 100 days. I will be informing you through this program and Univision News' different platforms about the actions taken by the new administration, but most of all, about the impact of these actions in our lives and our communities. As an immigrant, a Latino, and a journalist, I cannot think of a better time to do this job; we are in this together and I hope that our efforts will help you be better prepared to deal with the challenges that we, Hispanics, are facing in this country. That is my commitment and our mission."
In addition to anchoring "Noticiero Univision Edición Nocturna," Acevedo is also a special correspondent for the Fusion Media Group. Named a "Global Media Leader" by the World Economic Forum, he has covered major international news stories in English and Spanish for print, broadcast and online media both in the United States and abroad, and has interviewed many leading global figures such as President Barack Obama, Kofi Annan, Melinda Gates and Desmond Tutu, among others. He holds a Master's degree in Journalism from Columbia University.
Acevedo's move to Washington D.C. is part of Univision News' overall commitment to keeping Hispanic audiences fully informed – through multiple platforms – about political developments taking place in Washington and across the nation, with special focus on details regarding President Trump's policies and executive orders. Extensive digital-exclusive coverage related to the Trump administration includes:
Legal assistance search tool – Provides access to local nonprofit immigration legal services, in partnership with immi.
New interactive content with cutting-edge infographics – A graphic historical comparison of diversity in presidential cabinets; a daily report on President Trump's approval ratings beginning on Inauguration Day.
Live blog covering every aspect of the new administration.
Minute-by-minute updates and reports from the Univision Política team.
360 Videos – "In Deportation Danger" series brings to life the current fears of undocumented immigrants.
"DREAMers Club" Podcast" – Four young immigrants from different parts of the country share their views in this new podcast.
New immigration section in UnivisionNoticias.com – Answers the most frequent questions posed by immigrants worried about immigration policy in the Trump era.
Documenting Hate – A nationwide project aimed at creating the most authoritative database of hate crimes and bias incidents ever assembled in the United States, in partnership with ProPublica and other news and tech organizations.
Continued journalism collaborations like the Global Warning Blog launched in partnership with The Guardian.
Univision News, the definitive news source for the U.S. Spanish-speaking community, closed 2016 with significant audience increases across its digital platforms, outpacing the prior year with double-digit growth in key metrics, a +46 percent increase that includes its digital and mobile platforms. UnivisionNoticias.com registered a yearly average increase of +46 percent in unique visits and +100 percent in page views throughout 2016.
Follow Enrique Acevedo in Washington D.C. via @Enrique_Acevedo and Univision News via @UniNoticias and @UniPolitica on Twitter and Instagram. You can also comment along with others on Facebook.com/UnivisionNoticias and Facebook.com/UnivisionPolítica.
CONTACT:
Jose Zamora
305.925.8835
josezamora@univision.net
@UCIPRTeam
---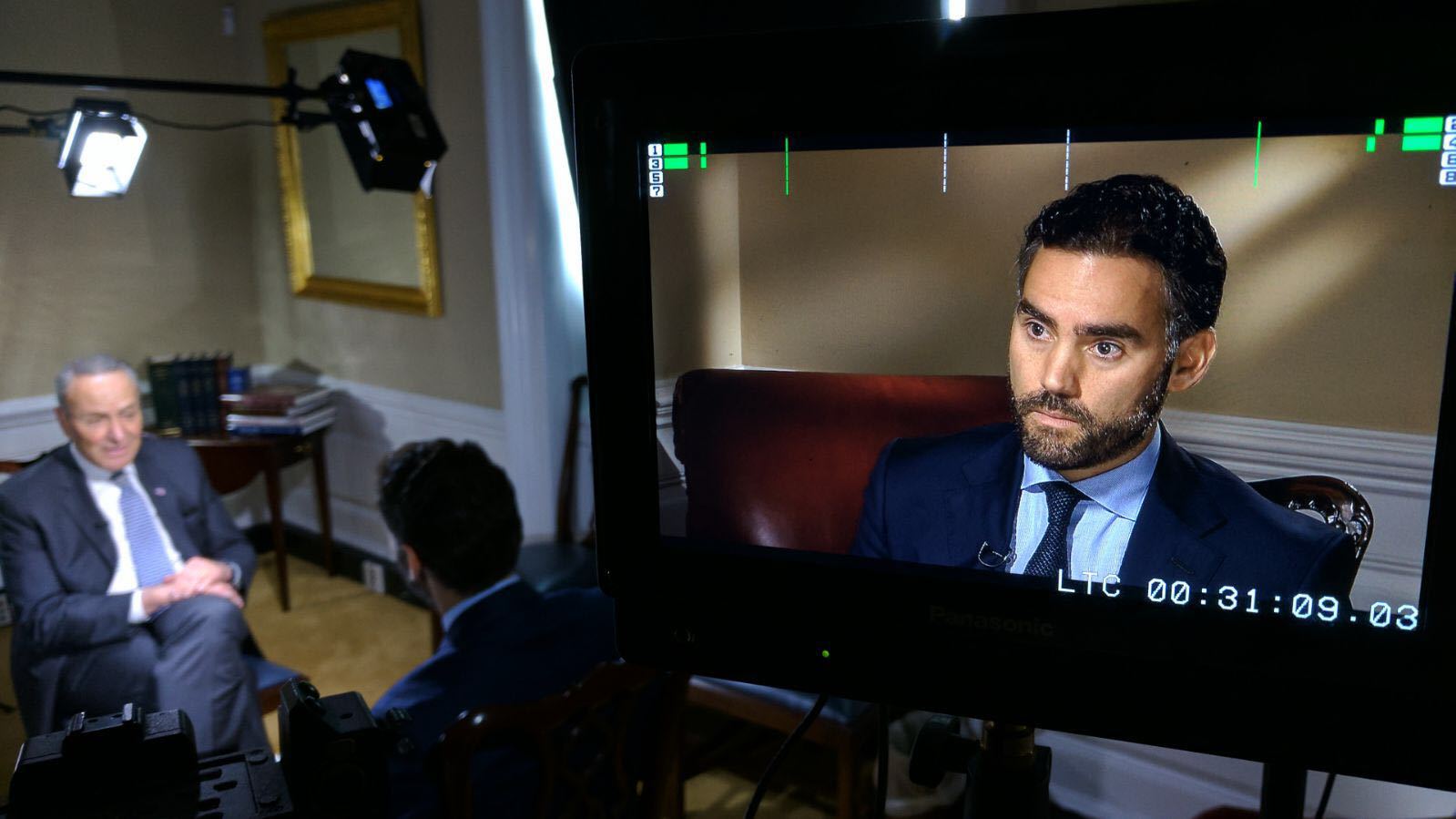 Emroqie Acevedo, presentador de Univision Noticias, se muda a Washington D.C. para cubrir los primeros 100 Días de la Administración Trump. "Noticiero Univision Edición Nocturna" saldrá al aire en vivo desde Washington D.C. a partir de esta noche a las at 11:30 p.m. hora del Este (10:30 p.m. Centro) – presentando una entrevista con el líder demócrata del Senado, Chuck Schumer.
MIAMI – 30 DE ENERO DE 2017
Enrique Acevedo, presentador de la edición nocturna del galardonado noticiero nacional de la cadena Univision, "Noticiero Univision", se ha trasladado a Washington D.C. para proporcionarle a la comunidad hispana de Estados Unidos cobertura continua y en profundidad de los primeros 100 días del gobierno del Presidente Donald Trump. Acevedo comenzará a presentar el "Noticiero Univision Edición Nocturna" desde la ciudad capital esta noche a las 11:30 p.m. hora del Este (10:30 p.m. Centro). Adicionalmente, contribuirá reportajes y análisis a fondo a todas las plataformas de Univision Noticias, lo cual abarca a otros programas de la cadena Univision y UnivisionNoticias.com, además de FUSION.
La primera transmisión del "Noticiero Univision Edición Nocturna" con Acevedo en Washington, esta noche, incluirá una entrevista con el líder demócrata del Senado, Chuck Schumer. Adicionalmente, la entrevista de Acevedo con el senador Schumer podrá verse en su totalidad el próximo domingo en el programa matutino de la cadena Univision, "Al Punto".
Durante la transmisión del "Noticiero Univision Edición Nocturna" el viernes pasado, Acevedo anunció su traslado diciendo:
"Me despido con una muy buena noticia. A partir del próximo lunes, asumo una nueva responsabilidad, trabajando para ustedes desde Washington D.C. durante los primeros 100 días del Presidente Donald Trump. Estaré informándoles a través de este espacio y de las distintas plataformas de Univision Noticias sobre las acciones emprendidas por la nueva administración, pero, sobre todo, el impacto que esas acciones tienen en nuestras vidas y en nuestras comunidades.
Como inmigrante, como latino y como periodista, no puedo pensar en un momento más importante para cumplir con esa tarea. Estamos en esto juntos y espero que nuestra labor los ayude a estar mejor preparados para enfrentar los retos que enfrentamos los hispanos en este país. Ése es mi compromiso y ésa es nuestra misión".
Además de conducir el "Noticiero Univision Edición Nocturna", Acevedo es corresponsal especial para Fusion Media Group. Llamado "un líder mediático global" por el Foro Económico Mundial, Acevedo ha cubierto importantes noticias internacionales en inglés y español para medios impresos, televisivos y digitales tanto en Estados Unidos como del exterior, y ha entrevistado a distinguidas personalidades globales, entre ellas el Presidente Barack Obama, Kofi Annan, Melinda Gates, Desmond Tutu y otros. Tiene una Maestría en Periodismo de Columbia University.
El traslado de Acevedo a la capital de la nación forma parte del amplio compromiso de Univision Noticias de mantener al público hispano plenamente informado – a través de plataformas múltiples – sobre los acontecimientos políticos que se desarrollan en Washington y en el resto del país, haciendo énfasis especial en cubrir cada detalle relacionado con el gobierno del Presidente Trump, sus políticas y acciones ejecutivas. La extensa cobertura exclusiva en digital relacionada con la administración Trump incluye:
Actualizaciones y reportajes minuto a minuto a cargo del equipo de Univision Política.
Univision Noticias, la fuente de noticias definitiva para la comunidad de habla hispana en los Estados Unidos, cerró el año 2016 con aumentos significativos de audiencia en todas sus plataformas digitales, superando las cifras del año anterior con crecimiento de dos dígitos en categorías claves, registrando un aumento de +46 por ciento que incluye a sus plataformas digitales y móviles. UnivisionNoticias.com logró un aumento anual promedio de +46 por ciento en visitas únicas y +100 por ciento en vistas de página durante 2016.
Siga a Enrique Acevedo en Washington D.C. vía @Enrique_Acevedo y a Univision Noticias vía @UniNoticias y @UniPolitica en Twitter e Instagram. También puede comentar junto con otros en Facebook.com/UnivisionNoticias y Facebook.com/UnivisionPolítica.
CONTACTO:
Jose Zamora
305.925.8835
josezamora@univision.net
@UCIPRTeam