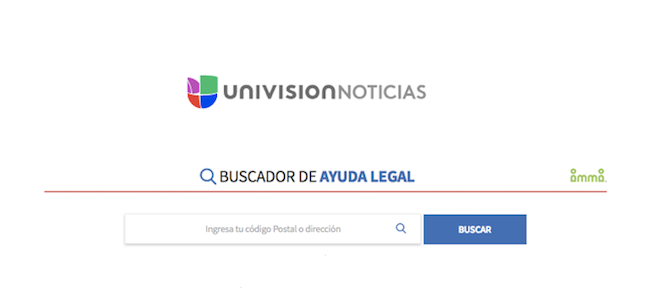 Created in partnership with immi.org, the new legal assistance search tool is geared to immigrants. 
---
By: Mark K. Miller
Univision News today is introduing an interactive digital tool designed to help U.S. immigrants find local nonprofit organizations that offer immigration-related advice and/or legal services free of charge or at a low cost.
By inputting a ZIP code or any U.S. address in the search tool, users will be provided with a list of nonprofit groups in their area that are prepared to assist them in matters related to immigration — from explaining their rights and options to offering legal counsel or representation.
The Legal Assistance Search Tool for Immigrants is available in the immigration section of UnivisionNoticias.com beginning today. It will also be accessible via links in all articles published on the topic of immigration in Univision News platforms.
As the result of an alliance between Univision News and immi, the search tool uses data provided by immi.org, a new platform available in English and Spanish that helps immigrants understand their immigration options, learn about their rights and connect with trusted nonprofit organizations. Immi was created by the Immigration Advocates Network and Pro Bono Net.
Univision News does not guarantee the provision of services by any of the organizations listed in the search tool or results of those services. Its role is limited to providing contact information on available nonprofit immigration/legal organizations in users' local geographical areas.
Source: TV News Check