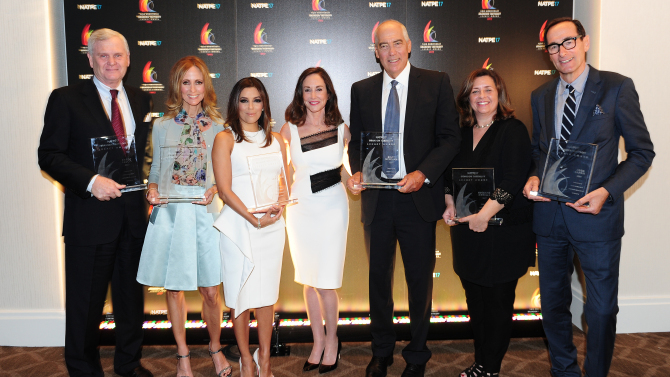 (Pictured: Randy Falco, Dana Walden, Eva Longoria, Lilly Tartikoff Karatz, Gary Newman, Susanne Daniels and Josh Sapan)
---
By: Cynthia Littleton
MIAMI — "Between Two Ferns" made a surprise appearance at this year's Brandon Tartikoff Legacy Awards ceremony.
Josh Sapan, AMC Networks' president-CEO, delivered a delightfully unconventional spin on a tribute video as he was honored Wednesday night along with YouTube's Susanne Daniels, Univision's Randy Falco, multihyphenate Eva Longoria and Fox's Gary Newman and Dana Walden.
Sapan's reel for the ceremony, held at the Fontainebleau Hotel as part of the annual NATPE conference, featured the veteran cable executive sitting for an offbeat interview with Zach Galifianakis on the mock talk show that has become a staple of Funny or Die. (AMC just bought a minority stake in the digital comedy service.)
Gale Anne Hurd, exec producer of AMC's smash hit "The Walking Dead," presented the kudo to Sapan, calling him a rare example of an executive who combines "a first-rate business mind with the heart of a creative." Sapan told the crowd that he grew up wanting to be Mickey Mantle or John Lennon, but eventually shifted his sights to becoming "Fred Silverman or Brandon Tartikoff."
Univision CEO Falco was hailed by former NBC Sports chief Dick Ebersol as a master dealmaker who had the inspiration during his years as a top NBC exec to push to own the Olympics by bidding big for rights to multiple editions of the summer and winter Games at the same time. Ebersol choked up in recalling how Falco was the one who was called on to identify the remains of Ebersol's 14-year-old son Teddy after a tragic plane crash in 2004.
Falco recalled television's influence on his formative years, and urged the industry crowd to use the medium to help a divided nation, a nod to Univision's public scuffles during the presidential campaign with President-elect Donald Trump. "Television can bring us together, inspire us and help us speak truth to power," he said.
Daniels, YouTube's global head of content, was feted by her counterpart at Hulu, Craig Erwich. Erwich praised her skill at developing signature series such as "Buffy the Vampire Slayer" and "Dawson's Creek" at the same time balancing her devotion to her family and social causes such as the Campaign to Prevent Teen Pregnancy.
"You could staff a powerhouse network with the creative forces who used to be her assistants," Erwich said. Daniels said she was "grateful to be working with a new generation of talent" in her role at YouTube.
Longoria's journey from being crowned Miss Corpus Christi of 1998 to her status as a top actress, producer, director and activist was recounted by Cris Abrego, CEO of Endemol Shine North America.
Longoria joked that Abrego "is the only person standing in my way of being the most powerful Mexican in Hollywood — there's only two of us." More seriously, Longoria urged the crowd to harness television's influence to foster a respect for the nations's great diversity. "The stories we tell matter and who tells those stories matter," she said.
The professional marriage of Fox Television Group CEOs Gary Newman and Dana Walden was highlighted in the presentation of the pair's kudo. "Modern Family" co-creator/exec producer Steve Levitan offered personal examples of how strongly the two support creative talent, in good times and bad.
Walden noted that she and Newman were joined in an "arranged marriage" some 18 years ago that has become "the most meaningful relationship of my life," other than her actual marriage. She recalled her many trips to NATPE conventions during her years as a publicist working on syndicated shows, and Walden gave a shout-out to former Paramount Domestic TV and Fox TV head Lucie Salhany. "Lucie helped me to see myself as a leader," she said.
Newman recounted his experiences with Tartikoff during his time as a business affairs executive at NBC in the 1980s. He expressed his appreciation for the chance to work in a dynamic business, a world that he turned to after a "soul-sucking" stint working in real estate law. "We make TV," he told the crowd, marveling at the industry's power to "impact our culture and make people think about human relations."
Source: Variety