Hispanic America's No. 1 news source will bring viewers every detail of the inaugural ceremonies for the 45th president of the United States, Donald J. Trump, including pre- and post-inauguration coverage, in-depth commentary and extensive exclusive digital/social/multimedia content
"Cambio de Mando" – Special coverage of the 2017 Presidential Inauguration kicks off at 7 a.m. ET on the Univision Network
---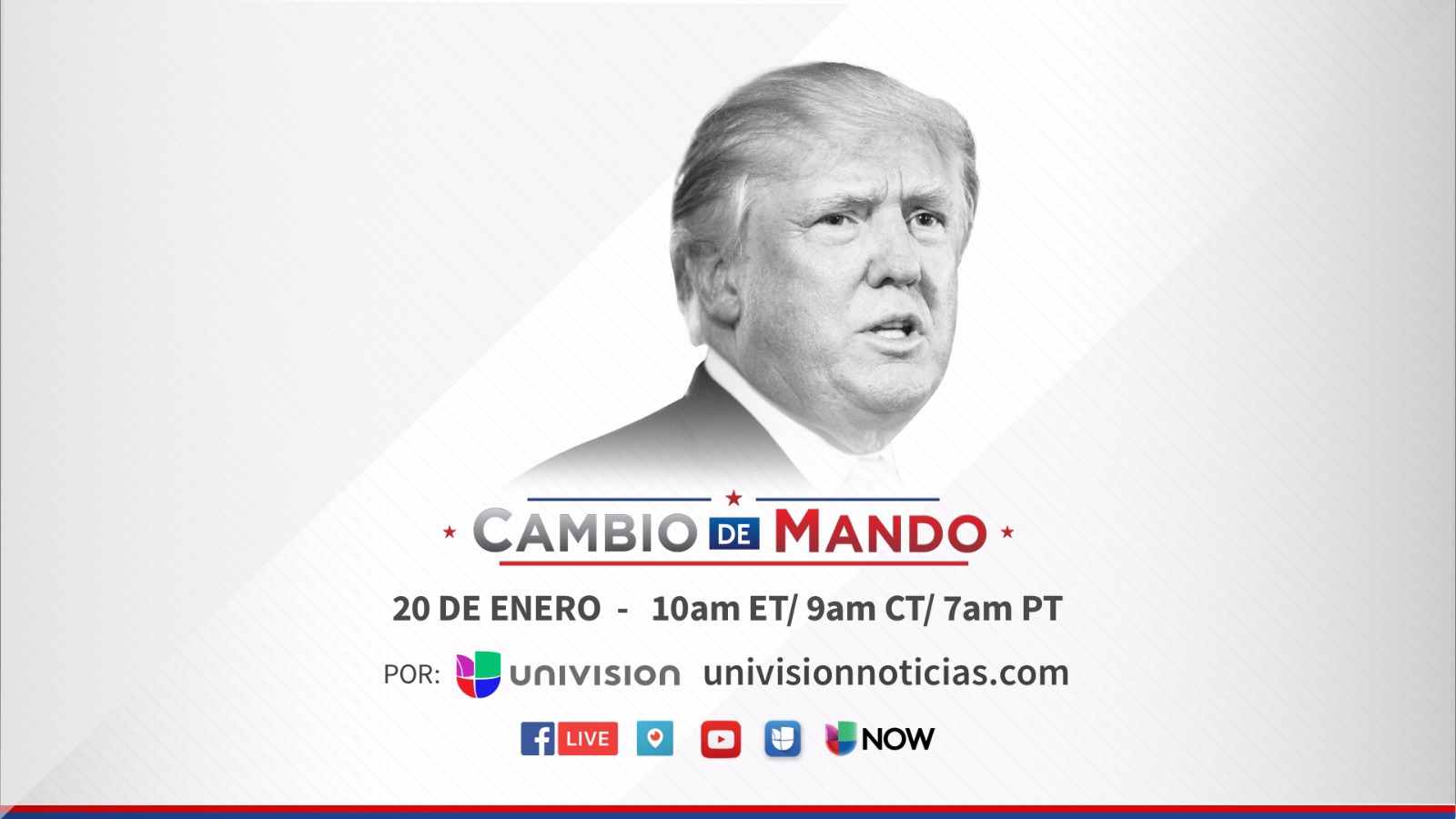 ---
MIAMI – JANUARY 19, 2017 – Univision News, the award-winning news division of Univision Communications Inc, the leading media company serving Hispanic America, will deliver comprehensive coverage of the 2017 Presidential Inauguration, LIVE from Washington, D.C. on Friday, January 20. Special coverage across broadcast, digital and social platforms will include exclusive digital reporting featuring new elements and infographics, live reports from Washington D.C. beginning at 7 a.m. on the Univision Network, in-depth commentary from expert political analysts, and live streaming in Spanish and English.
TV & RADIO
Special coverage of the 2017 Presidential Inauguration, titled "Cambio de Mando" (Change of Leadership), kicks off at 7:00 a.m. ET/4:00 a.m. PT on the Univision Network's morning show "Despierta América" (Wake Up America), with news anchor Satcha Pretto hosting from Washington, D.C. Then, at 11:00 a.m. ET/8 a.m. PT, the Network's live coast-to-coast broadcast of the inauguration ceremony begins, led by award-winning anchors Jorge Ramos and María Elena Salinas, also stationed in the nation's capital. They will be joined by distinguished guests that include former governor of New Mexico, Bill Richardson, Mexican politician and professor Jorge Castañeda, Harvard lecturer and advisor to the Trump transition team, Carlos Díaz Rosillo, and Jazmina Saavedra, director of Latinas for Trump, as well as members of the Women's March and the DREAMer movement, to discuss the details of the inauguration as well as analyze important issues that could impact Latinos during the Trump administration.
Throughout the day, a team of Univision News correspondents will be reporting from different locations, including Lourdes Meluzá from the Capitol, Luis Megid from the National Mall, Blanca Vilchez from the protests and marches, Pablo Gato from the Trump International Hotel in Washington D.C., and Janet Rodríguez from the White House. During the evening, Tony Dandrades, entertainment reporter for Univision's newsmagazine "Primer Impacto," will take viewers inside the inaugural celebrations.
Additionally, on Sunday, January 21, Univision will air a special edition of its primetime newsmagazine "Aquí y Ahora" (Here and Now) in which experts will discuss how immigrants in the U.S. could be impacted if President Trump's proposed policies on immigration and healthcare are implemented. Titled "Qué Esperar del Presidente Trump" (What to Expect from President Trump), the special will air at 10 p.m. ET/7:00 p.m. PT.
Univision Radio stations across the country will broadcast the Univision Network's special coverage of the inauguration between 8:30 a.m. and 5:00 p.m. ET on January 20. Some stations in major markets, such as WAQI in Miami, will air special programming featuring commentary and analysis with local on-air personalities and guests.
DIGITAL & SOCIAL
The Univision Network's complete Inauguration Ceremony broadcast will be livestreamed in Spanish and English on UnivisionNoticias.com, Univision.com, the Univision and Univision News apps and UnivisionNOW, Univision's direct to consumer live video and on demand service of the Univision and UniMás broadcast networks. Univision News will also feature extensive original reporting and multimedia content across its digital and social platforms, including:
Minute by minute updates and reports from the Univision Política team in D.C. and the Newsport newsroom in Miami.
A live blog covering every aspect of the inauguration and analyzing the significance and ramifications of the new administration.
New interactive content with cutting-edge infographics – A graphic historical comparison of diversity in presidential cabinets; a daily report on President Trump's approval ratings beginning on Inauguration Day.
Legal assistance search tool – To provide access to local nonprofit immigration legal services, in partnership with immi.
360 Videos – "The Deportables" series brings to life the fears of undocumented immigrants under a Trump administration.
"DREAMers Club" Podcast – Four young immigrants from different parts of the country share their views in the new podcast.
New immigration section in UnivisionNoticias.com – Answers the most frequent questions posed by immigrants worried about immigration policy in the Trump era.
Facebook Live events with Univision journalists in Washington D.C. and Arizona, plus a plus Facebook 360 video of the swearing in ceremony.
Instagram photos, as well as Instagram Live and Snapchat stories from D.C.
Mini interviews, fun facts and cards on Twitter, plus live Tweeting by reporters all day.
Coverage of the Women's March on Washington.
Documenting Hate – A nationwide project aimed at creating the most authoritative database of hate crimes and bias incidents ever assembled in the United States, in partnership with ProPublica and other news and tech organizations.
Global Warning Blog in partnership with The Guardian.
Follow the conversation about "Cambio de Mando" – the 2017 Presidential Inauguration via @UniNoticias and @UniPolitica on Twitter and Instagram, and comment along with others on Facebook.com/UnivisionNoticias and Facebook.com/UnivisionPolítica. You can also follow Univision News anchors via @jorgeramosnews, @MariaESalinas and @SatchaPretto, and Univision Noticias' inauguration coverage on Snapchat by adding UniNoticias.
CONTACT: Jose Zamora 305.925.8835 josezamora@univision.net @UCIPRTeam
###
---
UNIVISION NOTICIAS ANUNCIA COBERTURA COMPLETA DE LA TOMA DE POSESIÓN PRESIDENCIAL DE 2017, EN VIVO POR TELEVISIÓN, RADIO, DIGITAL Y REDES SOCIALES
La fuente No. 1 de noticias para la comunidad hispana de Estados Unidos presentará cada detalle del acto de investidura del presidente número 45 de la nación, Donald J. Trump, incluyendo cobertura pre y post ceremonia, análisis a fondo y amplio contenido digital/social/multimedia exclusivo
"Cambio de Mando" – Cobertura especial de la toma de posesión presidencial comienza a las 7 a.m. hora del este en la cadena Univision
---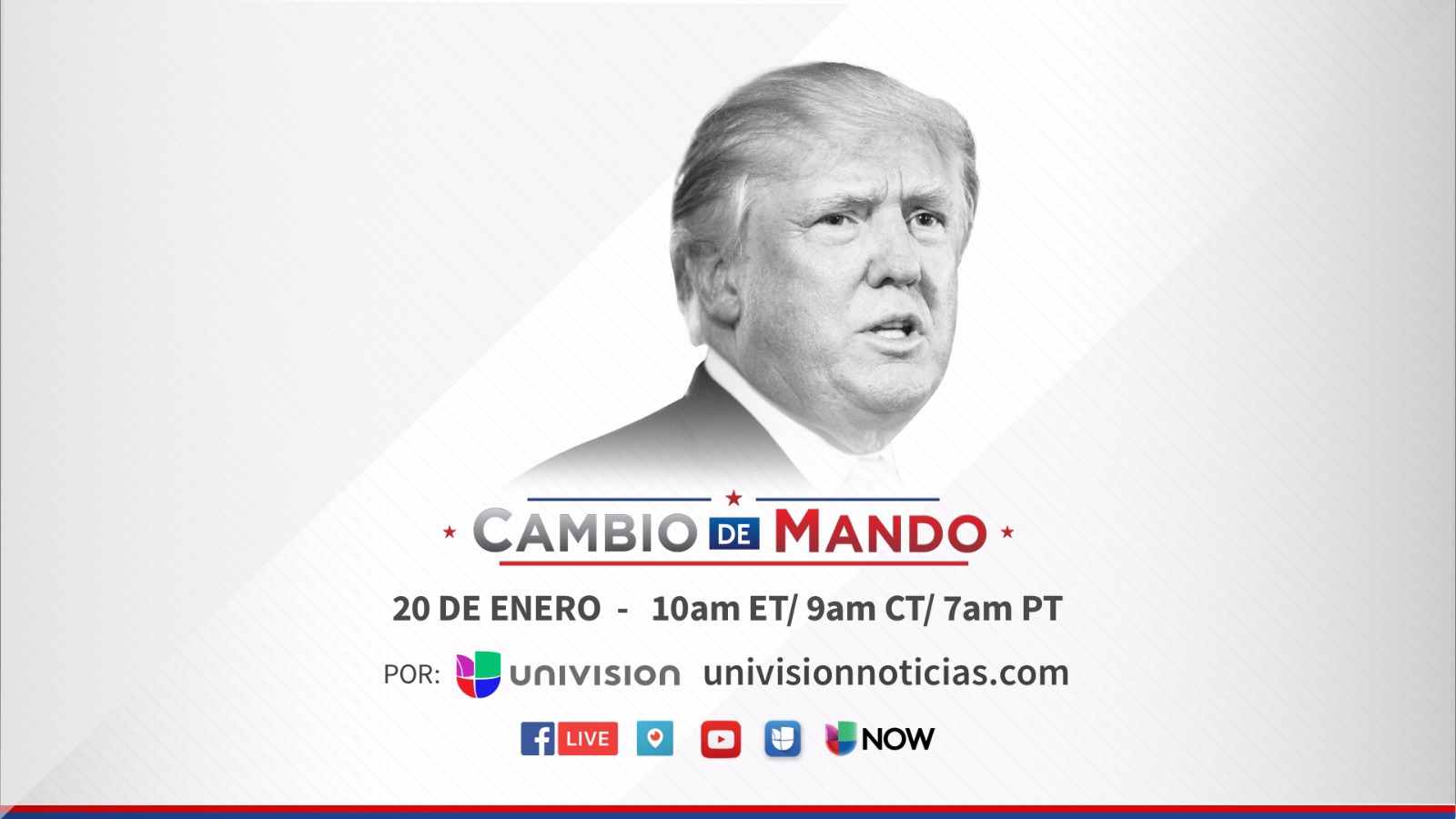 ---
MIAMI – 19 DE ENERO DE 2017 – Univision Noticias, la galardonada división de noticias de Univision Communications Inc., la principal empresa de medios de comunicación al servicio de la comunidad hispana en los Estados Unidos, ofrecerá cobertura completa de la toma de posesión presidencial de 2017, EN VIVO desde Washington D.C., el viernes 20 de enero. La cobertura especial en televisión, radio, digital y redes sociales incluirá contenido digital exclusivo con nuevos elementos e infografías, reportajes en vivo desde la capital de la nación a partir de las 7 a.m. por la cadena Univision, comentarios de analistas políticos expertos y streaming en vivo en español e ingles.
TELEVISIÓN Y RADIO
Bajo el título de "Cambio de Mando", la cobertura especial de la toma de posesión presidencial de 2017 se iniciará a las 7:00 a.m. Este/4:00 a.m. Pacífico en el programa matutino de la cadena Univision, "Despierta América", con la presentadora de noticias Satcha Pretto conduciendo el espacio desde Washington, D.C. Luego, a las 11:00 a.m. Este/8 a.m. Pacífico comienza la transmisión, en vivo de costa a costa, de la ceremonia de investidura, con la conducción de los galardonados periodistas Jorge Ramos y María Elena Salinas, también apostados en la ciudad capital. Junto a ellos estará un grupo de distinguidos invitados que incluye al ex gobernador de Nuevo México, Bill Richardson; el político y profesor universitario mexicano Jorge Castañeda; el profesor de la Universidad Harvard y asesor del equipo de transición de Donald Trump, Carlos Díaz Rocillo; y Jazmina Saavedra, directora del grupo Latinas for Trump, además de participantes en la Marcha de Mujeres y miembros del movimiento Dreamer. En el el programa especial se discutirán los detalles de la toma de posesión y temas importantes que podrían impactar a la comunidad latina durante el gobierno de Trump.
A lo largo del día, corresponsales de Univision Noticias estarán reportando desde distintos lugares en Washington, entre ellos Lourdes Meluzá desde el Capitolio, Luis Megid desde el National Mall, Blanca Vilchez desde las marchas y protestas, Pablo Gato desde el Hotel Trump International y Janet Rodríguez desde la Casa Blanca. Por la noche, Tony Dandrades, reportero de entretenimiento para el magacín de noticias de Univision, "Primer Impacto", cubrirá los bailes de gala que tendrán lugar después de la toma de posesión.
Adicionalmente, Univision transmitirá una edición especial de su magacín de noticias de horario estelar, "Aquí y Ahora", en la cual varios expertos abordarán el tema de cómo podrían ser afectados los inmigrantes en Estados Unidos si son implementadas las políticas del presidente Trump en cuanto a inmigración y cuidado de la salud. "Qué Esperar del Presidente Trump" saldrá al aire el domingo 22 de enero a las 10 p.m. ET/7:00 p.m. PT.
Emisoras de Univision Radio en todo el país se unirán a la cadena Univision para transmitir su cobertura de la toma de posesión entre las 8:30 a.m. y las 5:00 p.m. Este el 20 de enero. Algunas estaciones radiales en mercados importantes, como WAQI en Miami, presentarán programación especial con comentarios y análisis a cargo de talento local e invitados.
PLATAFORMA DIGITAL Y REDES SOCIALES
La transmisión especial de la toma de posesión presidencial podrá verse por streaming EN VIVO en español e inglés en UnivisionNoticias.com, Univision.com, las aplicaciones de Univision y Univision Noticias, y UnivisionNOW, el servicio directo al consumidor de video en vivo de las cadenas Univision y UniMás. Univision Noticias también presentará extensos reportajes originales y contenido multimedia en todas sus plataformas digitales y sociales, incluyendo:
Actualizaciones y reportajes minuto a minuto del equipo de Univision Política en Washington y en la sala de redacción en Newsport, Miami.
Un blog en vivo que cubrirá cada aspecto de la ceremonia de juramentación y explorará las ramificaciones de la nueva administración.
Nuevo contenido interactivo con infografías de última generación – Una comparación histórica gráfica de la diversidad en los gabinetes presidenciales; y un gráfico interactivo que diariamente mostrará el porcentaje de aprobación de la labor de Trump como presidente.
Buscador de asistencia legal – Al introducir un código postal, el usuario recibe información de contacto de organizaciones sin fines de lucro que brindan servicios de asesoría legal.
Videos 360– La serie "Los Deportables" resalta los temores de inmigrantes indocumentados vulnerables a cambios de política migratoria en el gobierno de Trump.
Podcast "Club de Dreamers" – Cuatro jóvenes inmigrantes de distintas partes del país comparten sus puntos de vista en este nuevo podcast.
Nueva sección de UnivisionNoticias.com – Ofrece respuesta a las preguntas más frecuentes de inmigrantes preocupados por lo que puede traer la política migratoria en la era de Trump.
Eventos de Facebook Live con periodistas de Univision en Washington D.C. y Arizona, además de video Facebook 360 del acto de investidura.
Fotos en Instagram e historias en IG Live y Snapchat desde Washington.
Mini entrevistas, datos divertidos y tarjetas en Twitter, además de tweets en vivo todo el día a cargo de reporteros de Univision Noticias.
Cobertura de la Marcha de Mujeres en Washington.
El Reporte del Odio – Un proyecto nacional lanzado con el fin de crear la base de datos más completa y confiable jamás recopilada en EE.UU. sobre delitos de odio e incidentes de prejuicio, en sociedad con ProPublica y otras organizaciones de noticias y tecnología.
Blog Global Warning – Publicado en sociedad con el diario The Guardian.
Siga la conversación acerca de "Cambio de Mando", la toma de posesión presidencial, vía @UniNoticias y @UniPolitica en Twitter e Instagram, y comente junto con otros en Facebook.com/UnivisionNoticias y Facebook.com/UnivisionPolítica. También puede seguir a los presentadores de Univision Noticias vía @jorgeramosnews, @MariaESalinas y @SatchaPretto.
CONTACTO: Jose Zamora 305.925.8835 josezamora@univision.net @UCIPRTeam
###