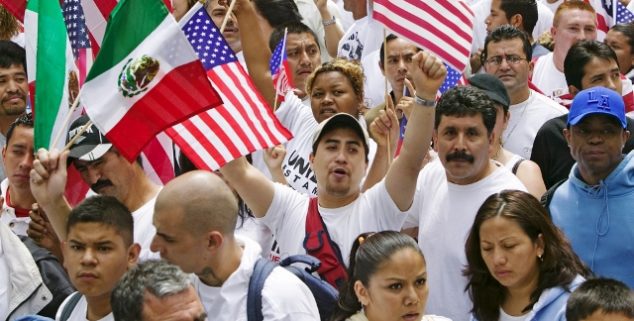 ---
By: Chiqui Cartagena
Starting later this year, a new law will begin to automatically register to vote millions of people who are getting (or renewing) a driver's license in California, unless they opt out.  Over time, this law is expected to dramatically increase the number registered voters in California and many political experts believe it will have huge implications for future political campaigns as it will most probably help close the gap between eligible and registered voters among Latino and Asian communities, who have traditionally lagged behind in voter registration and participation.
When the law was passed in June of 2016, Secretary of State Alex Padilla said he expected millions of new voters on the rolls in the State of California for the 2018 election cycle.
But we will probably start seeing the effects of this new law this year, as close local and state-level races may be swung one way or another by greater participation of Latinos who are now the single largest ethnic group in California. While we don't know entirely how Californians voted in the 2016 presidential elections yet, we do know that the Latino turnout in the 2016 primaries was significantly higher than in the past.
According to the California Civic Engagement project, at 20.1%, the Latino share of California's 2016 primary vote was 8.1% points higher than in June of 2012 and the highest seen in California for over a decade. Despite higher turnout rates, however, both Asians and Latinos continue to be underrepresented in California's electorate. In the June 2016 primary, Latinos made up 28.5% of the eligible voters (although they account for 34% of the state's adult population) and Asian Americans accounted for 12.5% (although they comprise 15% of the state's adult population)
Key to better understanding how this new automatic voter registration law will change the game in California, especially among Hispanics, is learning how this community voted in 2016. As a mission-driven company, Univision Communications Inc. has been committed to entertaining, informing and empowering the Hispanic individuals and families for nearly 60 years.
Last year, we launched "Vote For Your America," a comprehensive, non-partisan initiative in partnership with leading organizations including Democracy Works/TurboVote, the NALEO Educational Fund, Mi Familia Vota, NCLR, and LULAC, among others. Our campaign went beyond our on-air PSAs and news coverage, it included two digital tools: a text messaging platform and a bilingual digital election guide to inform and empower Hispanic, multicultural and millennial eligible voters to exercise their right in the 2016 election.
While we cannot breakout results by state, we saw high levels of engagement in our community. Our bilingual text message platform reached more than 900,000 people, helping them to register to vote, request early ballots and locate their polling locations and our nonpartisan digital election guide YourAmerica.com was visited by hundreds of thousands of people.
In addition, Univision local stations, working with our partners, hosted hundreds of community events attended by over 300,000 people and we received more than 100,000 phone calls into our community call centers.
Our mission was to provide our communities with as much nonpartisan information as we could to better prepare them to engage in the election process. For example, in last year's California ballot, people were asked to vote on an extraordinary number of ballot initiatives, which covered many, often complex, policy matters from drug pricing to marijuana use.
The inordinate number of ballot initiatives also caused widespread complaints about voter confusion, which is why initiatives and tools like ours and those of our partners like TurboVote, NALEO, LULAC, Mi Familia Vota and NCLR are so critical.  At Univision, in addition to tools and resources, providing information was central to our mission and we did that through our award-winning news programs national and locally. Among other topics, our news teams across both TV and radio helped Hispanic audience members better understand the election process with informative videos and special segments.
But Univision and community organizations can only do so much. Like I have said many times before, both parties and all political campaigns need to continue to better engage our community and in particular reach out to Latino voters with Spanish-language, culturally relevant advertising and not take them for granted or be scared to talk to them.
Just ask Kamala Harris or Kevin Faulconer or Andy Vidak about the importance of advertising to Latino voters in order to win. I, like many political operatives across the nation, will be paying close attention to the effects of this new law and the engagement of Latino voters during the mayoral race in Los Angeles this year and in particular during the gubernatorial race and mid-term elections in 2018.
Source: Capitol Weekly