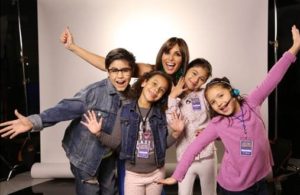 Photo courtesy of Alexander Tamargo/Getty Images for Univision
 Selected through auditions across the U.S., including Puerto Rico, the show's young contestants will wow audiences with their singing, dancing and special talent premiering on the Univision Network in February 2017
---
MIAMI, FL – JANUARY 2, 2017 – Beloved actress and host Giselle Blondet is joining Univision Network to usher "Pequeños Gigantes USA" (Little Giants USA) into a fun new era. The talent competition for aspiring young entertainers will feature children ages 6 through 11 from throughout the U.S., including Puerto Rico. Produced by and broadcast exclusively on the Univision Network, "Pequeños Gigantes USA" will premiere in February 2017.
"We are excited to welcome Giselle Blondet to Univision, a beloved and talented personality for our audience. She will be a wonderful host for our highly anticipated children's talent competition," says Lourdes Diaz, President of Entertainment, Univision Communications Inc. "This show will bring together millions of families like never before to celebrate talented children in our communities and I know that Giselle's signature warmth and nurturing style make her the perfect host for "'Pequeños Gigantes USA.'"
"I'm more than thrilled to return to Univision as host of 'Pequeños Gigantes USA' which promises to be a spectacular and dynamic show. It is especially fulfilling to be part of a show that gives children a platform to showcase their amazing talents. It's truly a pleasure to be a part of a project where we'll see children shine," says Blondet.
In true Blondet style, she will ensure that the young contestants not only have a good experience, but that the audience gets to know them well beyond their talent, learn their stories and see their wit; a characteristic that will undoubtedly come to life during their interactions throughout the show.
Each night on set, the popular host will be accompanied by several prominent artists from the entertainment world, including the competition's captains and judges.
Contestants for "Pequeños Gigantes USA" were selected at auditions held in cities across the U.S. and Puerto Rico during late 2016. They were chosen for their extraordinary talent in several fields including music, acting, dance and comedy. Those who make it to the program will be divided into six teams of four members. The teams will compete throughout the season, until the winner is announced during the show's season finale.
"Pequeños Gigantes USA" will debut in February 2017 on the Univision Network.
Viewers will be able to join the conversation about the show on Twitter via @PequenosUSA, on Facebook.com/PequenosUSA and on Instagram @PequenosUSA. They can also use hashtag #PequenosUSA across Univision's different social media platforms.
CONTACT: Jenisei Couso (305) 471-1692 jcouso@univision.net @UCIPRTeam
###
---
GISELLE BLONDET SE INCORPORA A UNIVISION COMO PRESENTADORA DEL CONCURSO DE TALENTO INFANTIL "PEQUEÑOS GIGANTES USA"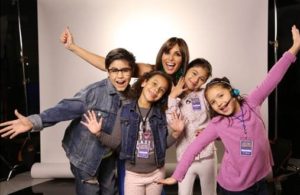 Foto cortesía de Alexander Tamargo/Getty Images for Univision
Los pequeños concursantes fueron seleccionados en audiciones en Estados Unidos y Puerto Rico, e impresionarán a la audiencia con sus dotes de canto, baile y talentos especiales en el estreno por la Cadena Univision en febrero de 2017
---
MIAMI, FL – 2 DE ENERO DE 2017 – La popular actriz y presentadora Giselle Blondet se incorpora a la Cadena Univision para dar paso a una nueva y divertida era de "Pequeños Gigantes USA". Se presentarán en el concurso de talento niños de 6 a 11 años que aspiran a ser parte del mundo del entretenimiento y provienen de todo Estados Unidos, incluyendo Puerto Rico. "Pequeños Gigantes USA", producido y trasmitido en exclusiva por la Cadena Univision, se estrenará en febrero de 2017.
"Nos entusiasma darle la bienvenida a Giselle Blondet a Univision, una querida y talentosa personalidad para nuestra audiencia. Ella será una maravillosa presentadora para nuestra tan esperada competencia de talento infantil", dijo Lourdes Díaz, presidenta de Entretenimiento de Univision Communications Inc. "Este programa unirá a millones de familias como nunca antes para celebrar el talento de los niños en nuestras comunidades, y sé que el conocido estilo cariñoso y alentador de Giselle la hace la presentadora perfecta para "Pequeños Gigantes USA".
"Estoy más que feliz de volver a Univision como presentadora de 'Pequeños Gigantes USA', que promete ser un programa espectacular y dinámico. Es especialmente gratificante ser parte de un programa que les da a los niños una plataforma para demostrar su impresionante talento. Realmente es un placer ser parte de un proyecto en el que veremos a los niños brillar", dijo Blondet.
Fiel a su estilo, Blondet se asegurará de que los jóvenes concursantes no sólo tengan una buena experiencia, sino también de que la audiencia llegue a conocer el talento e historia de estos, además de apreciar su gracia, un aspecto que sin duda saldrá a relucir durante las interacciones que tendrán lugar en el programa.
Cada noche en el set, acompañarán a la popular presentadora destacados artistas del mundo del entretenimiento, entre ellos los capitanes y miembros del jurado del concurso.
Los concursantes de "Pequeños Gigantes USA" fueron seleccionados en audiciones que tuvieron lugar en varias ciudades de Estados Unidos y Puerto Rico durante 2016. Fueron escogidos por su extraordinario talento en varios campos, entre ellos la música, actuación, baile y comedia. Los seleccionados fueron asignados a seis equipos de cuatro integrantes. Los equipos competirán durante toda la sesión, hasta que se anuncie al ganador en la final de la temporada.
"Pequeños Gigantes USA" se estrenará en febrero 2017 en la Cadena Univision.
Los interesados pueden participar en la conversación sobre el programa en Twitter vía @PequenosUSA, en Facebook.com/PequenosUSA y en Instagram @PequenosUSA. También pueden usar el hashtag #PequenosUSA en todas las plataformas de redes sociales de Univision.
CONTACTO:  Jenisei Couso (305) 471-1692 jcouso@univision.net @UCIPRTeam
###