Final Matches Between Club América and Tigres UANL will Air Live Exclusively on Univision Network and UDN December 22 and 25, with Expert Commentary from the Univision Deportes Team
For the First Time Ever, the Liga MX Final 2nd Leg Match will be Played on December 25
---
WHAT:
The month of December means holidays, family, food and fútbol, as Univision Deportes bring viewers exclusive U.S. live broadcasts of both Liga MX final matches on December 22 and 25, with play-by-play commentary and analysis by Univision Deportes' team of soccer experts on-site at each of the venues. UDN (Univision Deportes Network), the nation's No. 1 Spanish-language sports cable network, will also have detailed coverage on special live editions of its programs, all of which will be reporting on-site from Mexico beginning on Wednesday, December 21. 
A two-game total-goals match-up, the final pits perennial powerhouse Club América, the team with more Liga MX titles in history, against northern rivals Tigres UANL, who earned their spot with a hard-fought victory over León in Liguilla play.
Kickoff of the home leg is set for Thursday, December 22 at 10:00 p.m. ET (7:00 p.m. PT) at Mexico City's Azteca Stadium. Adriana Monsalve will host, with Enrique "El Perro" Bermúdez, Aldo Farías and Edgar Martínez narrating the match. Diego Balado and Félix Fernández will provide commentary with former América and Mexico National team player Adolfo Ríos as a special guest.
The away gets underway on Sunday, December 25 at 7:30 p.m. ET (4:30 p.m. PT) at Monterrey's Estadio Universitario. Adriana Monsalve and Edgar Martínez will be hosting the match and Enrique "El Perro" Bermúdez, Aldo Farías and José Luis López Salido will narrate. Félix Fernández and fútbol legend Enrique Borja, who played for América from 1969-1977 will provide expert commentary. Live coverage of both games will begin 30 minutes before kickoff. They will be simulcast by Univision Network, UDN, the Univision Deportes App, UnivisionDeportes.com and Univision Now.
In addition to game-time coverage, UDN and Univision Network will have comprehensive analysis and commentary on the matchup, with special editions of its most popular sports programs throughout the week.
WHEN:
Coverage begins on Wednesday, December 21 and continues through Sunday, December 25. All programs will be broadcast live. Full coverage schedule below.
ADDITIONAL INFORMATION:
Viewers can join the conversation about Liga MX on Twitter via @UnivisionSports, as well as on Facebook.com/UnivisionDeportes and Instagram on @UnivisionDeportes@UnivisionDeportes, or by using the hashtag # UDLigaMX on their favorite social media platform.
The Liga MX final matches are available online on http://univisiondeportes.com and via the Univision Deportes app. Authentication is required. For the latest information, please visit UnivisionDeportes.com.
CONTACT:
Jennifer Morales
(305) 640-3592
jemorales@univision.net
@UCIPRTeam
---
CELEBREN LAS FIESTAS EN FAMILIA CON LA COBERTURA EXCLUSIVA Y COMPLETA DE LOS PARTIDOS FINALES DE LA LIGA MX POR UNIVISION DEPORTES
La ronda final entre Club América y Tigres UANL se trasmitirá en vivo exclusivamente por la Cadena Univision y UDN el 22 y 25 de diciembre, con comentarios de expertos del equipo de Univision Deportes
Por primera vez en la historia, el partido de vuelta de la Final de la Liga MX, se jugará el 25 de diciembre
---
QUÉ:
El mes de diciembre trae fiestas, familia, comida y fútbol, pues Univision Deportes ofrece a los televidentes trasmisiones exclusivas en vivo en los Estados Unidos de ambos partidos finales de la Liga MX el 22 y 25 diciembre, con comentario y análisis de cada jugada por el equipo de expertos en fútbol de Univision Deportes, que estará presente en ambos estadios. UDN (Univision Deportes Network), la principal cadena deportiva de cable en español del país, también tendrá cobertura detallada en ediciones especiales en vivo de sus programas a partir del miércoles, 21 de diciembre desde México.
En la ronda final de dos partidos en la que ganará el equipo con más goles en total, se enfrentarán la perenne potencia Club América, el campeón más frecuente en la historia de la Liga MX, contra su rival del norte, Tigres UANL, que llegó a la ronda final tras una victoria muy reñida contra León en la Liguilla.
La ida se inicia el jueves, 22 de diciembre a las 10:00 p.m. hora del Este (7:00 p.m. Pacífico) en el Estadio Azteca de Ciudad de México. El partido estará bajo la conducción de Adriana Monsalve, y Enrique "El Perro" Bermúdez, Aldo Farías y Édgar Martínez lo anunciarán. Diego Balado y Félix Fernández serán los comentaristas junto con Adolfo Ríos, ex jugador de América y la selección nacional de México, como invitado especial.
La vuelta se inicia el domingo, 25 de diciembre a las 7:30 p.m. hora del Este (4:30 p.m. Pacífico) en el Estadio Universitario de Monterrey. Adriana Monsalve y Edgar Martínez presentarán el partido, y Enrique "El Perro" Bermúdez, Aldo Farías y José Luis López Salido lo narrarán. Félix Fernández y el legendario futbolista Enrique Borja, quien jugó para América de 1969-1977, ofrecerán comentarios expertos. La cobertura en vivo de ambos partidos empezará 30 minutos antes de su inicio. Se trasmitirán por la Cadena Univision, UDN, el app de Univision Deportes, UnivisionDeportes.com y Univision Now.
Además de cobertura durante los partidos, UDN y Cadena Univision tendrán análisis y comentario completo del encuentro, con ediciones especiales de sus más populares programas de deportes toda la semana.
CUÁNDO: 
La cobertura se inicia el miércoles, 21 de diciembre y continúa hasta el domingo, 25 de diciembre. Todos los programas se trasmitirán en vivo. Abajo está el calendario completo de cobertura.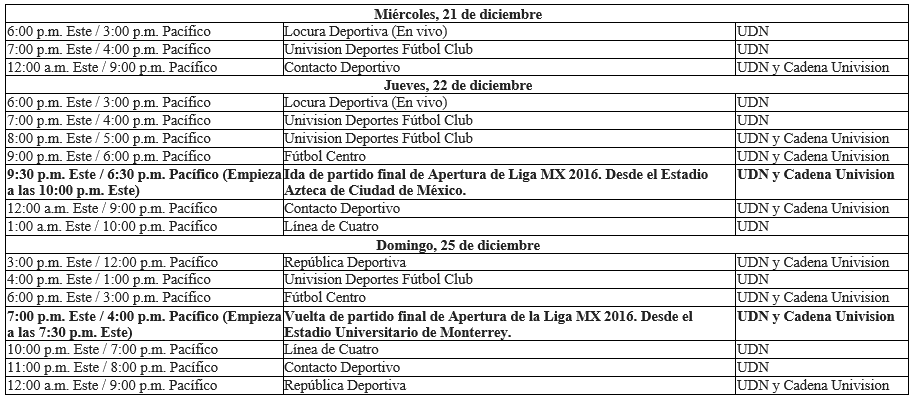 INFORMACIÓN ADICIONAL:
Los televidentes pueden participar en la conversación sobre la Liga MX en Twitter vía @UnivisionSports, como también en Facebook.com/UnivisionDeportes e Instagram en @UnivisionDeportes@UnivisionDeportes, o usando el hashtag #UDLigaMX en su plataforma favorita de redes sociales.
Los partidos finales de Liga MX se pueden ver en internet en http://univisiondeportes.com y vía el app de Univision Deportes. Se requiere autenticación. Para la última información, por favor visiten UnivisionDeportes.com.
CONTACTO:
Jennifer Morales
(305) 640-3592
jemorales@univision.net
@UCIPRTeam