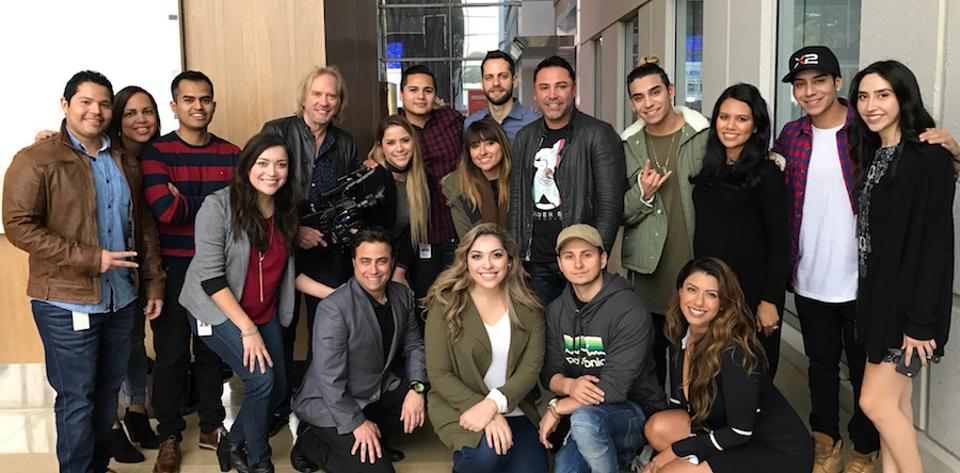 Oscar de la Hoya poses with the UCN team, influencers and Golden Boy Promotions team after the partnership deal announcement.
(Photo: Courtesy Univision.)
---
By: Veronica Villafañe
The Univision Creator Network (UCN) and Oscar de la Hoya's national boxing promotional company Golden Boy Promotions today announced they'll be digital partners.
As part of the deal, UCN will develop digital native content, digital campaigns and collaborate on sales and marketing opportunities for Golden Boy's YouTube channel. Univision will be Golden Boy's exclusive partner to sell pre-roll media on its YouTube channel and UCN creators will attend live events to engage with boxing fans across all their social media platforms.
According to Univision, UCN, which was launched in July of 2015, in November generated 45 million views on YouTube in the United States and over 150 million views globally.
"The Univision Creator Network and Golden Boy partnership marks a new era for boxing as we look to strategically expand our digital presence and build stronger engagement with our audience," Oscar De La Hoya, chairman and CEO of Golden Boy Promotions, said in a statement. "UCN's experts will work to create compelling content with digital stars that will resonate with Hispanic millennials. I look forward to working with them."
The first big partnership opportunity is this Saturday, December 17, when Golden Boy will host an influencer night at the "Final 1" battle between Bernard "The Executioner" Hopkins and Joe Smith Jr. at The Forum in Los Angeles. Some of UCN's top influencers – Josh Leyva, Daisy Marquez, David Alvarez, Jeremiah and Ezequiel Cardenas and Gina Fey will attend, promoting the event to their fans via their social networks.
"The 'Influencer Night' at the Bernard Hopkins vs. Joe Smith Jr. fight is the first of many collaborations we are excited to launch as part of our partnership," said Jennifer Perri, Director, Partnership Development & Multi-platform Strategy, Univision Creator Network.
UCN's top influencers Nicole Guerriero, who has over 2.6 million, Eric Ochoa, who surpasses 2.3 million, and Rosy McMichael who has 1.3 million YouTube subscribers, will also develop digital content for Golden Boy on their own social media channels, on Golden Boy's YouTube channel or at live events.
Source: Forbes