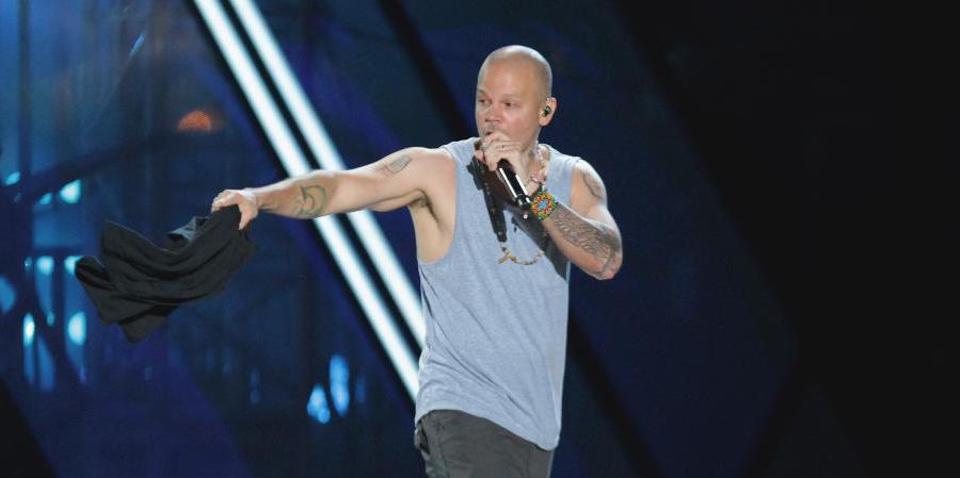 Photo by Leon Bennett/Getty Images for Univision
---
By: Veronica Villafañe
In its push to solidify its standing with a younger audience, the Fusion Media Group (FMG), a division of Univision, has struck a five-year creative and multi-platform production deal with 25-time Grammy Award-winning recording artist Residente.
Described by the company as "groundbreaking," the agreement includes the development of new multimedia content spanning music, touring, television and digital content, the launch of an experiential website, as well as merchandising, endorsements and sponsorships opportunities.
Residente, whose real name is René Pérez Joglar, is a Puerto Rican rapper, writer, producer and the co-founder of alternative rap duo Calle 13, which parted ways in 2015 after a nine-year run. A Nobel Peace Summit Award recipient, the recording artist is also a social activist, who has used his music, personal appearances and social media to take public stands on a wide range of issues, from education to politics – campaigning for Bernie Sanders and mobilizing support for the release of Puerto Rican political prisoner Oscar López Rivera.
"We are thrilled to be partnering with an artist of Residente's caliber – whose unique voice, unparalleled art and commitment to social justice deserve a far-reaching platform, now more than ever," Univision's music president Jorge "Pepo" Ferradas said in a statement.
Ferradas' statement makes reference to the country's current political climate, anti-immigrant sentiment and a growing number of millennials standing up for social justice causes. Univision and FMG have platforms that have advocated and promoted those concerns. In October, for example, Univision and FMG hosted Rise Up as One, a concert on the U.S.-Mexico border "to celebrate music, diversity and unity." That concert attracted a mix of high-profile artists, including Residente.
The Puerto Rican rapper has a massive social media impact with over five million Twitter and almost one million Instagram followers, as well as more than 800,000 Facebook fans. And that is particularly attractive for FMG as it seeks to further connect with a socially engaged millennial audience.
"In a system that cannibalizes true art, this partnership is a real oasis – it places art and creative freedom at its center, and I can't wait to start sharing my first pieces over the coming weeks," Residente said in a statement.
The artist will release his first solo album next year, produced by FMG and distributed by Sony Music Latin.
Univision, which sold its record label division to Universal Music Group in 2008, has been redefining its music business strategy. Earlier this year, the company created Univision Music and hired Ferradas to lead the new division.
The deal with Residente could pave the way to other high-profile artist deals as Univision looks to raise its profile in the music industry, capitalizing on its ability to cross promote content across its multiple television, cable, digital and social platforms.
Source: Forbes