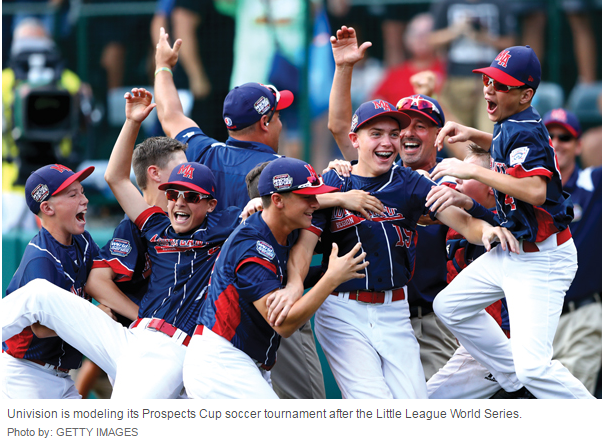 By: Ian Thomas
---
Using the Little League World Series as a template, Univision is launching a youth soccer tournament next year that aims to crown the world's best under-12 team.
Titled the Prospects Cup, the tournament will bring together 16 teams of 12-year-old boys — eight U.S. and eight international — for a five-day tournament scheduled for Dec. 18-22, 2017.
"Our mission is to really mirror what they've done in Williamsport," said Rick Alessandri, executive vice president of enterprise development for Univision. "Bring together those elements of sportsmanship, family, competition and camaraderie, and create compelling stories and moments around it."
Despite the global popularity of soccer, Alessandri said, no one amateur event has captured those elements of the Little League World Series, which led Univision to work on this project for roughly the last 18 months. One of the more notable international youth tournaments in the U.S., the Dr Pepper Dallas Cup, is for players ages 13 through 19.
The tournament will also be the inaugural event for Univision's new in-house experiential marketing arm, UCI Live, which launched last month. The company recently hired Brett Ehrlich, who worked on the International Champions Cup for Ascendent Sports Group, as its vice president of sponsorship sales and experiential marketing.
Univision will broadcast the tournament live on Univision Deportes in Spanish, and plans to syndicate it in English in the U.S. and globally, Alessandri said. He noted that while no additional broadcast contracts have been signed, the company has begun discussions with several distribution platforms, and is considering both linear and digital offerings.
There will also be an emphasis on creating content around the event such as personal-interest documentaries and player profiles, with a focus on sharing much of it digitally and through social media to hit a younger target audience.
Alessandri, who joined Univision in 2011 after working at ESPN for more than 10 years and running the global business operations for the X Games, said an RFP will be going out with an end-of-December deadline as part of a compressed schedule leading into the first event. Hopes are to announce the host city in January.
Univision will be working with consulting and planning firm Clancy's Sports Properties on managing the sporting side of the tournament, including dealing with youth associations and clubs. Mike Millay, that firm's managing partner, was one of the original executives behind Disney's Wide World of Sports complex, including its event programming and management. The tournament will be sanctioned by U.S. Youth Soccer and U.S. Club Soccer, which oversee and sanction clubs and all amateur competitions, Alessandri said.
While the first edition of the tournament is more than a year away, Univision is already planning for 2018 as well, aiming to add a similar size under-12 girls tournament alongside this one. In 2019, it hopes to increase the overall number of teams in each tournament to 32.
While Alessandri said that revenue generation was not the sole focus of this tournament, early discussions with marketers looking to reach families and a younger demographic have led him to believe the event will gain traction quickly. Univision will be marketing national category exclusive partnerships and will have sponsorable on-site experiential content, he said. He declined to provide projections for revenue.
Univision CEO "Randy Falco really believes in this opportunity to create a global platform," Alessandri said. "In 10 years, we're hoping countries will be bidding on hosting this."
Source: Sports Business Daily