Uniting a National Audience of Millions via a Live Television, Radio and Streaming Broadcast, the First-of-its-Kind Event saw Performances by Music Superstars Miguel Bosé, T Bone Burnett, Luis Coronel, Andra Day, Lila Downs, Jorge Drexler, Fonseca, Becky G, Jesse & Joy, Juanes, Natalia Lafourcade, Los Tigres del Norte, Debi Nova, Residente, Lupillo Rivera,  Alejandro Sanz, Julieta Venegas and Carlos Vives
Sprint Served as Presenting Sponsor of RiseUp AS ONE
---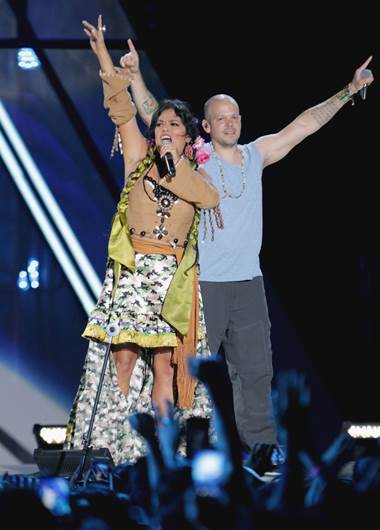 Residente and Lila Downs in a passionate and powerful finale
---
SAN DIEGO, CA – OCTOBER 15, 2016 – Today, thousands of people joined together on the U.S.-Mexico border in San Diego for a celebration of music, diversity and unity during RiseUp AS ONE, an unparalleled live-music event hosted by Univision Communications Inc. (UCI), the leading media company serving Hispanic America, and the Fusion Media Group (FMG), a division of UCI serving the rising American mainstream.
The event, for which Sprint served as the presenting sponsor, featured inspiring performances including "Somos Más Americanos" by the legendary Los Tigres Del Norte to kick off the show; a stirring version of the hit single "Rise Up" by San Diego native Andra Day, who was backed up by a choir; Alejandro Sanz, who performed "Looking for Paradise" with Jesse & Joy alongside students from the Berklee College of Music; Colombian Superstar Juanes, who gave the first TV performance of his new hit "Fuego"; Lila Downs, debuting brand new song "Demagogue"; young Southern California star Becky G, who performed "Mangu" and a heartfelt grand finale performance from Residente with special guests Lila Downs and T Bone Burnett. In addition, Lupillo Rivera interpreted "Dolores," the theme song for the upcoming series "Su Verdadero Nombre Era Dolores" (Her Name was Dolores), inspired by the life of his sister, the late Jenni Rivera. The new series will air on the Univision network in early 2017. Univision also debuted a music video for the official "RiseUp" song performed by Fonseca and Debi Nova (watch here).
Additional performers included Miguel Bosé, Luis Coronel, Jorge Drexler, Fonseca, Natalia Lafourcade, Julieta Venegas and Carlos Vives. The concert was hosted by "La Banda's" Alejandra Espinoza and award-winning journalist Jorge Ramos, along with FUSION's Nando Vila and Natasha del Toro. They were joined by special guests including Gael García Bernal and Jonás Cuarón of "Desierto," Mía Maestro, Wilmer Valderrama and more.
The United Nations Secretary General Ban Ki-moon saluted the event: "As the world confronts an upsurge of intolerance, we must meet this challenge by upholding human rights for all. I salute the organizers of the 'RiseUp AS ONE' concert for bringing people together to celebrate diversity, pluralism, and our common humanity," he said. "By staying together, we can illuminate a path towards a more just, equal and positive future."
The concert was broadcast live coast-to-coast in Spanish on Univision Network and English on FUSION and livestreamed across Fusion Media Group's digital platforms. UCI also covered and promoted the concert across its suite of platforms, including its 17 broadcast, cable and digital networks and partnerships, 126 local television and radio stations and an array of digital brands.
"At this critical time, RiseUp AS ONE was an unprecedented and unifying event that spoke to the shared values and passions of the communities we serve every day," said Camila Jimenez Villa, Co-President and Chief Content Officer, Fusion Media Group. "Music is an art form that transcends time, borders, ages and languages – and today proved it is the ultimate unifier. With thousands gathered on the U.S.-Mexico border to celebrate music and unity, we saw an incredibly powerful illustration that our country is strengthened by its diversity."
---
###
MILES SE SUMAN A UNIVISION Y FUSION PARA 'RISEUP AS ONE', UN CONCIERTO EN VIVO PARA CELEBRAR LA MÚSICA, DIVERSIDAD Y UNIDAD EN LA FRONTERA DE LOS ESTADOS UNIDOS Y MÉXICO
El primer evento de su tipo atrajo a una audiencia de millones en todo el país vía una trasmisión en vivo en televisión, radio y streaming, e incluyó actuaciones por las superestrellas de la música Miguel Bosé, T Bone Burnett, Luis Coronel, Andra Day, Lila Downs, Jorge Drexler, Fonseca, Becky G, Jesse & Joy, Juanes, Natalia Lafourcade, Los Tigres del Norte, Debi Nova, Residente, Lupillo Rivera, Alejandro Sanz, Julieta Venegas y Carlos Vives
Sprint auspició la presentación de RiseUp AS ONE
---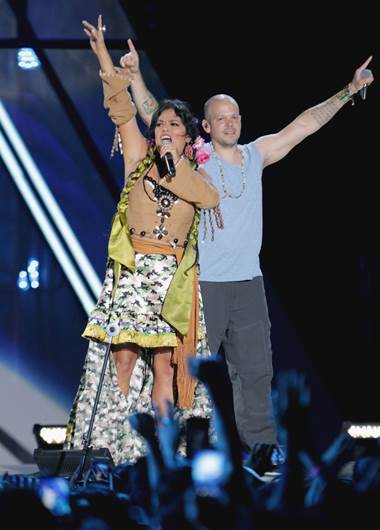 Residente y Lila Downs en un final apasinante y poderoso
---
SAN DIEGO, CA – 15 DE OCTUBRE DE 2016 – Hoy, miles de personas se congregaron en la frontera de los Estados Unidos y México, en San Diego, para 'RiseUp AS ONE', una celebración de la música, diversidad y unidad durante RiseUp AS ONE, un evento musical en vivo y sin paralelo presentado por Univision Communications Inc. (UCI), la principal empresa de medios de comunicación al servicio de la comunidad hispana en los Estados Unidos, y Fusion Media Group (FMG), una división de UCI dedicada a la emergente corriente general de los Estados Unidos.
El evento, auspiciado por Sprint, estuvo lleno de inspiradoras presentaciones, entre ellas: "Somos Más Americanos" por los legendarios Tigres del Norte, quienes dieron inicio al espectáculo; una conmovedora versión del popular sencillo "Rise Up" por Andra Day, oriunda de San Diego, acompañada por un coro, y "Looking For Paradise" por Alejandro Sanz y Jesse & Joy junto con alumnos de la Berklee College of Music. El superestelar colombiano Juanes interpretó por primera vez en televisión su nuevo éxito, "Fuego;" Lila Downs estrenó la canción "Demagogue"; la joven estrella Becky G del sur de Florida entonó "Mangu", y Residente cerró la velada con un conmovedor acto de lado de los invitados especiales Lila Downs y T Bone Burnett. Además, Lupillo Rivera interpretó "Dolores", la canción de la próxima serie Su Verdadero Nombre Era Dolores, basada en la vida de su hermana, la difunta Jenni Rivera. La nueva serie comenzará a trasmitir en la Cadena Univision a inicios de 2017. Univision también estrenó un video musical de la canción oficial de 'RiseUp', interpretada por Fonseca y Debi Nova (ver aquí).
También participaron los artistas Miguel Bosé, Luis Coronel, Jorge Drexler, Fonseca, Natalia Lafourcade, Julieta Venegas y Carlos Vives. Condujeron el concierto Alejandra Espinoza de "La Banda" y el galardonado periodista Jorge Ramos, como también Nando Vila y Natasha del Toro de FUSION. Se sumaron a ellos invitados especiales como Gael García Bernal y Jonás Cuarón de "Desierto", Mía Maestro, Wilmer Valderrama y muchos más.
El Secretario General de las Naciones Unidas Ban Ki-moon envió un saludo con motivo del evento: "Ahora que el mundo enfrenta la intensificación de la intolerancia, debemos hacerle frente a este desafío defendiendo los derechos humanos de todos. Felicito a los organizadores del concierto 'RiseUp AS ONE' por unir a la gente para celebrar la diversidad, el pluralismo y nuestra humanidad común", dijo. "Al permanecer juntos, podemos iluminar el camino hacia un futuro más justo, equitativo y positivo".
El concierto se trasmitió en vivo de costa a costa en español por la Cadena Univision y en inglés por FUSION, como también por Internet en las plataformas digitales y sociales de Fusion Media Group. UCI también ofreció cobertura y promovió el concierto en su conjunto de plataformas, incluyendo sus 17 cadenas digitales, de señal abierta y cable, como también sociedades, 126 estaciones locales de radio y televisión, y diversas marcas digitales.
"En este crucial momento, RiseUp AS ONE fue un evento sin precedente y unificador que reflejó los valores y pasiones comunes de las comunidades a las que prestamos servicios todos los días", dijo Camila Jiménez Villa, copresidenta y directora de contenido de Fusion Media Group. "La música es un arte que transciende tiempo, fronteras, edad e idioma, y hoy probó ser el sumo unificador. En las miles de personas congregadas en la frontera de los Estados Unidos y México para celebrar la música y unidad, vimos un ejemplo sumamente impactante de que nuestro país es mejor debido a su diversidad".
Los copresidentes del evento incluyeron: José Andrés, Nicolas Berggruen, T Bone Burnett, Ximena Caminos, Kenneth Cole, Jason Collins, Junot Díaz, Ava DuVernay, Emilio y Gloria Estefan, América Ferrera, el Dr. Henry Louis Gates Jr., Don Graham, Salma Hayek, Samuel L. Jackson, el Dr. Henry Jenkins, Quincy Jones, Mía Maestro, Lin-Manuel Miranda, Jonathan Olinger, Eduardo Padrón, Shonda Rhimes, Robert Rodríguez, el Dr. Robert K. Ross, Sree Sreenivasan, Forest Whitaker y Ethan Zuckerman.
Para más información sobre el evento, por favor visiten RiseUpAsOne.com (#RiseUpAsOne). Para fotos y videos del evento visita: http://bit.ly/2dWsxmk.
CONTACTO: David Ford david@fusion.net 305-925-8882 @FusionMedia
Iveliesse Malave imalave@univision.net 305-471-1634 @UCIPRTeam
###