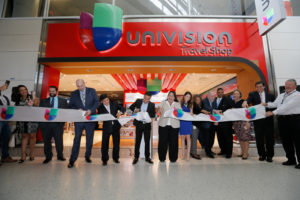 Univision Communications Inc. and Paradies Lagardère celebrated the opening of the fifth Univision-branded specialty store with a special ribbon-cutting ceremony at Dallas- Fort Worth International Airport on Tuesday, October 4, 2016. Univision executives Rick Alessandri, EVP, Enterprise Development and Mark Masepohl, Senior Vice President and General Manager, Univision Dallas were joined by Ken Buchanan, EVP, Revenue Management, DFW Airport, Zenola Campbell, VP of Concession, DFW Airport, Linda Valdez-Thompson, EVP Administration and Diversity, DFW Airport and Gregg Paradies, President and CEO, Paradies Lagardère, as well as special guest Monica Alonzo, Dallas Mayor Pro Tem. Univision Dallas personalities Karen La Coqueta, Danny Luna, Johana Suarez and Albert Martinez, helped emcee the event. Photo Credit: Brandon Wade/AP Images for Univision
---
DALLAS-FORT WORTH, TX – OCTOBER 5, 2016 – Univision Communications Inc., the leading media company serving Hispanic America, and Paradies Lagardère, the travel retail and restaurateur leader in North America, yesterday hosted a ribbon-cutting ceremony for the opening of a Univision-branded store located in Terminal D at Dallas Fort Worth International Airport (DFW). This is the fifth Univision-branded store opened in partnership with Paradies Lagardère in airports across the country, including two at Los Angeles International Airport (LAX) in June 2015, one at Houston George Bush Intercontinental Airport (IAH) in March 2016 and one at Fort Lauderdale-Hollywood International Airport in July 2016.
Univision-branded stores feature various products, including snacks and beverages that represent Latin America, as well as all the basic travel essentials. Each location features Univision programming in Spanish throughout the day on large television screens, including Noticiero Univision, the most trusted newscast on Spanish-language television in the United States.
CONTACTS: Yvette Pacheco Univision Communications Inc. (646) 560-4879 ypacheco@univision.net @UCIPRTeam; Michael Pietryka Paradies Lagardère (404) 388-5819 michael.pietryka@paradies-na.com; Cynthia Vega Dallas Fort Worth Airport (214) 707-2471
###
---
UNIVISION Y PARADIES LAGARDÈRE CELEBRAN LA APERTURA DE UNA TIENDA ESPECIALIZADA CON LA MARCA UNIVISION EN EL AEROPUERTO INTERNACIONAL DE DALLAS FORT WORTH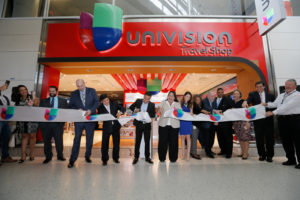 Univision Communications Inc. y Paradies Lagardère celebraron la apertura de la quinta tienda especializada con la marca Univision con una ceremonia de corte de cinta en el Aeropuerto Internacional de Dallas-Fort Worth el martes, 4 de octubre, 2016. Los ejecutivos de Univision Rick Alessandri, vicepresidente ejecutivo de Desarrollo Empresarial, y Mark Masepohl, vicepresidente principal y gerente general de Univision Dallas, contaron con la presencia de Ken Buchanan, vicepresidente ejecutivo de administración de ingresos del Aeropuerto de DFW, Zenola Campbell, vicepresidenta de Concesiones del Aeropuerto de DFW, Linda Valdez-Thompson, vicepresidenta ejecutiva de Administración y Diversidad del Aeropuerto de DFW y Gregg Paradies, presidente y director ejecutivo de Paradies Lagardère, como también la invitada especial Mónica Alonzo, alcaldesa interina de Dallas. Las celebridades de Univision Dallas Karen La Coqueta, Danny Luna, Johana Suárez y Albert Martínez ayudaron a presentar el evento. Foto por Brandon Wade/AP Images para Univision
---
DALLAS-FORT WORTH, TX –5 DE OCTUBRE DE 2016 – Univision Communications Inc., la principal empresa de medios de comunicación al servicio de la comunidad hispana en los Estados Unidos, y Paradies Lagardère, el líder en Norteamérica en restaurantes y tiendas turísticas, fueron ayer los anfitriones en una ceremonia de corte de cinta por la apertura de la tienda especializada en la marca Univision en el Terminal D del Aeropuerto Internacional de Dallas Fort Worth (DFW). Esta es la quinta tienda con la marca Univision que se abre en sociedad con Paradies Lagardère en varios aeropuertos del país, incluyendo dos en el Aeropuerto Internacional de Los Ángeles (LAX) en junio de 2015, una en el Aeropuerto Intercontinental George Bush de Houston (IAH) en marzo de 2016 y una en el Aeropuerto Internacional de Fort Lauderdale-Hollywood en julio de 2016.
Las tiendas con la marca Univision ofrecen varios productos, como bocadillos y bebidas que representan a Latinoamérica, además de todos los artículos esenciales para viajes. Cada local tiene programación de Univision en español durante todo el día en grandes pantallas de televisión, como el Noticiero Univision, el noticiero de mayor prestigio de la televisión en español de los Estados Unidos.
CONTACTOS: Yvette Pacheco Univision Communications Inc. (646) 560-4879 ypacheco@univision.net @UCIPRTeam; Michael Pietryka Paradies Lagardère (404) 388-5819 michael.pietryka@paradies-na.com; Cynthia Vega Dallas Fort Worth Airport (214) 707-2471
###