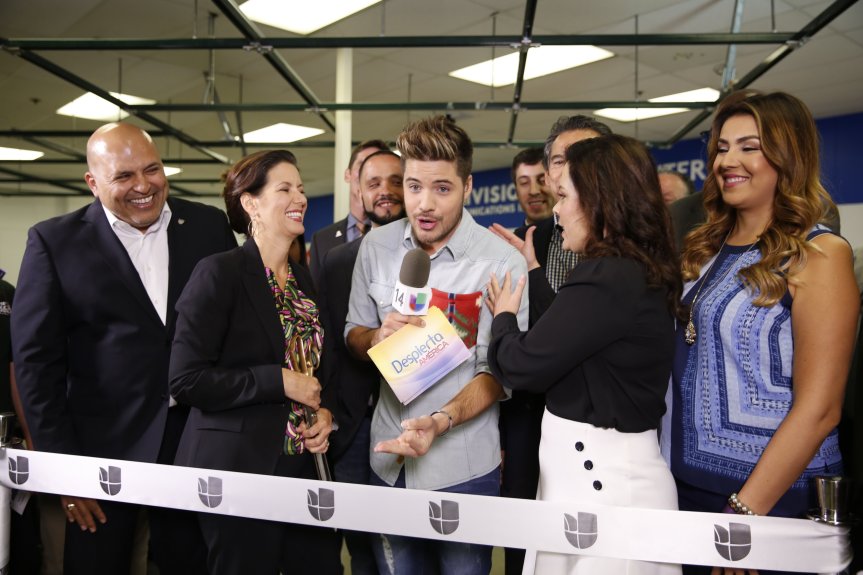 Univision Ribbon Cutting Ceremony. From left: Raul Rodriguez, general manager for Univision Bay Area, Oakland Mayor Libby Schaaf, William Valdes, of Univision's "Despierta America," Jessica Rodriguez, Univision chief marketing officer and KDTV's Alejandra Arce, at the Sept. 9 ribbon-cutting ceremony for a new media center Univision donated to Oakland's United for Success Academy on 35th Avenue.
---
By Mark Hedin
In hopes of providing more tools for youngsters to use in crafting their futures, broadcasting giant Univision, the world's biggest Spanish-language media company, has donated and set up a broadcast production studio for students at Oakland's United for Success Academy on 35th Avenue.
The media center, a collection of computers, cameras and related gear in a room dedicated specifically for that purpose, is one of six the media giant provided this fall to schools around the country.
"Univision understands and embraces the importance of multiculturalism in this ever-changing industry and increasingly diverse society," president and CEO Randy Falco said of the donations. "Univision is driven by its mission to give a voice to the Hispanic community."
"If more Latino students learn media and technology skills, then more will be better prepared for careers in the technology and media sectors where diversity continues to be an issue," Univision's Jessica Herrerra-Flanigan, executive vice president of government and corporate affairs, said in an email.
"The purpose of the Univision Media Centers is to provide students with the tools and training to understand how a media newsroom operates – give the students experience with production and editing equipment," she said.
The donated equipment includes five editing computers, a mini studio and control room, and five sets of cameras, microphones, lights and other equipment.
Additionally, Univision promised to make its executives, producers and on-air personalities available to help out.
"We're excited about showing students why their education is important and get them excited about coming to school," Oakland Mayor Libby Schaaf, who attended the ribbon-cutting ceremony, told this newspaper.
"To have this hip, hot media studio at their school, particularly a school that is predominantly Spanish-speaking, is particularly meaningful," she continued. "Joy in learning is something that the district is really trying to step up. I wanted to come back and play with this media equipment myself. It is going to be something that will get tired children out of bed and excited to go to school. These are skills that are in high demand."
Univision declined to put a figure on the cost of its investment in Oakland students ("it wasn't small," Schaaf said), but nationally, the corporation earlier this year began an "I Am Univision Contigo" week of service program that brought volunteers out into communities across the country, including setting up the media centers at the six schools receiving them.
The ribbon-cutting ceremonies were broadcast on the network's "Despierta America" program on Sept. 9. "They chose a good school," Schaaf said.
The other cities included Austin, Texas; the Bronx, New York; Los Angeles; Chicago; and Miami, but not all them received the editing computers and control room that United for Success students will be using.
On hand for the ribbon-cutting ceremony besides Schaaf were Oakland Unified Superintendent Antwan Wilson, local Univision affiliate KDTV-14's Alejandra Arce and William Valdes of "Despierta America."
Valdes also signed autographs for some of the children outside the school and posed for pictures with students and faculty.
Source: East Bay Times