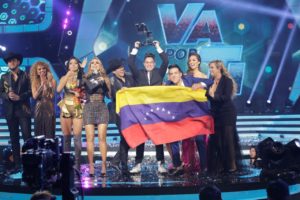 Nayi Escalona holds up the "Va Por Ti" trophy as everyone celebrates his big win
---
MIAMI, FL – SEPTEMBER 4, 2016 – In a grand finale filled with music, anticipation and special guests, show judges and fans declared, Nayi Escalona as the winner of the second season of "Va Por Ti" (Go For It), becoming the nation's newest Latin music sensation. The young Venezuelan winner, who resides in Miami, FL, will not only take home a $50,000 cash prize, but Univision will give him the opportunity to record his first single.
During the two-hour finale, the seven finalists – Joanna Bernal from El Paso, Johnny Bliss from New York, Nayi Escalona from Miami, Rassel Marcano from Miami, Manuel Romero from San Jose, Jonathan Salazar from Los Angeles, and Carlos Valls from Puerto Rico – once again demonstrated their remarkable talent and incredible professional growth throughout the vigorous competition.
In addition, popular recording artist Leslie Grace, who during the semi-finale performed her newest single "Aire", became the winning captain for having the most contestants on her team throughout the season. Also during the show finale, captains Luis Coronel and Chiquis Rivera returned to support the contestants in the grand finale.
The show captains and judges were joined by guest judge and Mexican superstar Yuri who enjoyed live performances from the contestants as well as from special guest Mexican regional star Espinoza Paz. Mexican comedian, actor and TV host Adrian Uribe also joined the finale performing along with host, Galilea Montijo.
The competition started with the first round of musical performances: Rassel, Jonathan, Johnny and Joanna performed one song of Yuri, while Manuel, Carlos and Nayi performed one of Espinoza Paz. After the evaluation of the show judges, Johnny Bliss was chosen as the first to be eliminated and placed seventh, followed by Manuel Romero in sixth place. The competition continued with Jonathan, Rassel and Carlos performing again and after another round evaluation, the judges placed Carlos Valls in fifth place.
During the next musical round, each finalist performed the classic "Te Sigo Amando" of Mexican music legend Juan Gabriel. After the judges' evaluation and fan votes, Jonathan Salazar was placed in fourth place, and after another musical round, Joanna Bernal was placed in third place.
The two finalists left, Nayi Escalona and Rassel Marcano, had their final round singing on stage along with Yuri. Following this very special performance, Nayi Escalona was announced the winner of the season, leaving Rassel as the first runner up.
"Va Por Ti" is a co-production of Televisa and Univision Network.  The show began with 28 candidates divided into three teams led by popular Latin music artists: captains Luis Coronel, Chiquis Rivera and Leslie Grace. The challenging competition featured a panel of judges led by Alejandra Guzmán, Eden Muñoz and Armando Ramos, Regional Mexican music singers and members of banda group Calibre 50, plus an internationally recognized artist as guest judge every week. Throughout the season, "Nuestra Belleza Latina VIP's first runner up Setareh Khatibi gave viewers the latest updates of the competition across Univision's social media platforms.
Fans can get the latest updates and news about Univision Network's reality competition on VaPorTi.com or by following @VaPorTi on Twitter and @VaPorTi on Instagram, as well as Facebook.com/VaPorTi or joining the conversation using #VaPorTi.
Members of the media can click here for show pictures. Photos courtesy of Univision Network.
CONTACT:  Jenisei Couso (305) 471-1692 jcouso@univision.net @UCIPRTeam
###
---
NAYI ESCALONA ENTREGÓ SU CORAZÓN EN LA COMPETENCIA DE CANTO "VA POR TI" DE UNIVISION Y SE CONVIERTE EN LA MÁS RECIENTE SENSACIÓN DE LA MÚSICA LATINA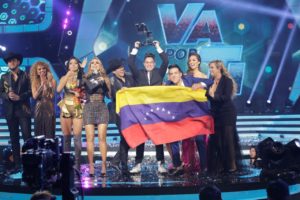 Nayi Escalona sostiene en alto el trofeo de "Va Por Ti" mientras que todos celebran su gran Victoria
---
MIAMI, FL – 4 DE SEPTIEMBRE DE 2016– En una gran final llena de música, grandes expectativas e invitados especiales, los jueces y el público declaran a Nayi Escalona como el ganador de la popular competencia de canto "Va Por Ti" de la Cadena Univision, pasando así a ser la más reciente sensación de la música latina. El joven ganador de origen venezolano, quien reside en Miami, FL, no sólo se llevará a casa un premio en efectivo de $50,000, sino que también Univision le dará la oportunidad de grabar su primer sencillo.
Durante la final de dos horas, siete finalistas – Joanna Bernal de El Paso, Johnny Bliss de Nueva York, Nayi Escalona de Miami, Rassel Marcano de Miami, Manuel Romero de San Jose, Jonathan Salazar de Los Ángeles, y Carlos Valls de Puerto Rico – volvieron a demostrar su enorme talento y gran evolución profesional durante toda la dinámica competencia.
Además, la popular artista Leslie Grace, quien interpretó su más reciente sencillo titulado "Aire" durante la semifinal, fue nombrada la capitana ganadora por tener el mayor número de concursantes durante la temporada. También durante el programa, los capitanes Luis Coronel y Chiquis Rivera volvieron para apoyar a los concursantes durante la gran final.
Esta noche, se sumaron a los capitanes y jueces, la superestrella mexicana Yuri, quien fue la invitada especial del jurado y disfrutó las presentaciones en vivo de los concursantes, como también del invitado especial Espinoza Paz, estrella de la música regional mexicana. También, el comediante, actor y presentador de televisión mexicano Adrian Uribe se unió a la gran final cantando y bailando junto a la presentadora del programa Galilea Montijo.
La competencia comenzó con la primera ronda de presentaciones musical: Rassel, Jonathan, Johnny y Joanna interpretaron canciones de Yuri, mientras que Manuel, Carlos y Nayi interpretaron canciones de Espinoza Paz. Luego de la evaluación de los jueces, Johnny Bliss termina en el séptimo lugar, seguido por Manuel Romero en sexto lugar. En la siguiente ronda, Jonathan, Rassel y Carlos cantaron para una nueva evaluación donde Carlos Valls termina en quinto lugar de la competencia.
Durante la siguiente ronda, cada finalista interpretó la canción "Te Sigo Amando" del legendario músico mexicano Juan Gabriel. Luego de una nueva evaluación por los jueces y los votos del público, Jonathan Salazar fue seleccionado como cuarto lugar. Luego de otra ronda musical, Joanna Bernal termina en tercer lugar.
Los últimos dos finalistas, Nayi Escalona y Rassel Marcano, realizaron su última ronda de canto junto a Yuri. Luego de esta especial presentación, Nayi Escalona es anunciado como el ganador de la temporada, quedando Rassel como la primera finalist.
"Va Por Ti" es una producción conjunta de Televisa y la Cadena Univision.  El programa comenzó con 28 concursantes divididos en tres equipos dirigidos por populares representantes de la música latina: los capitanes Luis Coronel, Chiquis Rivera y Leslie Grace. Encabezaron el jurado durante la reñida competencia Alejandra Guzmán, Edén Muñoz y Armando Ramos, cantantes de música regional mexicana y miembros de la banda Calibre 50, además de un músico de renombre internacional como juez invitado cada semana. Durante la temporada, la primera finalista de "Nuestra Belleza Latina" VIP, Setareh Khatibi, le presentó a los televidentes la última información sobre la competencia en las plataformas de redes sociales de Univision.
Los fans pueden leer las últimas novedades y noticias sobre la competencia tipo reality de la Cadena Univision en VaPorTi.com o siguiendo @VaPorTi en Twitter y @VaPorTi en Instagram, como también en Facebook.com/VaPorTi, o pueden participar en la conversación usando #VaPorTi.
Los miembros de la prensa pueden hacer clic aquí para ver fotos del programa. Las fotos son cortesía de la Cadena Univision.
CONTACTO: Jenisei Couso (305) 471-1692 jcouso@univision.net @UCIPRTeam
###