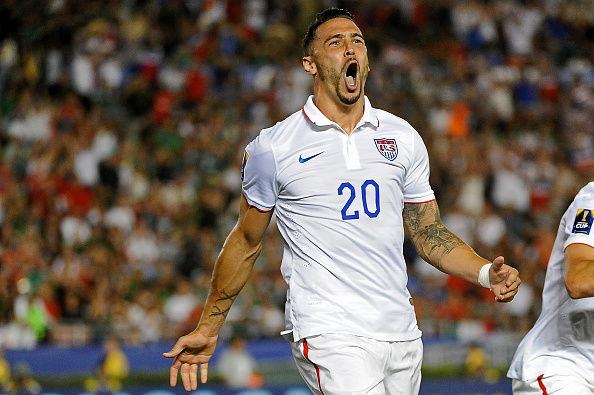 Geoff Cameron #20 of the United States celebrates after scoring against Mexico during the 2017 FIFA Confederations Cup Qualifier at Rose Bowl on October 10, 2015 in Pasadena, California. (Photo by Jonathan Moore/Getty Images)
---
Copa America Centenario and Olympics Draw Dollars to TV and Radio
This article is part of an ongoing Media Life series entitled "Catching the next big wave: Hispanic media."
By Diego Vasquez
---
The U.S. has a growing number of markets with major Hispanic populations. For the 2015-16 TV season, there were 29 Nielsen DMAs with at least 100,000 Latino households. Yet when it comes to sheer numbers, one market has way more than the rest: Los Angeles.
There are 1.92 million Hispanic TV households in the LA market, according to Nielsen, by far No. 1 in the U.S. By comparison, the Nos. 2 and 3 Hispanic markets, New York and Miami, have a combined 2.21 million Latino households.
This summer the Los Angeles Hispanic media market is enjoying healthy conditions that should continue through the end of the year. TV stations aren't saying how much spending is up this year is up, but buyers say demand indicates the market is strong.
"Stations have been reluctant to share this information, but inventory is tight through the end of the year," says Debbie Schwartzbauer, local media supervisor at RPA.
Demand for Hispanic networks is high
She says the auto, legal services, retail and fast food categories are driving the Hispanic TV market in LA, and inventory is tight across nearly every day-part. One reason Hispanic TV in LA is so hot this year is all the special events, including the Copa America Centenario, the Olympics and the presidential election.
"Many advertisers are increasing their investments against the Hispanic market, and the market has been very healthy with all of the events this year," says Isabella Sanchez, vice president of media integration at Zubi Advertising.
Still, local Spanish-language media thrives even without such events.
During July sweeps, Univision was the No. 1 total-day network in the market among viewers 18-49, regardless of language. It was also the No. 2 total-day network among total viewers.
And it was No. 1 in primetime for the month among 18-49s and No. 2 among total viewers.
Radio in LA
Meanwhile, Hispanic radio in Los Angeles is also healthy. As with English-language stations, the highest demand is for the morning and afternoon drive times, while middays are more open for negotiation.
Automotive is strong, and healthcare and fast food are also spending. But Schwartzbauer says some wireless companies have pulled back spending. In July, there were four Hispanic radio stations among the market's top 18 overall stations.
"The media landscape has a lot of diverse options for buyers to consider, which aide in reaching objectives and making an impact in the market," Sanchez says.
Univision Radio claimed the top three Hispanic stations in July. Spanish contemporary hits station KLVE-FM was No. 6 overall in the market with a 3.9 average quarter-hour listener share, according to Nielsen Audio.
Meanwhile, Univision's Spanish variety station KRCD-FM was No. 11 overall with a 3.2 share, and its Regional Mexican station KSCA-FM was tied for No. 12 overall with a 2.9. The top non-Univision Hispanic radio station in the market was SBS's Regional Mexican station KLAX-FM, which tied for No. 17 with a 2.4 AQH share.
Source: Media Life Magazine