MIAMI – AUGUST 1, 2016 – Univision Deportes, the No. 1 Spanish-language sports network and multimedia sports division of Univision Communications Inc. (UCI), announced its broadcast plans for the anticipated 2016/2017 Scotiabank CONCACAF Champions League tournament across UDN and Galavisión network. Starting Aug. 2nd 2016, fútbol aficionados will be able to enjoy LIVE coverage of the 24 participating teams battling to become the CONCACAF champion.
"As we make inroads to solidifying our position as the go-to destination for soccer fans, the CONCACAF Champions League continues to be an important tournament for true fútbol aficionados," said Juan Carlos Rodriguez, President of Univision Deportes. "At Univision Deportes we strive to bring fans year-round coverage of the teams, leagues and tournaments that matter most to them."
"We are very excited to kick off another season of the Scotiabank CONCACAF Champions League," said CONCACAF President, Victor Montagliani. "As the fan base of the Confederation's premier club competition continues growing, we are proud to count on Univision to expand the reach of our tournament, while ensuring that millions of soccer fans enjoy and experience the game through multiple platforms."
Univision Deportes and sister network Galavisión will broadcast all group stage matches of the Champions League tournament, which kicks off with the group stage held from August 2, 2016 and runs through October 10, 2016, followed by the quarterfinals from February 21, 2017 to March 2, 2017. The winner of the tournament will participate in the 2017 FIFA World Club Championship.
Both Mexico and the United States will have four participating teams in the tournament when it opens, including the Mexican team winners and runners-ups from the Liga MX Clausura and Apertura seasons. A total of 24 teams will participate in the tournament this season, including teams from Canada, Costa Rica, El Salvador, Guatemala, Honduras, Panama, Belize, Nicaragua, as well as three teams from the Caribbean. Liga MX's Club America are the current back-to-back champions of the tournament after taking home the honors in both 2015 and 2016 and will be participating in FIFA Club World Cup Japan 2016.
The semifinals stage of the competition will take place from March 14, 2017 to April 5, 2016. The final matches with be played from April 19, 2017 to April 26, 2017. Time and teams participating in the quarterfinals, semifinals and final are to be confirmed closer to date.
All matches will be available via the Univision Deportes App and via livestreaming on Univision Now and UnivisionDeportes.com.
THE FULL SCHEDULE IS AS FOLLOWS: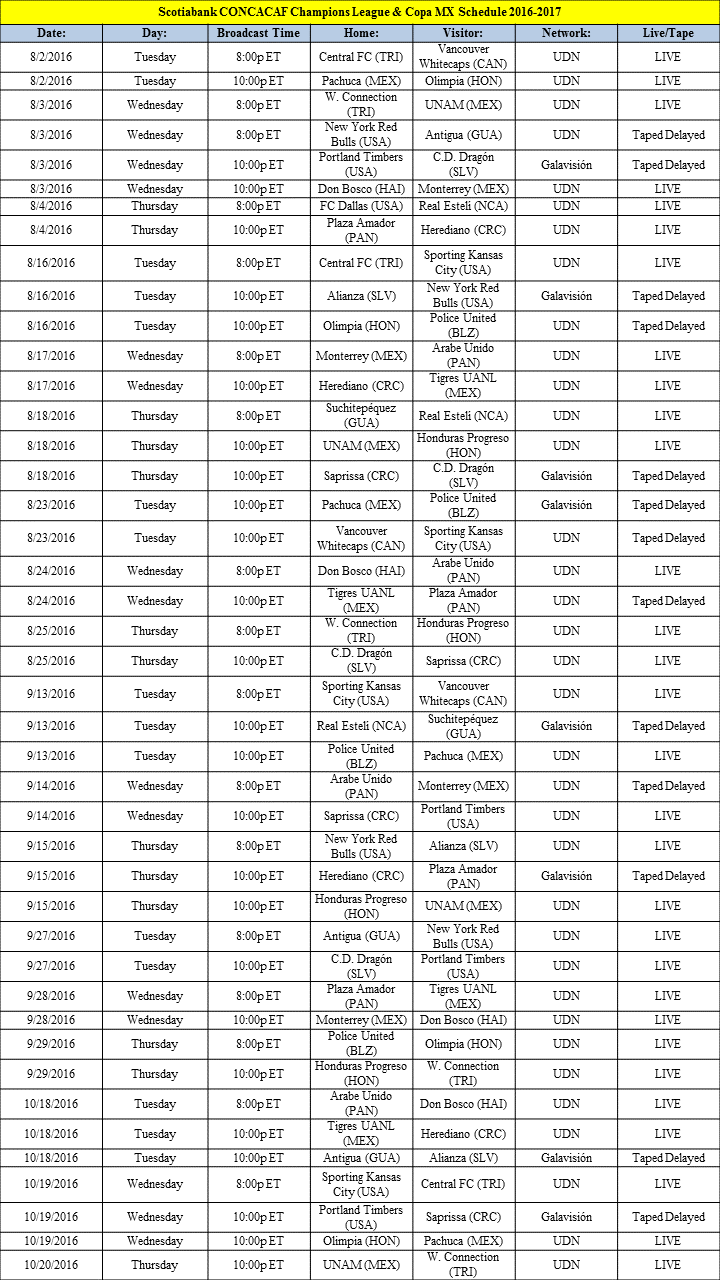 ADDITIONAL INFORMATION
Fútbol fanáticos can also tune in to matches, live, on their computers, phones or tablets through the Univision Deportes App. Livestreaming will also be available on Univision Now and UnivisionDeportes.com. Fans can stay connected with Copa MX and CONCACAF Champions League 2016 through Facebook.com/UnivisionDeportes, following @UnivisionDeportes on Instagram and @UnivisionSports on Twitter, or by using the hashtag #UDCCL on their favorite social media platform.
CONTACT:
Jennifer Morales
305.640.3592
jemorales@univision.net
@UCIPRTeam
---
UNIVISION DEPORTES ANUNCIA SUS PLANES PARA LA COBERTURA MÁS COMPLETA EN VIVO Y EN PLATAFORMAS MÚLTIPLES DE LA LIGA DE CAMPEONES CONCACAF SCOTIABANK 2016/2017
---
MIAMI – 1 DE AGOSTO DE 2016 – Univision Deportes, la cadena No. 1 de deportes en español y la división deportiva multimedia de Univision Communications Inc. (UCI), anunció sus planes para trasmitir el muy esperado torneo de la Liga de Campeones de CONCACAF Scotiabank de 2016/2017 en UDN y la cadena Galavisión. A partir del 2 de agosto de 2016, los aficionados al fútbol podrán disfrutar cobertura EN VIVO de los 24 equipos participantes mientras luchan por llegar a ser el campeón de la CONCACAF.
"Nos complace llevarles a los fanáticos del fútbol la Liga de Campeones de CONCACAF de 2016 como parte de nuestro compromiso con ofrecer a los fans cobertura todo el año de los equipos, las ligas y los torneos más importantes para ellos", dijo Juan Carlos Rodríguez, presidente de Univision Deportes. "Como el destino predilecto de los fans del fútbol, nos proponemos ofrecer la cobertura más relevante de los deportes que les encantan a los fans".
"Estamos muy emocionados de comenzar otra temporada de la Liga de Campeones CONCACAF Scotiabank", dijo el Presidente de CONCACAF, Víctor Montagliani. "A medida que la base de aficionados de la competencia premier de clubes de la Confederación continúa creciendo, estamos orgullosos de contar con el apoyo de Univisión para expandir el alcance de nuestro torneo, y asegurar que millones de seguidores del fútbol disfruten y experimenten el juego a través de múltiples plataformas".
Univision Deportes y Galavisión, su cadena hermana, trasmitirán todos los partidos del torneo de la Liga de Campeones, que se inicia con la etapa de grupos del 2 de agosto, 2016 al 10 de octubre, 2016, seguida por los cuartos de final del 21 de febrero de 2017 al 2 de marzo de 2017. El equipo ganador del torneo participara en La Copa Mundial de Clubes de la FIFA 2017.
Cuatro equipos de tanto México como los Estados Unidos participarán en el torneo a su inicio, entre ellos los equipos mexicanos que fueron los ganadores y quedaron en segundo lugar en las temporadas de Clausura y Apertura de la Liga MX. Un total de 24 equipos participarán en el torneo, incluyendo equipos de Canadá, Costa Rica, El Salvador, Guatemala, Honduras, Panamá, Belice y Nicaragua, como también tres equipos del Caribe. Club América de Liga MX son los actuales campeones del torneo después de llevarse a casa los honores tanto en 2015 y 2016 y estará participando en la Copa Mundial de Clubes de la FIFA Japón 2016.
La etapa semifinal del campeonato tendrá lugar del 14 de marzo de 2017 al 5 de abril de 2016. Los partidos finales serán del 19 de abril de 2017 al 26 de abril de 2017. La hora y los equipos participantes se confirmarán más cerca de la etapa de cuartos de final, semifinal y final.
Todos los partidos están disponibles en el app de Univision Deportes, en vivo en Univision Now y UnivisionDeportes.com.
A CONTINUACIÓN, ESTÁ EL HORARIO COMPLETO: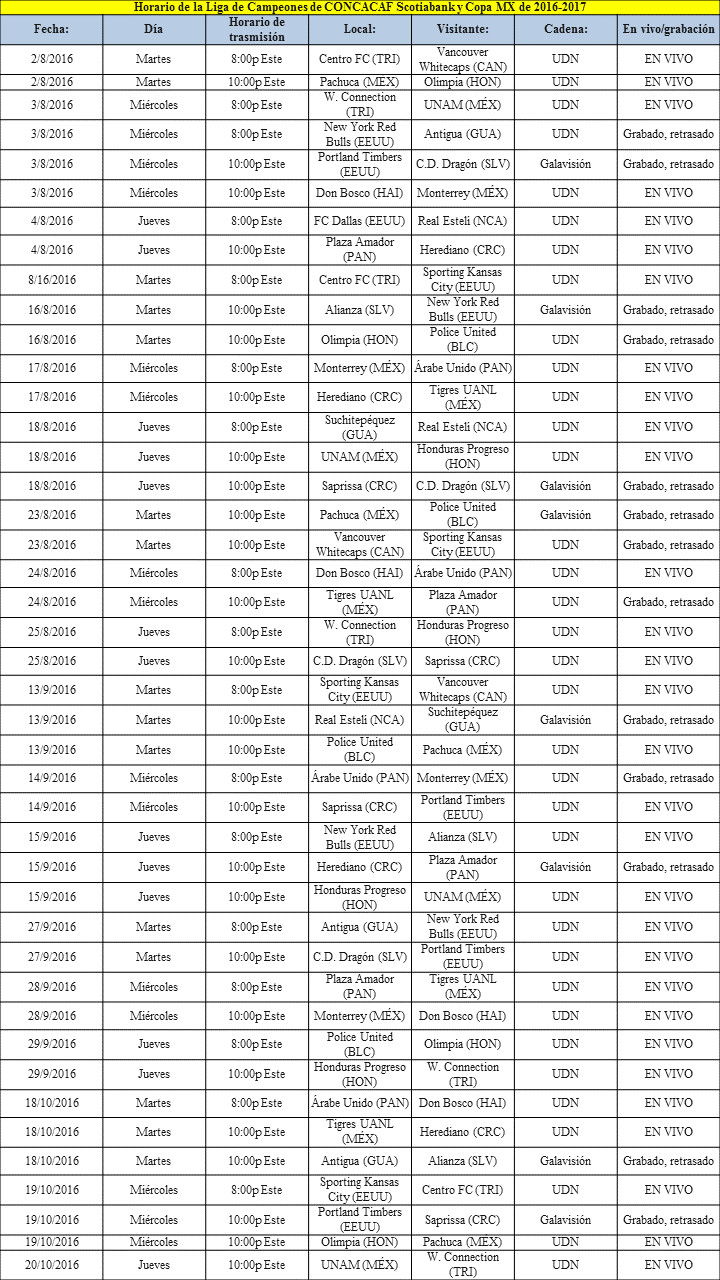 INFORMACIÓN ADICIONAL
Los fanáticos del fútbol también pueden sintonizar los partidos en vivo en sus computadoras, móviles y tabletas con la aplicación de Univision Deportes. También se ofrecerá streaming en vivo en Univision Now y UnivisionDeportes.com. Los fans pueden permanecer conectados con la Copa MX y la Liga de Campeones de CONCACAF de 2016 por medio de Facebook.com/UnivisionDeportes, siguiendo @UnivisionDeportes en Instagram y @UnivisionSports en Twitter, o usando el hashtag #UDCCL sus plataformas favoritas de redes sociales.
CONTACTO:
Jennifer Morales
305.640.3592
jemorales@univision.net
@UCIPRTeam