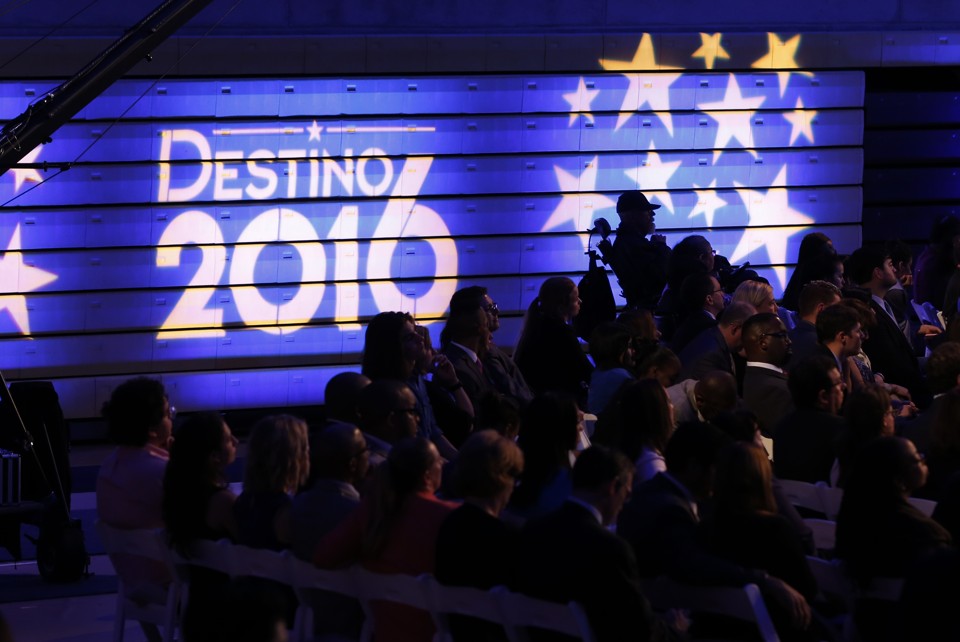 Audience members listen to Democratic presidential candidates, Sen. Bernie Sanders, I-Vt, and Hillary Clinton during the Univision, Washington Post Democratic presidential debate at Miami-Dade College, Wednesday, March 9, 2016, in Miami. (AP Photo/Wilfredo Lee)
---
Univision has established itself as a powerful and influential voice in politics. Republican candidates ignore the network at their own peril.
By Priscilla Alvarez
July 19, 2016
---
Take a walk down Vermont Avenue in Washington, D.C., and you might run into an advertisement that reads: "HOPE." Look a little closer, and in smaller type, it continues: "…wasn't enough. It took Univision." In other words, President Obama (HOPE) needed Univision and its audience to win his election—something that, in 2016, anyone running for office might want to keep in mind. But in case that wasn't totally clear, the next line of the ad touts its ability to reach "persuadable voters."
And there are more of those voters than ever before: Latinos made up roughly 17 percent of the country's population in 2014, according to the U.S. Census Bureau, and Latino voter turnout is projected to increase by 17 percent in the general election—meaning, they will play an even more influential role in who secures Congress and the White House. That's why, in the lead-up to Election Day, the nation's largest Spanish-language network has established itself as a powerful voice on politics.
Univision has been expanding its reach for some time, largely because of the uptick in the Latino population in the United States. For Latinos, television is the most popular format for consuming the news, with the internet close behind, according to the Pew Research Center. So it was unsurprising when, recently, Univision acquired a stake in Onion Inc., which includes popular humor and trend-culture websites like The Onion,ClickHole, A.V. Club, StarWipe, and Onion Studios. The move reflects the network's efforts to reach younger audiences, who are more likely to want their news online and in English.
For the election, Univision has the unique challenge of covering the race like other media outlets, while also bearing in mind the specificity of their audience. In February, the network launched its election coverage, "Destino 2016," to "keep Hispanic America fully informed on all electoral developments." That includes the Republican and Democratic national conventions, where Univision journalists will be on the lookout for Latino delegates, said Lourdes Torres, Univision's senior vice president for political coverage and special projects. "On the Latino side, that is where we're going to find a lot of the interesting stories," she said, "because this is a segment of the population in this country that has been mostly affected by the central themes of the campaigns, particularly on the Republican side." Univision's influence in the United States is expansive. Over time, the network has hit new viewership milestones: In 2013, for example, it beat out the other broadcast networks during July sweeps, averaging 1.8 million viewers between the ages of 18 to 49 from June 27 to July 24. Torres attributes the network's position as a dominant media player, in part, to Latino culture in the United States. "Spanish-language TV is still a central feature of the Latino home," she said, "where there may be two generations in the same home that are still influenced and can still reference Spanish-language broadcasting as an important point of information." The network's success marks a new era for media in the United States, an era in which Spanish-language platforms like Univision and Telemundo have become vital contributors to the national dialogue.
A glimpse of that was on display in the English-language media market last August. Univision anchor Jorge Ramos got into a heated exchange with Donald Trump over the real-estate mogul's inflammatory rhetoric on immigration at a press conference. Ramos—dubbed the "Walter Cronkite of Latino America"—captured the frustrations Latinos felt in the weeks after Trump called Mexican immigrants "rapists" and "criminals." This wasn't the only time Ramos and Trump butted heads, either: Ramos told CNN that when Trump talked about immigrants, it's "personal." And not only did Ramos take issue with Trump's comments on Mexican immigrants, the network as a whole did, too: Univision refused to broadcast the Miss Universe and Miss USA pageants—both Trump enterprises—in light of his incendiary remarks. (NBC did the same.) The Republican presidential candidate then sued the network for $500 million. Trump and Univision settled the lawsuit earlier this year. Meanwhile, Trump's hard-line stance on immigration has only exacerbated the Republican Party's struggle to attract Latino voters since Mitt Romney's failed 2012 campaign, which only won 27 percent of Latino support.
Still, Trump's unconventional campaign pushes on seemingly unconcerned. And all while, the nation is watching: Media outlets have extensively covered the presumptive Republican nominee across the board, but none more so than Spanish-language media. "We did studies that showed the major Spanish-language networks, Univision and Telemundo, have been covering [the presidential race] more than their English-language counterparts," said Ken Oliver-Mendez, the director of Media Research Center Latino, a conservative media watchdog. But more coverage doesn't mean positive coverage. Six months ago, Two.42.Solutions, a nonpartisan media-analytics company, found that 87 out of 100 Trump mentions on Spanish-language media—across online, print, and broadcast—were negative. By comparison, Two.42.Solutions co-founder Mohammad Hamid said, just 61  out of 100 Trump mentions on English-language media were negative during the same period. Notably, since then, negative mentions of Trump have jumped in English-language media to 81  out of 100 and only slightly increased to 88  out of 100 in Spanish-language media. So while Spanish-language media has been critical of Trump, negative mentions have stayed steady.
That's not to say Univision has gone easy on the Democrats though. Ramos has pressed Democratic presidential candidates on issues of concern to Latino voters, particularly on immigration. In March, the network held a Democratic debate between Bernie Sanders and Hillary Clinton. Ramos, along with the Univision anchor Elena Salinas and The Washington Post's Karen Tumulty, asked the candidates about their approaches to deportation and how they'd pass immigration reform. According to Nielsen, roughly 2 million viewers tuned into Univision for the debate, and another 4 million viewers watched on CNN, which was also airing the debate.
Still, as the race pivots to a general-election audience, the network has struggled to bring Trump on Univision. A number of former Republican presidential candidates also have not made appearances on the network. "We feel Latinos deserve to hear from both of their candidates, so they can make an informed choice about who they want for president," Torres said, adding that Univision has tried using different mediums, like social media, to engage the candidates. Oliver-Mendez was also critical of the hands-off approach some Republicans have taken to Spanish-language media. "There is an underrepresentation of conservative viewpoints on controversial policy issues," he said. "It's not just a one-way street. Conservatives also need to engage." If they don't, Republicans could end up yielding the majority of the Latino vote to Democrats for both Congress and the White House.
In addition to its robust political coverage, Univision has rolled out efforts to mobilize Latino voters. The nonpartisan effort, Vote for Your America, kicked off in February. (In 2012, Univision, along with other organizations, launched the Ya Es Hora campaign to increase awareness of voter participation.) The Vote for Your America campaign includes a digital election guide, as well as a bilingual text-messaging tool. According to Univision, more than 400,000 users have received Vote for Your America text messages across the United States. "The whole purpose of it is to provide a comprehensive, nonpartisan platform that provides information to Hispanics and Millennials and multicultural voters like you've never seen before," said Jessica Herrera-Flanigan, Univision's executive vice president of government and corporate affairs.
Univision said it's not supporting any candidate. But then, it doesn't always take an endorsement to influence an election.
Source: The Atlantic