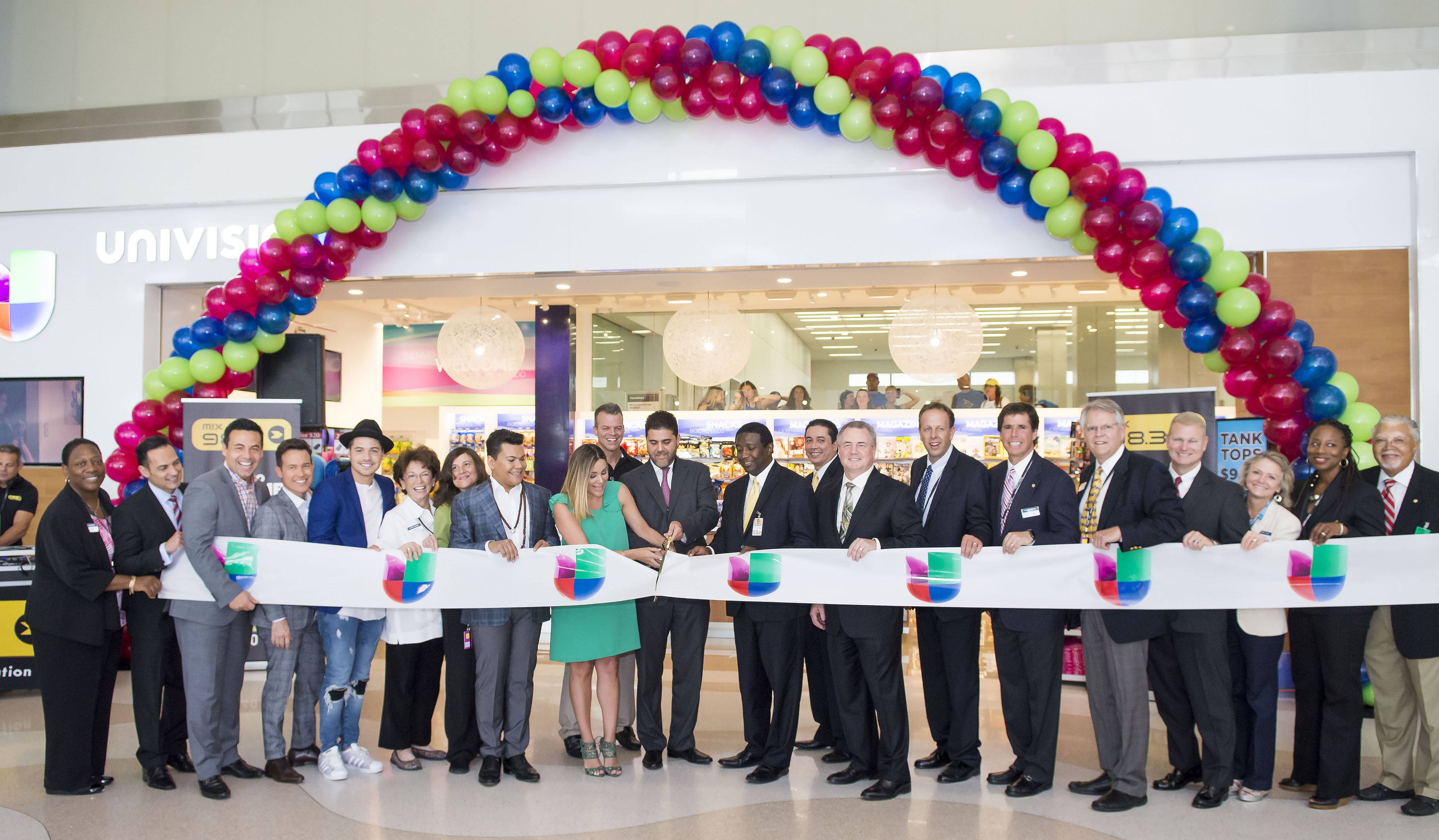 Univision Communications Inc. and Paradies Lagardère celebrated the opening of the fourth Univision-branded specialty store with a special ribbon-cutting ceremony at Broward County's Fort Lauderdale-Hollywood International Airport on Thursday, June 16, 2016. Univision Network talent, including Gloria Ordaz; William Valdes and Victor Florencio were joined by Martin "Marty" Kiar Mayor, Broward County; Dale Holness, Commissioner, District 9, Broward County; Ignacio Meyer, Senior Vice President, Enterprise Development, Univision Communications Inc.; Mark Gale A.A.E, CEO/Director of Aviation, Broward County Aviation Department; Gregg Paradies, President and CEO, Paradies Lagardère and other special guests. Photo Credit: Mitchell Zachs/AP Images for Univision
---
FORT LAUDERDALE, FL – JUNE 17, 2016 – Univision Communications Inc., the leading media company serving Hispanic America, and Paradies Lagardère, the travel retail and restaurateur leader in North America, yesterday hosted a ribbon-cutting ceremony for the opening of a Univision-branded store located in Terminal 4 at Broward County's Fort Lauderdale-Hollywood International Airport (FLL). The event was part of a wider celebration marking the opening of several new stores in Terminal 4. This is the fourth Univision-branded store opened in partnership with Paradies Lagardère in airports across the country, including two at Los Angeles International Airport (LAX) in June 2015 and one at Houston George Bush Intercontinental Airport (IAH) in March 2016.
Univision-branded stores feature various products, including snacks and beverages that represent Latin America, as well as all the basic travel essentials. Each location features Univision programming in Spanish throughout the day on large television screens, including Noticiero Univision, the most trusted newscast on Spanish-language television in the United States.
CONTACTS:
Yvette Pacheco
Univision Communications Inc.
(646) 560-4879
ypacheco@univision.net
@UCIPRTeam
Nicole V. Linton
Paradies Lagardère
(404) 494-3419
nicole.linton@paradies-na.com
Greg Meyer
Broward County Aviation Department
(954) 359-6116
GMeyer@broward.org
---
UNIVISION Y PARADIES LAGARDÈRE CELEBRAN APERTURA DE UNA TIENDA ESPECIALIZADA CON LA MARCA UNIVISION EN EL AEROPUERTO INTERNACIONAL FORT LAUDERDALE-HOLLYWOOD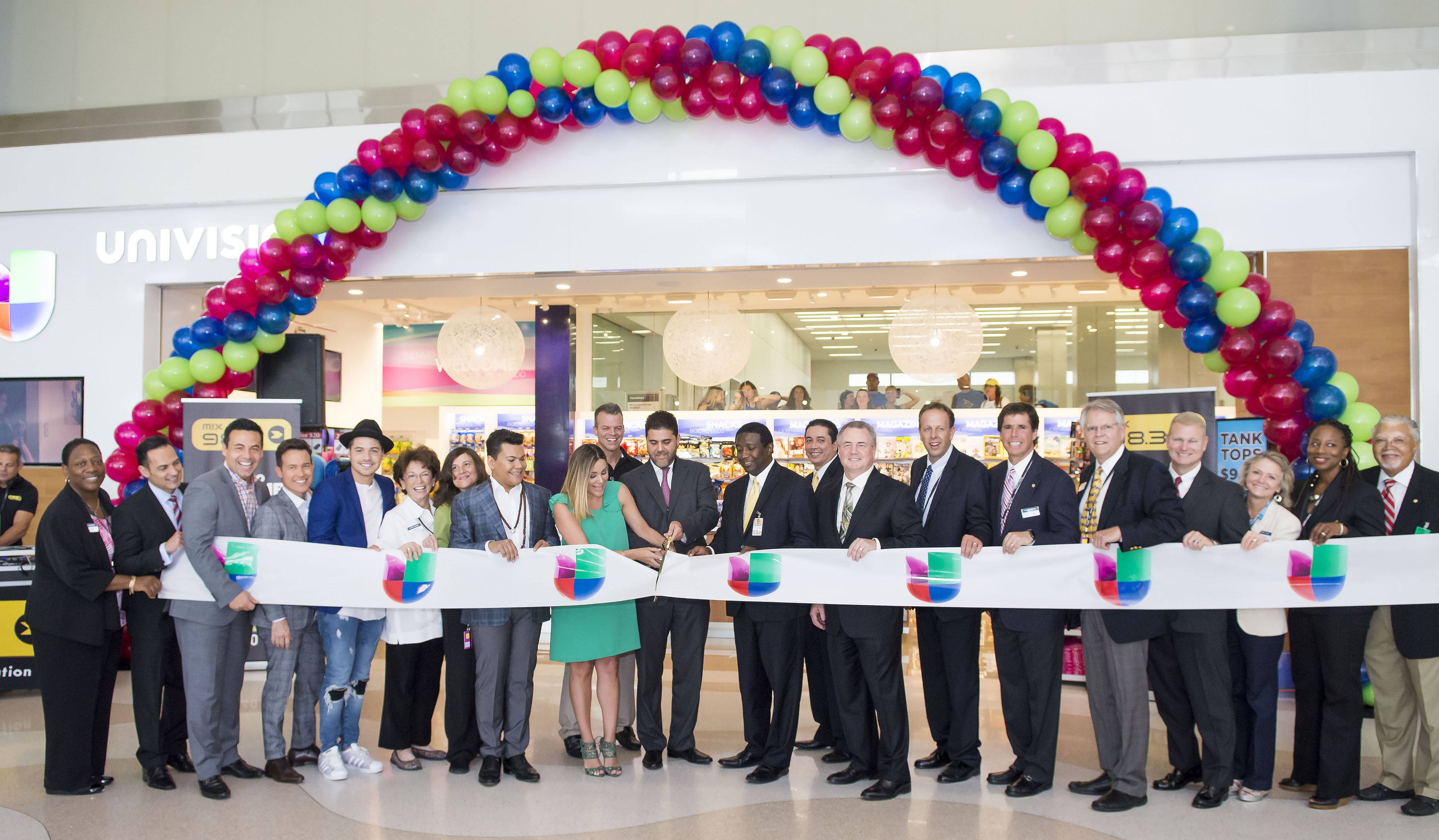 Univision Communications Inc. y Paradies Lagardère celebraron la apertura de la cuarta tienda especializada con la marca Univision con una ceremonia de corte de cinta en el Aeropuerto Internacional Fort Lauderdale-Hollywood el jueves, 16 de junio de 2016. Personalidades de la Cadena Univision, como Gloria Ordaz, William Valdés y Víctor Florencio se sumaron al alcalde del Condado Broward, Martin "Marty" Kiar; Dale Holness, comisionado, distrito 9 del Condado Broward; Ignacio Meyer, vicepresidente principal de Desarrollo Empresarial de Univision Communications Inc.; Mark Gale A.A.E, CEO/Director de Aviación, Departamento de Aviación del Condado Broward; Gregg Paradies, Presidente y CEO de Paradies Lagardère y otros invitados especiales. Foto por Mitchell Zachs/AP Imágenes para Univision
---
FORT LAUDERDALE, FL – 17 DE JUNIO DE 2016 – Univision Communications Inc., la principal empresa de medios de comunicación al servicio de la comunidad hispana en los Estados Unidos, y Paradies Lagardère, el líder en Norteamérica en restaurantes y tiendas turísticas, fueron ayer los anfitriones en una ceremonia de corte de cinta por la apertura de la tienda especializada en la marca Univision en el Terminal 4 del Aeropuerto Internacional Fort Lauderdale-Hollywood (FLL). El evento fue parte de una celebración más extensa por la apertura de varias tiendas nuevas en el Terminal 4. Esta es la cuarta tienda con la marca Univision que se abre en asociación con Paradies Lagardère en varios aeropuertos del país, incluyendo dos en el Aeropuerto Internacional de Los Ángeles (LAX) en junio de 2015, y uno en el Aeropuerto Intercontinental George Bush de Houston (IAH) en marzo de 2016.
Las tiendas con la marca Univision ofrecen varios productos, como bocadillos y bebidas que representan a Latinoamérica, además de todos los artículos esenciales para viajes. Cada local tiene programación de Univision en español durante todo el día en grandes pantallas de televisión, como el "Noticiero Univision", el noticiero de mayor prestigio de la televisión en español de Estados Unidos.
CONTACTS:
Yvette Pacheco
Univision Communications Inc.
(646) 560-4879
ypacheco@univision.net
@UCIPRTeam
Nicole V. Linton
Paradies Lagardère
(404) 494-3419
nicole.linton@paradies-na.com
Greg Meyer
Broward County Aviation Department
(954) 359-6116
GMeyer@broward.org
###