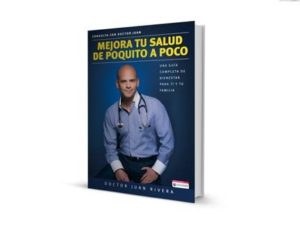 Dr. Juan Rivera's book "Mejora tu salud de poquito a poco" (Improve Your Health Little by Little.)
---
MIAMI – JUNE 8, 2016 – Aguilar, an imprint of Penguin Random House Grupo Editorial USA, announced the kick-off of Dr. Juan's book series, Consulta con doctor Juan (Consult with Dr. Juan), with the publication of the first book of this series: "Mejora tu salud de poquito a poco" (Improve Your Health Little by Little).
Created by Dr. Juan Rivera, Univision Network's medical expert and Director of Cardiovascular Prevention in the Cardiology Department at Mount Sinai Hospital in Miami Beach, Florida, the book series is tailored for the Hispanic community and offers a complete, effective, and professional health and wellness plan that is made even livelier with personal anecdotes and stories.
"This book represents my commitment to serve all those Hispanic people who have become my virtual patients in the last few years," states Dr. Juan Rivera. "All of my medical knowledge, along with my passion for improving the health of our community, has been captured in this book."
Dr. Juan's book provides an action plan that will be very easy for readers to follow. The book explains the four illnesses that are raising the death rate among Latinos in the United States, and explains in practical and simple terms how, little by little, one can develop a sensible diet and exercise plan to help reduce the risk of getting these illnesses. The book also contains chapters dedicated to getting adequate sleep, controlling stress, having a full sex life, raising healthy babies, and avoiding medical mistakes.
"This book is a faithful reflection of Dr. Juan Rivera's personality: in a direct and pleasant style, he explains a realistic health plan that promises results in accordance with the reader's level of commitment," affirms Silvia Matute, President of Penguin Random House Grupo Editorial USA, headquartered in Miami. "While working with Dr. Juan on his first book, he showed us that the professional that we see on television and in the pages of this book is the same upstanding person that we find in his exam room."
Dr. Juan's book will be published in Spanish under the Aguilar imprint, by Penguin Random House Grupo Editorial USA, and is a joint effort with the Univision Network.
CONTACTS:
Candice Georgi (305) 471-4057 cgeorgi@univision.net @UCIPRTeam
Monica Delgado (786) 353-6023 monica.delgado@penguinrandomhouse.com
###
---
DOCTOR JUAN RIVERA, EXPERTO EN TEMAS MEDICOS DE UNIVISION, PUBLICA SU PRIMER LIBRO TITULADO "MEJORA TU SALUD DE POQUITO A POCO"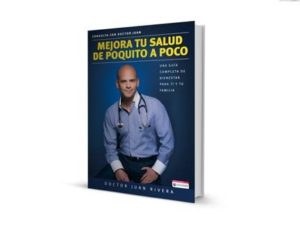 El libro del Dr. Juan Rivera "Mejora tu salud de poquito a poco"
---
MIAMI – 8 DE JUNIO DE 2016 –Aguilar, un sello de Penguin Random House Grupo Editorial USA, anuncia el lanzamiento de la colección de libros, Consulta con Doctor Juan con la publicación de su primer libro titulado "Mejora tu salud de poquito a poco."
Creado por el doctor Juan Rivera, director de Prevención Cardiovascular en la División de Cardiología del Hospital Mount Sinaí de Miami Beach, Florida, esta serie de libros abarca temas que afectan directamente a la comunidad hispana y ofrece un plan profesional de salud y bienestar integral y efectivo amenizado con anécdotas e historias muy personales.
"Este libro representa mi compromiso de servirle a todos los latinos que en los últimos años se han convertido en mis pacientes virtuales", asegura el doctor Juan Rivera. "Todo mi conocimiento médico, al igual que mi pasión por mejorar la salud de nuestra comunidad, ha quedado plasmado en este libro".
Mejora tu salud de poquito a poco provee un plan de acción que será muy fácil de ejecutar para los lectores. La primera parte del libro explica las cuatro enfermedades que están aumentando las estadísticas de mortalidad entre los latinos en Estados Unidos, y en la segunda parte detalla, de manera práctica y sencilla, cómo de poquito a poco se puede llegar a tener una dieta adecuada y un plan de ejercicios a largo plazo. Además, contiene capítulos dedicados al buen dormir, el control del estrés, una vida sexual plena, cómo crear bebés saludables y cómo evitar errores medicos.
"Este libro es el fiel reflejo de la personalidad del doctor Juan Rivera: en un estilo directo y muy ameno explica un plan de salud realista y que promete resultados, según el nivel de compromiso del lector", asegura Silvia Matute, Presidenta de Penguin Random House Grupo Editorial USA, con sede en Miami. "Trabajar con doctor Juan en su primer libro, Mejora tu salud de poquito a poco, nos demostró que el profesional que vemos en la televisión y en estas páginas, es la misma persona íntegra que encontramos en su consulta".
Mejora tu salud de poquito a poco será publicado bajo el sello Aguilar, de Penguin Random House Grupo Editorial USA, y es un esfuerzo conjunto con la Cadena Univisión.
CONTACTOS:
Candice Georgi (305) 471-4057 cgeorgi@univision.net @UCIPRTeam
Monica Delgado (786) 353-6023 monica.delgado@penguinrandomhouse.com
###