New Digital Platform Provides Access and Insights into Young and Diverse Audiences Across Univision Communications Inc.'s Investment in FUSION and El Rey as well as The Root, The Onion, Flama, Univision Digital and Univision Music
---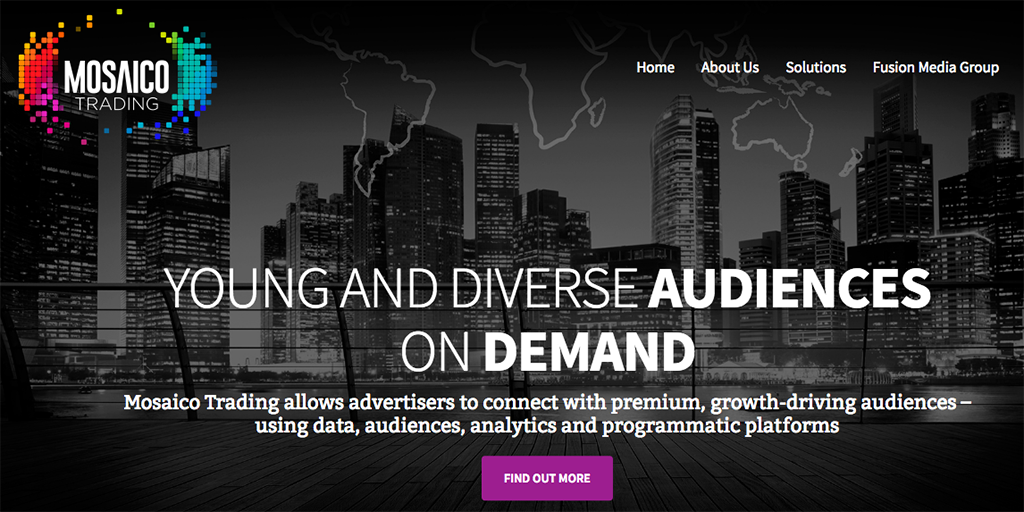 ---
MIAMI – JUNE 1 2016 – The launch of Mosaico Trading, a data-driven programmatic advertising and analytics solution will provide Univision Communications Inc.'s (UCI) business partners first-party data and insights to reach young and diverse audiences. Mosaico Trading is specifically designed to harness UCI's digital portfolio including the recently announced Fusion Media Group (FMG) as well as partner premium ad inventory at scale.
Operating on a state-of-the-art technology platform, Mosaico Trading will provide brands and agencies with industry-leading targeting capabilities. Across languages and cultures, the dedicated programmatic, data and audience solutions platform enables efficient and trustworthy targeting for video and display, enhanced by UCI's portfolio's deep audience and industry expertise.
"For the first time, marketers can harness FMG's significant first- and second-party data to engage with young and diverse audiences," said Mark Lopez, executive vice president and general manager, Univision Digital. "Top brands are increasingly relying on programmatic to achieve better, more efficient media performance. Yet transparency, brand safety and deriving deeper, more strategic insights are equally important. Mosaico Trading will deliver for our clients custom solutions that scale across our portfolio including our forthcoming Fusion Media Group, which will serve as the multi-platform destination for the new, rising American mainstream."
Mosaico Trading features UCI's Univision Data Management Platform (UDMP) that provides clients with access to multicultural and millennial audiences by enabling them to combine online and offline audience data. The flexible platform features first-party data – derived from Univision media, including more than 10 million unique audience IDs – and non-media assets. Working with UDMP, marketers can also use their own data or vendor data, including over 40,000 syndicated and custom audience segments.
"Now, via Mosaico Trading, marketers can find – on a direct or programmatic basis – the specific audiences they seek using our proprietary data, their own data and/or others' data, to reach consumers through Univision's viewable, brand-safe, premium quality content," said Fernando Rodriguez, senior vice president, Sales, Operations and Development, Univision Digital. "We can also source these same UCI audiences and associated 'look-a-like' audiences elsewhere, via audience extension, whether by demographic, psychographic, life stage, behavior, spend or by the content they view."
Led by a dedicated team of media and marketing professionals, Mosaico Trading takes its name and mission from the Spanish word for "mosaic," an artful picture or pattern produced by arranging together diverse pieces.
For more information about Mosaico Trading, please visit www.mosaicotrading.com.
CONTACT:
Majeda Hussein
(646) 560-4979
mhussein@univision.net
@UCIPRTeam
---
SE LANZA MOSAICO TRADING, LA PRIMERA SOLUCIÓN DE PUBLICIDAD PROGRAMÁTICA MULTICULTURAL DE DATOS EN LA INDUSTRIA PARA OFRECER ACCESO A LA AUDIENCIA JOVEN Y DIVERSA EN DEMANDA
Nueva plataforma digital ofrece acceso y análisis de audiencia joven y diversa en las inversiones de Univision Communications Inc. en FUSION y El Rey, como también The Root, The Onion, Flama, Univision Digital y Univision Music
---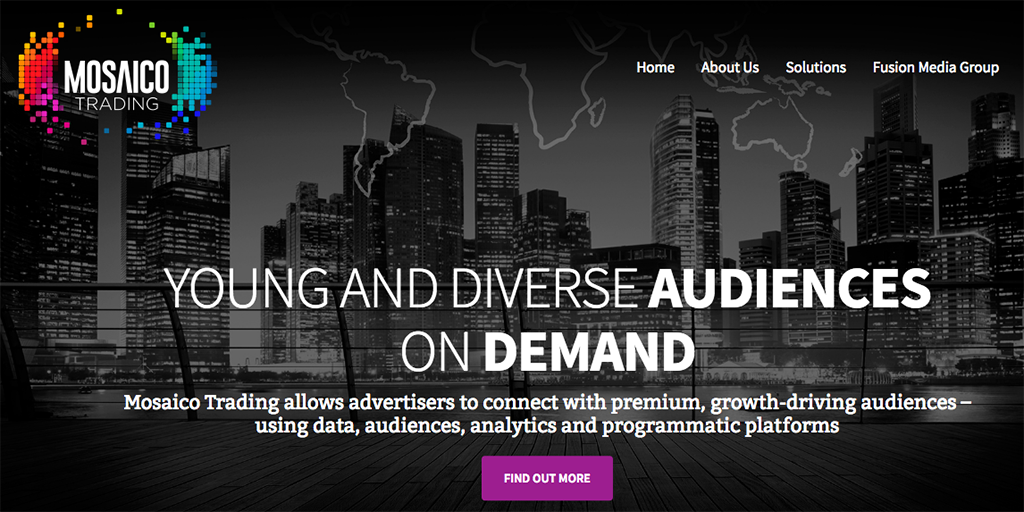 ---
MIAMI – 1 DE JUNIO DE 2016 – El lanzamiento de Mosaico Trading, una solución de publicidad programática y analítica, proporcionará a los socios de Univision Communications Inc. (UCI) datos extraídos de primera mano y análisis para comunicarse con la audiencia joven y diversa. Mosaico Trading está diseñado específicamente para aprovechar la cartera digital de UCI, que incluye el próximo Fusion Media Group (FMG), como también el inventario publicitario premium y a escala de socios.
Operando en una plataforma con tecnología de vanguardia, Mosaico Trading les ofrecerá a las marcas y agencias la capacidad de dirigirse a segmentos específicos. En diversos idiomas y culturas, la plataforma especial de soluciones programáticas de datos y audiencia permite la selección eficiente y fiable de la audiencia de videos y anuncios con mejoras, gracias a los profundos conocimientos en la cartera de UCI sobre la audiencia y la industria.
"Por primera vez, los anunciantes pueden aprovechar los considerables datos extraídos de primera y segunda mano de FMG para interactuar con audiencias jóvenes y diversas", dijo Mark López, vicepresidente ejecutivo y gerente general de Univision Digital. "Las principales marcas dependen cada vez más de publicidad programática para lograr un desempeño mejor y más eficiente en medios. Sin embargo, la transparencia, seguridad para la marca y la derivación de análisis más profundo y estratégico son igualmente importantes. Mosaico Trading ofrecerá a nuestros clientes soluciones a la medida que abarca toda nuestra cartera, la que incluirá el próximo Fusion Media Group, que servirá de destino multiplataforma para la nueva corriente dominante y emergente de los Estados Unidos".
Mosaico Trading incluye la Plataforma de Manejo de Datos de Univision (Univision Data Management Platform, o UDMP), que ofrece a los clientes acceso a la audiencia multicultural y del milenio al permitirles combinar datos de la audiencia en línea y otras partes. La plataforma flexible ofrece datos extraídos de primera mano – derivados de medios de Univision, incluyendo más de 10 millones de identidades únicas de audiencia – y recursos no mediáticos. Al trabajar con UDMP, los anunciantes también pueden usar sus propios datos o los de proveedores, incluyendo más de 40,000 segmentos sindicados o a medida de audiencia.
"Ahora, por medio de Mosaico Trading, los anunciantes pueden encontrar, de manera directa o programática, la audiencia específica que buscan usando nuestros datos exclusivos, sus propios datos y/o los de otros, para comunicarse con consumidores por medio del contenido premium y de calidad de Univision, que se puede ver y que la marca puede usar con seguridad", dijo Fernando Rodríguez, vicepresidente principal de ventas, operaciones y desarrollo de Univision Digital. "También podemos obtener las mismas audiencias de UCI y audiencias relacionadas que se parecen a ella en otras partes, por medio de extensión, ya sea demográfica, sicológica, etapa en la vida, conducta, gastos o por el contenido que ven".
Dirigido por un equipo especial de profesionales de medios y mercadeo, Mosaico Trading toma su nombre y misión de la palabra "mosaico", una imagen o patrón artístico que se producen al colocar juntas diferentes piezas.
Para más información sobre Mosaico Trading, por favor visiten www.mosaicotrading.com.
CONTACTO:
Majeda Hussein
(646) 560-4979
mhussein@univision.net
@UCIPRTeam
###