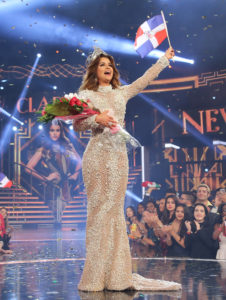 Dominican Clarissa Molina is crowned as NBL-VIP's historic 10th queen 
Credit: Alexander Tamargo/Getty Images
---
MIAMI, FL – MAY 22, 2016 – Viewers made Clarissa Molina, originally from the Dominican Republic and representing New York, queen of the 10th season of "Nuestra Belleza Latina" (Our Latin Beauty) on Sunday evening when its VIP edition reached its grand finale with all the beauty, drama and stellar performances that have made Univision Network's contest a hit with the audience and social media followers. This is the first time in the show's history that contestants from same country of origin and representing the same city, New York, hold on to the crown for two consecutive seasons.
This edition of the most popular beauty competition among Hispanics in the U.S. gave finalists from past seasons a second chance to grab the crown, and Molina stood out with grace, passion and talent.
In the last installment of NBL's all-star round, the Dominican beauty competed with three other finalists: Catherine Castro from Puerto Rico, Setareh Khatibi, Mexican American from Los Angeles, and Colombian contestant Bárbara Turbay who represented Miami. In addition to the admiration of viewers who voted for her, Molina will take home prizes worth $200,000, including a 2016 Kia Optima, and a contract to grace Univision Network screens for a year.
The show opened with regional Mexican music star Julión Alvarez performing "Cariñito, cariñito" alongside the four finalists in eye-catching red for the fiery number that kicked off the anticipated night.  The show continued with top musical acts, surprises and special guests.
The final high couture runway gave way to the best looks of the evening and a performance by Spanish singer Pablo Alborán. Puerto Rican reggaetón sensation Wisin, who performed "Corazón acelerado," had everyone's heart racing as the girls hit the catwalk for the bathing suit portion.
Throughout the night, the four contenders took center stage for the last time as finalists for their closing challenge, hoping to capture the audience. Turbay demonstrated her poise in a news segment alongside "Despierta América" co-host Francisca Lachapel whom also joined Castro in a comedy sketch. Molina heated up the stage with her dance moves and Khatibi wowed the crowd with her vocals singing "Colors of the Wind."
Barbara Turbay was left in fourth place after fierce voting from viewers and jury, and Catherine Castro took the third spot for the second year in a row. In addition, Setareh Khatibi was awarded a scholarship at CEA, Televisa's prestigious acting school in Mexico.
Last season's queen, Lachapel, a co-host of Univision's "Despierta América" (Wake Up America) morning show, delivered her crown to Molina and said good-bye to viewers in a heartfelt message. Lachapel, who charmed viewers throughout the year with her vivacious personality and interpretation of Mela Lamelaza, also helped, as NBL's social media reporter, to make the season a hit.
Fans had a lot to say throughout the season, as they voted for their favorites and commented on social media. The 10th season generated unprecedented engagement, making NBL No. 1 among primetime programs in English and Spanish-language broadcast networks and beating other popular reality shows, according to Nielsen. NuestraBellezaLatina.com generated over 100,000 page views and more than 118 million NBL video views across digital platforms.
The season also produced high traffic on the Univision Conecta app, with millions of video and page views. Since the beginning of the season, the app generated 2.9 million sessions with more than 350,000 users and more than 6 million interactions. Also, for the first time, the app handed out extra accolades, the NBL Conecta Awards. Fans selected winners for categories such as Drama Queen, Queen of Playback and Influencer.
The special VIP edition started in February and was hosted by Univision celebrity Chiquinquirá Delgado and TV and radio host Javier Poza. Fans selected 26 past contestants among 99 finalists from the past nine seasons to return to the show for a second chance to win the NBL crown. "Beauty Czar" Osmel Sousa, former beauty queen Jacky Bracamontes and telenovela actor Daniel Arenas helped select the winner as members of the jury panel.  
In addition to airing on primetime TV, the finale was streamed on Facebook Live and Univision NOW, UCI's new live streaming service.
But the party is not over. On the show's official site, www.NuestraBellezaLatina.com, fans can see what Molina went through on her way to the top, as well as exclusive scenes of the contestants as they prepared for the finale. They can also join the conversation on Twitter via @NuestraBelleza, on Facebook via Facebook.com/NuestraBellezaLatina and on Instagram @NuestraBellezaLatina, or by using the hashtag #NBLVIP on their favorite social media platform.
CONTACT: Jenisei Couso 305-471-1692 jcouso@univision.net @UCIPRTeam
###
---
EN UNA NOCHE HISTÓRICA, LA EDICIÓN VIP DE "NUESTRA BELLEZA LATINA" CORONA A CLARISSA MOLINA TRAS UNA TEMPORADA QUE OFRECIÓ UNA SEGUNDA OPORTUNIDAD Y TRAS UNA DÉCADA EXITOSA ENTRE TELEVIDENTES HISPANOS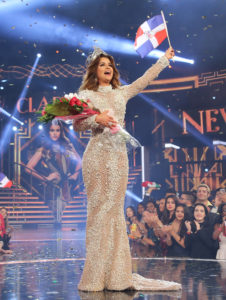 Credito: Alexander Tamargo/Getty Images
---
MIAMI, FL –22 DE MAYO DE 2016 – Los televidentes hicieron a Clarissa Molina, de raíces dominicanas y representando a Nueva York, reina de la 10ma temporada de "Nuestra Belleza Latina" la noche del domingo, cuando la edición llegó al gran final con toda la belleza, el drama y las presentaciones especiales que han hecho del concurso de la Cadena Univision un éxito con la audiencia y sus seguidores en medios sociales. Esta es la primera vez en la historia del programa que concursantes del mismo país de origen y que representan a la misma cuidad, Nueva York, retienen la corona en dos temporadas consecutivas.
Esta edición del más popular concurso de belleza entre los hispanos en los EEUU les dio a finalistas de temporadas pasadas una segunda oportunidad, y Clarissa Molina se destacó con su gracia, pasión y talent.
En el último episodio de la ronda estelar de NBL, la reina, dominicana, compitió con tres otras finalistas: Catherine Castro de Puerto Rico, Setareh Khatibi, mexicana de Los Ángeles y Bárbara Turbay que representó a Miami. Además de la admiración de los televidentes que votaron por ella, Clarissa Molina se llevará a casa premios con un valor de $200,000, entre ellos un auto Kia Optima del 2016, y un contrato para agraciar las pantallas de la Cadena Univision durante un año.
El programa se inició con Julión Álvarez, estrella de la música regional mexicana, quien entonó "Cariñito, cariñito" de lado de las cuatro finalistas vestidas de un rojo llamativo, para presentar un número candente que dio inicio a la muy esperada velada. El programa continuó con actos musicales de primera, sorpresas e invitados especiales.
Al final, el desfile en trajes de alta costura produjo los mejores atuendos de la noche con el acompañamiento del cantante español Pablo Alborán. El puertorriqueño Wisin, sensación del reggaetón, ofreció "Corazón acelerado" e hizo que se les acelerara el corazón a todos mientras las chicas desfilaban por la pasarela en el segmento de traje de baño.
Durante la noche, las cuatro concursantes tuvieron un papel protagónico en su última ocasión como finalistas, al participar en el último desafío con la esperanza de cautivar a la audiencia. Turbay estuvo muy desenvuelta en un segmento noticioso de lado de la copresentadora de "Despierta América" Francisca Lachapel, quien también acompañó a Castro en un acto cómico. Molina hizo arder el escenario con sus pasos de baile, y Khatibi impresionó al público con su voz al cantar "Colors of the Wind".
Bárbara Turbay quedó en cuarto lugar tras reñida votación por los televidentes y el jurado, y Catherine Castro terminó en el tercer puesto por segundo año consecutivo. Además, Setareh Khatibi recibió una beca a CEA, la prestigiosa academia de actuación de Televisa en México.
La reina de la temporada pasada, Lachapel, una de los presentadores del programa matutino "Despierta América" de Univision, le entregó la corona a Molina y se despidió de los televidentes con un mensaje conmovedor. Lachapel, quien cautivó a los televidentes durante todo el año con su animada personalidad y su interpretación de Mela Lamelaza, también ayudó, como reportera de medios sociales de NBL, a hacer que la temporada fuera todo un éxito.
Los fans tuvieron mucho que decir durante la temporada, en la que votaron por sus favoritas y comentaron en redes sociales. La 10ma temporada produjo un nivel sin precedente de interacción, lo que hizo de NBL el programa número uno en horario estelar entre cadenas en inglés y español, superando todos los demás programas populares tipo reality, según Nielsen. NuestraBellezaLatina.com genero más de 100,000 páginas vistas y sobre 118 millones de videos vistos a través de todas las plataformas digitales.
La temporada produjo, además, mucho tráfico en la aplicación Univision Conecta, con millones de videos y páginas vistos. Desde el principio de la temporada la aplicación" generó 2.9 millones de sesiones con más de 350,000 de usuarios y más de 65 millones de interacciones. Además, por primera vez, la aplicación otorgó galardones adicionales, los premios NBL Conecta. Los fans seleccionaron a ganadoras en categorías como más dramática, reina del playback y la de mayor influencia.
La edición especial VIP se inició en febrero, bajo la conducción de la celebridad de Univision Chiquinquirá Delgado y el presentador de radio y televisión Javier Poza. Los fans seleccionaron a 26 concursantes pasadas entre 99 finalistas de las nueve temporadas anteriores del programa, para darles la segunda oportunidad de ganar la corona de NBL. "El zar de la belleza" Osmel Sousa, la ex reina de belleza Jacky Bracamontes y el actor de telenovela Daniel Arenas ayudaron a seleccionar a la ganadora como miembros del jurado.
Además de trasmitirse en televisión de horario estelar, se pasó en Facebook Live y Univision NOW, el nuevo servicio de streaming en vivo de UCI.
Pero la fiesta no ha concluido. En el sitio oficial del programa, www.NuestraBellezaLatina.com, los fans pueden ver lo que Molina pasó camino a la cumbre, además de escenas exclusivas de los preparativos de las concursantes para el episodio final. También pueden participar en la conversación en Twitter vía @NuestraBelleza, en Facebook vía Facebook.com/NuestraBellezaLatina y en Instagram @NuestraBellezaLatina, o usando el hashtag #NBLVIP en su plataforma preferida de redes sociales.
CONTACTO: Jenisei Couso 305-471-1692 jcouso@univision.net @UCIPRTeam
###