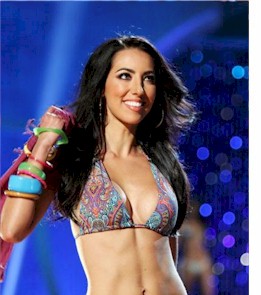 Shows such as 'Nuestra Belleza Latina' will be available for programmatic buys on Univision's new platform.
---
Partners with the online giant, now owned by Verizon, on an ad platform
By Toni Fitzgerald
Broadcast upfront week is just a few hours old, and already it seems pretty clear what the big trend is going to be: The introduction of new programmatic ad buying platforms.
NBCUniversal touted its new platform, launched this spring and reaching across all of its broadcast and cable properties, during its presentation on Monday.
And now Univision has released details on its own programmatic platform, for which it is partnering with AOL.
The top Spanish-language network says the ONE by AOL: TV self-serve module will allow advertisers to search for placements in its premium inventory, including new shows rolling out this fall.
The platform will launch in fourth quarter of this year.
Univision is touting the availability of real-time audience information and the advantage of learning from past campaigns to build future ones. It claims the new platform will reduce the time between when a buy occurs and when the ad actually makes it on the air.
The partnership is a big boon for AOL, which is trying to stand out amidst a huge number of vendors offering programmatic exchanges. AOL is eager to carve out a niche in advertising as it realigns its focus under new owner Verizon.
Content generation hasn't proven to be a valuable area for AOL. But becoming a go-to provider of programmatic platforms could, because the company will receive a (unknown percentage) cut of the ads that are sold.
Buyers, of course, are interested to see what these new programmatic platforms can offer, though many remain wary of making deals via electronics rather than handshakes, saying they lack the nuance of past agreements.
Source: MediaLife Magazine