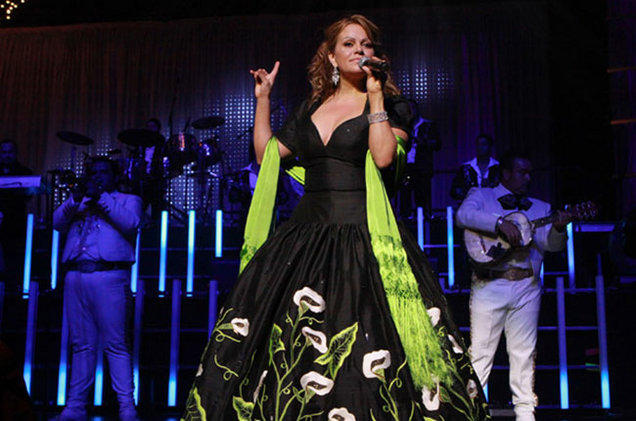 Jenni Rivera performs at the Nokia Theater inside the L.A. LIVE complex on July 31, 2009 in Los Angeles, California.
JC OLIVERA/LATINCONTENT/GETTY IMAGES
---
By Leila Cobo
'Su verdadero nombre era Dolores' ('Her Real Name Was Dolores'), is told through the perspective of Rivera's former manager, Pete Salgado. Just days after Jenni Rivera's estate announced plans are under way to produce her biopic, Univision revealed it will produce a TV series based on the late singer's life, but with a twist.
Su verdadero nombre era Dolores (Her Real Name Was Dolores), is told through the perspective of Rivera's former manager, Pete Salgado. Rivera, whose real name was Dolores Janney Rivera, died in 2012 in a plane crash when she was 43. At the time of her death, she was on the verge of major, mainstream celebrity, following a successful reality show on cable network Mun2 and a newly signed deal to star on a TV series on a major English-language television network.
Since then, there have been multiple rumors and published reports on the possibility of TV series and movies based on Rivera's life, but none have been formally announced or confirmed until now. Salgado worked with Rivera for nearly a decade, and helped negotiate many of her deals. Univision is billing the series as "the untold story of the iconic Jenni Rivera" from Salgado's perspective.
No announcement has been made as to who will play Rivera or when production is scheduled to begin, but the series is slated to air in the 2016-2017 season. Rivera's estate has yet to provide comment on the matter.
The Rivera series is part of a broader Univision strategy to reach music fans via programming focused on regional Mexican music, the top-selling and most-listened to subgenre of Latin music in the U.S. Aside from the Rivera biopic, Univision will also produce Canción de mujer, a multimedia talent competition where viewers vote for the next female regional Mexican star, and the second season of youth-talent search La Banda. The first season of the reality show, co-produced with Simon Cowell, sought to find the next Latin boy band. That group is CNCO, whose new single, "Tan facil", is currently at No. 9 on Billboard's Hot Latin Songs chart. Univision's new programming will be unveiled at the company's Upfront presentation May 17 in New York.