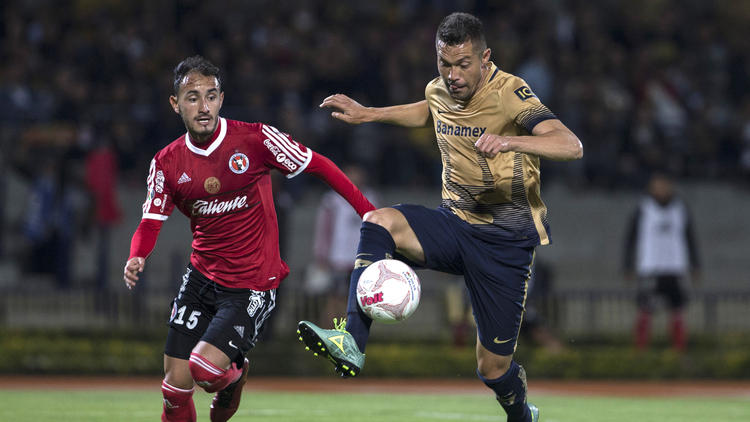 Tijuana defender Carlos Guzman, left, pressures Pumas forward Dante Lopez during a Liga MX match on April 22. (Christian Palma / Associated Press)
---
Written by Kevin Baxter
The English Premier League is the most-watched sports league in the world. But in the U.S., it isn't even the most-viewed soccer league. Mexico's Liga MX is averaging more than 1.1 million viewers on the Univision-owned UniMas Spanish-language network, an audience 19% larger than NBC averages for its weekly EPL telecasts. And that's a success built largely on time and loyalty, two advantages Univision's Mexican soccer coverage has over NBC and the EPL.
Most of Mexico is in the central time zone, so its games air in the afternoons and evenings in the U.S. EPL games on NBC, conversely, begin as early as 4:30 a.m. on the West Coast. And with more than 11 million Mexican immigrants in the U.S., plus millions more second- and third-generation Mexican Americans, Liga MX games are like a postcard from home for many.
"For sure it's part of remembering home," said Juan Carlos Rodriguez, the Mexican-born president of Univision Deportes. "The most important thing about Liga MX is that it's the most relevant soccer in the U.S. regardless of language."
Soccer has become a burgeoning, expensive and highly competitive feature of the television landscape in the U.S. Fox and Spanish-language network Telemundo are paying more than $1.1 billion combined for the U.S. rights to the next three World Cups, and NBC agreed to pay nearly $1 billion for EPL games through 2022. And 21st Century Fox, Fox Sports' parent company, paid an undisclosed amount to show Germany's Bundesliga games in 80 markets, including the U.S., over five season seasons.
Stefan Szymanski, a professor of sport management at the University of Michigan and coauthor of several books on the economics of soccer, says the growth of the sport on U.S. television stems from the networks' virtually unlimited channel capacity, an insatiable appetite for live content, soccer's rising popularity and improved marketing by the leagues.
And the viewer has benefited from all that. Last weekend, 45 games from 11 countries and 15 soccer leagues were shown live nationwide in the U.S. by 15 broadcasters. Dozens more games were available on pay TV or online.
Univision has elbowed its way into this crowded and costly marketplace over the last four years. It joined NBC and ESPN in a record eight-season $720-million broadcast deal with Major League Soccer, bought the U.S. Spanish-language rights to Mexican and Canadian national team games and this summer's Copa America tournament, and is airing games from the Dutch and Portuguese first divisions as well.
Szymanski says the volume of soccer available in the U.S. is making viewers here among the best-educated in the world.
"This is probably a very big part of the U.S. becoming a soccer nation, which I believe it is," he said. "Americans are picking up on this and are becoming quite cultured and sophisticated viewers. Just given the scale and size of the United States, America ultimately becomes the dominant soccer power, almost inevitably."
However, he also expects the breadth of soccer offerings on U.S. television to shrink over time as viewers go from checking out different leagues to focusing on a few particular ones. The current trend toward sampling, Szymanski added, also explains why ratings for individual games remain low at the same time the overall audience for the sport is expanding.
"When we compare this [audience] to the NFL or even Major League Baseball, it's tiny. We're in this very early phase where there is a lot of jockeying for position," Szymanski said. "In these early days there are leagues that will have an appeal in certain parts of the country."
Liga MX is one of those, with Univision drawing the vast majority of its national audience from a relatively few markets such as Southern California, where Mexican games average 100,000 viewers, more than five times what EPL games get on NBC-owned outlets.
In an effort to build and expand on that, Univision hired Rodriguez in 2012 and put him in charge of its new multimedia sports division, which now reaches more prime-time viewers than ESPN Deportes and Fox Deportes combined and more U.S. Hispanics than ESPN, making it the fastest-growing sports network in the country.
"The growth and success of Univision Deportes in just four short years underscores the incredible power of soccer in the U.S.," Rodriguez said.
Now the network is going after a wider audience. Last year it began offering English-language commentary via SAP for its MLS games, a feature it could extend to Liga MX coverage.
"Our challenge is to put glamour into the Liga MX," Rodriguez said. "Liverpool, Tottenham, Manchester City sounds very appealing. But at the end, it's not a real sense of ownership or belonging that the audience has with them. Our audience owns and senses and smells Liga MX. "That's what makes it unique."
Follow Kevin Baxter on Twitter @kbaxter11
Source: Los Angeles Times
###