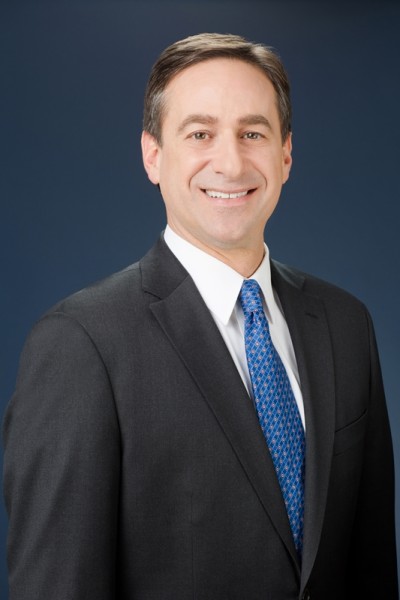 ---
NEW YORK – MAY 2, 2016 – Univision Communications Inc. (UCI), the leading media company serving Hispanic America, today announced that Jonathan Schwartz has been promoted to the newly created position of chief legal and corporate affairs officer. Schwartz will remain based in New York and will continue to report to Randy Falco, president and chief executive officer.
"Since joining UCI Jon has played a key role on our leadership team as UCI has evolved into a mainstream media company with a growing portfolio of assets in the broadcast, cable, and digital space," said Falco. "In addition, he has led the creation of a best-in-class Compliance team and built out a robust Government Relations function."
In addition to continuing to serve as UCI's top lawyer, Schwartz will oversee the newly created Legal and Corporate Affairs Department, which will include within it the following areas: Legal and Business Affairs, Corporate Compliance, Government Relations, Corporate Social Responsibility, Community Empowerment, Standards and Practices, Advertising Review and Compliance and Corporate-PLA Services. Bringing together these functions under Schwartz' leadership solidifies the Company's commitment to lead by example as an ethical and fair company driven by its mission to inform, entertain and empower the communities it serves.
'I'm grateful to be part of an organization that is dedicated to delivering top-tier news, entertainment and information to diverse audiences across our country," said Schwartz. "I look forward to furthering the Company's efforts to maintain standards and relationships that have earned us the trust and respect of the communities we serve."
Schwartz, who joined UCI in 2012, also plays a significant role in promoting professional development and employee resource activities within the company. He helped launch and is the executive co-sponsor of Orgullo@UCI, the Company's internal employee resource group which organizes LGBT coworkers and allies to champion the LGBT community both within the Company and in the community at large.
Prior to joining UCI, Schwartz served as managing director and general counsel for JPMorgan's Investment Bank. Previously, he was executive vice president and general counsel at Cablevision Systems. Prior to that, Schwartz held various roles, including senior vice president and deputy general counsel of Time Warner Inc., and as general counsel of online music company Napster. He also worked as a federal prosecutor in the U.S. Attorney's Office for the Southern District of New York and as the Principal Associate Deputy Attorney General at the Justice Department. He also served as a law clerk for Judge Harry T. Edwards on the U.S. Court of Appeals in Washington, D.C., and for Justice Thurgood Marshall on the U.S. Supreme Court.
Schwartz graduated from The Wharton School of the University of Pennsylvania with a Bachelor of Science in Economics and received his Juris Doctor degree from Stanford Law School. He was then awarded a Fulbright Scholarship to attend Cambridge University, where he earned a Master in International Relations. Schwartz is a member of several non-profit boards, including the Stanford Law School Board of Visitors and the University of Pennsylvania Basketball Board, and served as an in-residence Fellow at Harvard University's Institute of Politics.
CONTACT:
Mónica Talán
212-455-5331
mtalan@univision.net
@UCIPRTeam
###
---
JONATHAN SCHWARTZ ES NOMBRADO DIRECTOR DE ASUNTOS LEGALES Y CORPORATIVOS DE UNIVISION COMMUNICATIONS INC.
---
NUEVA YORK – 2 DE MAYO DE 2016 – Univision Communications Inc. (UCI), la principal empresa de medios de comunicación al servicio de la comunidad hispana en los Estados Unidos, anunció hoy que Jonathan Schwartz fue ascendido a la recientemente creada posición de director de Asuntos Legales y Corporativos. Schwartz seguirá trabajando desde Nueva York y reportando a Randy Falco, presidente y director ejecutivo de UCI.
"Desde que empezó a trabajar en la empresa, Jon ha desempeñado una función clave en nuestro equipo de liderazgo con la evolución de UCI de ser una de las principales compañías de medios con una creciente cartera de activos en el espacio digital, de cable y televisión abierta", dijo Falco. "Además, lideró la creación del mejor equipo de Cumplimiento Normativo de su tipo y una sólida división de Relaciones Gubernamentales".
Schwartz seguirá siendo el principal abogado de UCI, pero también supervisará el recientemente creado Departamento de Asuntos Legales y Corporativos, que incluirá las siguientes áreas: Asuntos Legales y Empresariales, Cumplimiento Normativo Corporativo, Relaciones Gubernamentales, Responsabilidad Social Corporativa, Empoderamiento Comunitario, Estándares y Prácticas, Cumplimiento y Revisión de Publicidad, y Servicios Corporativos-PLA. Reunir todas estas funciones bajo el liderazgo de Schwartz robustece el compromiso de la empresa de liderar con el ejemplo como una compañía justa y ética impulsada por su misión de informar, entretener y empoderar a las comunidades que presta servicios.
"Me siento agradecido de ser parte de una organización dedicada a brindar noticias, entretenimiento e información de primera calidad a audiencias diversas en todo el país", dijo Schwartz. "Tengo muchas ganas de continuar los esfuerzos de la compañía para mantener estándares y relaciones que nos han ganado la confianza y el respeto de las comunidades a las que servimos".
Schwartz, quien empezó a trabajar para UCI en 2012, también desempeña una función importante en promover el desarrollo profesional y actividades que proporcionan recursos a los empleados dentro de la empresa. Es copatrocinador y ayudó a lanzar Orgullo@UCI, un grupo de recursos para empleados que organiza a los colegas LGBT y aliados para la defensa de la comunidad LGBT dentro de la empresa y en la comunidad en general.
Antes de trabajar en UCI, Schwartz fue el director administrativo y asesor legal general de JPMorgan's Investment Bank. Anteriormente, fue vicepresidente ejecutivo y asesor legal general de Cablevision Systems. Previamente, Schwartz desempeñó varios cargos, entre ellos, vicepresidente principal y vice asesor legal general de Time Warner Inc., y asesor legal general de la compañía de música en línea Napster. También trabajó como fiscal federal de la Oficina del Fiscal de Estados Unidos para el distrito sur de Nueva York y como el principal vice fiscal general asociado en el Departamento de Justicia. También fue el secretario legal del juez Harry T. Edwards de la Corte de Apelaciones en Washington, D.C., y del juez Thurgood Marshall de la Corte Suprema de Estados Unidos.
Schwartz se graduó de la Facultad Wharton de la Universidad de Pensilvania con una licenciatura en economía y se graduó de abogado de la Facultad de Derecho de Stanford. Recibió una Beca Fulbright para estudiar una maestría en relaciones internacionales en la Universidad de Cambridge. Schwartz es miembro de la Junta Directiva de varias organizaciones sin fines de lucro, entre ellas, la Junta Directiva de Visitantes de la Facultad de Derecho de Stanford, y la Junta Directiva de Baloncesto de la Universidad de Pensilvania, y prestó servicios como in-residence fellow del Instituto de Política de la Universidad de Harvard.
CONTACTO:
Mónica Talán
212-455-5331
mtalan@univision.net
@UCIPRTeam
###