Beauty and Fashion Creators Rosy McMichael, Alejandra Rodriguez, Nicole Guerriero and Sandra Cires are the Latest Talent to join the Network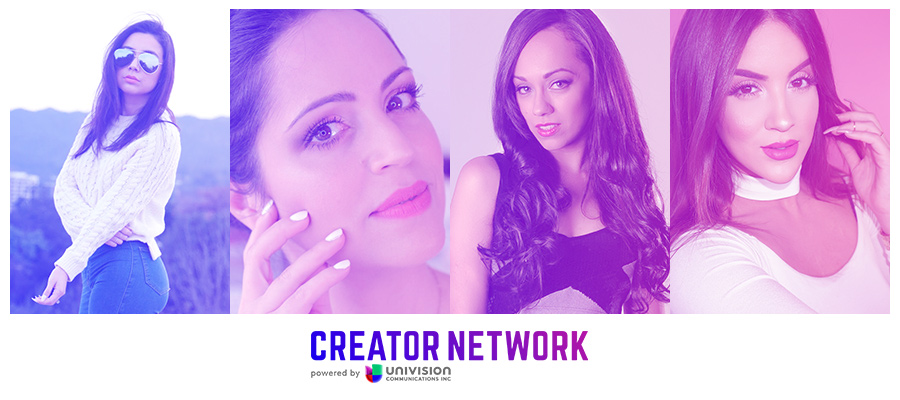 ---
NEW YORK – APRIL 27, 2016 – The Univision Creator Network (UCN) has signed new talent expanding its network to more than 180 creators across multiple genres. Recent additions to the network include makeup maven Rosy McMichael, style expert Alejandra "Ale" Rodriguez, beauty influencer Nicole Guerriero and singer-turned-nail-art-enthusiast Sandra Cires. A curated network of leading content producers from YouTube, Vine, Snapchat and other platforms, UCN garners hundreds of millions of views across platforms each month.
These four creators have amassed large followings, with YouTube subscribers ranging from 400,000 to more than two million. Through their respective social channels, they have fostered deep connections with their fans, sharing beauty tips, fashion and lifestyle advice and often even opening up about their personal lives.
UCN provides these creators with a community of support, including access to industry experts, opportunities for collaboration and the capability to expand their audiences and brands across various ecosystems—including TV, digital, radio and live events.
In fact, in "Nuestra Belleza Latina" (NBL), Univision Network's popular reality beauty competition and the first show ever to top Facebook buzz rankings, Rosy and Ale participated in a cross-platform branded experience promoting the release of Universal Pictures' "The Huntsman: Winter's War." They appeared on the linear broadcast cheering on contestants as two teams battled it out in a photo shoot competition with "Team Ice" and "Team Gold" drawing on the main plot line from the film. On digital, they created YouTube videos for each of their channels documenting the experience, giving their fans a behind-the-scenes look at the on-air competition.
"Creating meaningful experiences for our creators, our partners and our audience is at the core of the Univision Creator Network. Our commitment to fostering leading and up-and-coming talent across several genres, such as fashion and beauty, positions us to deliver the best content from today's internet sensations across the most popular social and video platforms," said Steven Benanav, vice president, content partnerships & general manager of Flama, UCI. "We are thrilled to welcome Rosy, Ale, Nicole and Sandra to our growing network, which has more than tripled in fans, followers and subscribers in the past 12 months."
More details about the Univision Creator Network can be found at univisioncreators.com.
About the Creators:
Rosy McMichael: Born in Brownsville, Texas and raised in Matamoros Tamaulipas, Rosy has always been passionate about makeup artistry.  Gaining success in Texas as one of the most sought-after bridal makeup artists, she began her YouTube career by creating makeup tutorials.  Now she has over one million subscribers on YouTube alone.  She collaborates with brands such as Target and has been integrated in Univision programming for "Nuestra Belleza Latina" and "Despierta América." Follow Rosy on Twitter, Facebook,  Instagram and Snapchat (rosymcmichael).
Alejandra Rodriguez: AKA "StyledbyAle" is a beauty and fashion YouTube creator based in Los Angeles with roots in Jalisco, Mexico.  She has amassed a community of fans, whom she has coined las "chulas" who tune in to her tutorials, style hauls and even peeks into her personal life.  Apart from sharing her lifestyle tips and fashion advice, Ale also has her very own sunglasses line, which she manages out of her home. Follow her on Twitter, Facebook, Instagram and Snapchat (styledbyale).
Nicole Guerriero: Nicole Guerriero is a leading digital influencer within the beauty, lifestyle and culture space. She creates video and social content on YouTube, Instagram, SnapChat and other digital platforms for nearly five million fans and followers.  In addition to her successful six-year career on YouTube, she is also the founder and CEO of Best Damn Beauty, a coveted skincare line that speaks to the millennial and Gen Z audience. Her unique approach to beauty and her highly-engaged audience has led to innovative branded content deals with the likes of: Clinique, John Freida, Smashbox, NYX Cosmetics and more. Additionally, Guerriero's poise and expertise has allowed her to lend her voice to panel discussions at the likes of Playlist Live and VidCon, where she focuses on inspiring and empowering her primarily female audience. In addition to being part of the Univision Creator Network, she is managed by James Grant and resides in Florida. You can follow her on Twitter, Facebook, Instagram and Snapchat (hi.nic).
Sandra Cires: Based in Miami, Florida with roots in Cuba, Sandra is a multi-talented creator who uses her multiple platforms to share with her followers everything from music, nail art, makeup, photography and nutrition. Follow her on Twitter, Facebook, Instagram and Snapchat (SandraCiresArt).
CONTACT: Majeda Hussein, mhussein@univision.net, (646) 560-4979, @UCIPRTeam
###
---
­­­UNIVISION CREATOR NETWORK SE EXPANDE AL ENTORNO DE MODAS Y BELLEZA CON NUEVAS CREADORAS Y EXPERIENCIAS EN DIVERSAS PLATAFORMAS
Las creadoras de contenido sobre belleza y modas Rosy McMichael, Alejandra Rodríguez, Nicole Guerriero y Sandra Cires son los más recientes talentos que se suman a la red
---
NUEVA YORK – 27 DE ABRIL DE 2016 – La Univision Creator Network (UCN) ha reclutado nuevos talentos para expandir su red de más de 180 creadores en géneros múltiples. Los miembros más recientes de la red incluyen a la genial maquillista Rosy McMichael, la experta en estilo Alejandra "Ale" Rodríguez, la creadora influyente de contenido de belleza Nicole Guerriero y la cantante dedicada a la manicuría artística Sandra Cires. Una red especialmente seleccionada de destacados productores de contenido de YouTube, Vine, Snapchat y otras plataformas, UCN atrae cientos de millones de visitas en sus diversas plataformas cada mes.
Estas cuatro creadoras han acumulado una gran audiencia en YouTube, desde 400,000 hasta más de dos millones de suscritores. Por medio de sus respectivos canales sociales, han logrado una conexión única con sus fans al compartir consejos de belleza, modas y estilo de vida, y con frecuencia, al hablar abiertamente sobre su vida personal
UCN les ofrece a estas creadoras una comunidad de apoyo que incluye acceso a expertos del sector, oportunidades de colaboración y la capacidad de expandir su audiencia y marca a diversos ecosistemas, incluidos televisión, medios digitales, radio y eventos en vivo.
De hecho, en "Nuestra Belleza Latina" (NBL), el popular concurso de belleza tipo reality de la Cadena Univision y el primer programa de la historia en alcanzar el primer lugar en los rankings de conversación en Facebook, Rosy y Ale participaron en una experiencia con la marca en diversas plataformas para promover el estreno de "The Huntsman: Winter's War" de Universal Pictures. Salieron en la transmisión en televisión alentando a concursantes cuando dos equipos compitieron en una sesión fotográfica del "Equipo de Hielo" y el "Equipo de Oro", basados en la trama de la película. En medios digitales, crearon videos de YouTube para cada uno de sus canales en los que documentaron la experiencia, lo que permitió que sus fans vieran el detrás de cámaras de la competencia televisada.
"Crear experiencias significativas para nuestros creadores, socios y audiencia es fundamental en Univision Creator Network. Nuestro compromiso con la promoción de talento destacado y prometedores en varios géneros, como moda y belleza, nos posiciona para ofrecer el mejor contenido de las actuales sensaciones del internet en las más populares plataformas sociales y de video", dijo Steven Benanav, vicepresidente de Sociedades de Contenido y gerente general de Flama de UCI. "Es un gran gusto para nosotros darles la bienvenida a Rosy, Ale, Nicole y Sandra a nuestra red cada vez más extensa, en la que el número de fans, seguidores y suscritores ha aumentado a más del triple en los últimos 12 meses".
Se puede encontrar más detalles sobre Univision Creator Network en univisioncreators.com.
Acerca de las creadoras:
Rosy McMichael: A Rosy, nacida en Brownsville, Texas y criada en Matamoros, Tamaulipas, siempre le ha apasionado el maquillaje. Tuvo éxito en Texas como una de las más populares maquillistas especializadas en novias e inició su carrera en YouTube creando cursillos sobre maquillaje. Ahora tiene más de un millón de suscritores en tan solo YouTube. Colabora con marcas como Target y ha sido integrada a los programas "Nuestra Belleza Latina" y "Despierta América" de Univision. Sigan a Rosy en Twitter, Facebook,  Instagram y Snapchat (rosymcmichael).
Alejandra Rodríguez: También conocida como "StyledbyAle", es una creadora de contenido de belleza y modas en YouTube. Vive en Los Ángeles y es oriunda de Jalisco, México. Tiene una gran comunidad de fans, a las que llama las "chulas", quienes ven sus cursillos, transformaciones de estilo e incluso su vida personal. Además de ofrecer consejos sobre modas y estilo de vida, Ale también tiene su propia línea de lentes de sol, que administra desde casa. Síganla en Twitter, Facebook, Instagram y Snapchat (styledbyale).
Nicole Guerriero: Nicole, quien se crió en Tampa, Florida y actualmente vive en California, es experta en maquillaje y belleza con muchos seguidores en redes sociales. Fue designada la Mejor Guru Ryan Seacrest de Belleza de 2013. Tiene más de 2.6 millones de suscritores en YouTube y más de 1.8 millones de seguidores en Instagram. La pueden seguir en Twitter, Facebook, Instagram y Snapchat (hi.nic)
Nicole Guerriero: Nicole Guerriero es una persona de influencia en el ámbito digital y líder en el espacio de belleza, estilo de vida y cultura. Ella crea vídeos y contenido para YouTube, Instagram, Snapchat y otras plataformas digitales para casi cinco millones de fans y seguidores. Además de su exitosa carrera de seis años en YouTube, también es la fundadora y directora ejecutiva de Best Damn Beauty, una codiciada línea de cuidado de la piel que se dirige a los millennials y generación Z. Su enfoque único hacia la belleza y su audiencia altamente participativa, ha resultado en contratos con marcas de la talla de: Clinique, John Freida, Smashbox, NYX Cosmetics y otras. Además, la compostura y experiencia de Guerriero ha permitido que ella participe en paneles de discusión en Playlist Live y VidCon, donde se enfoca en inspirar y empoderar a su audiencia principalmente femenina. Además de ser parte de Univision Creator Network, su manager es James Grant y ella reside en la Florida. Puedes seguirla en Twitter, Facebook, Instagram y Snapchat (hi.nic).
Sandra Cires: Sandra, de origen cubano y residente de Miami, Florida, es una creadora de múltiples talentos que usa muchas de sus plataformas para compartir con sus seguidores de todo, desde música, manicuría artística, maquillaje y fotografía hasta nutrición. Síganla en Twitter, Facebook, Instagram y Snapchat (SandraCiresArt).
CONTACTO: Majeda Hussein, mhussein@univision.net, (646) 560-4979, @UCIPRTeam
###