"Al Punto Florida" Marks Debut on WLTV Channel 23, April 24 at 11 a.m. ET, and Covers Wide Range of Topics Important to Sunshine State Hispanics
---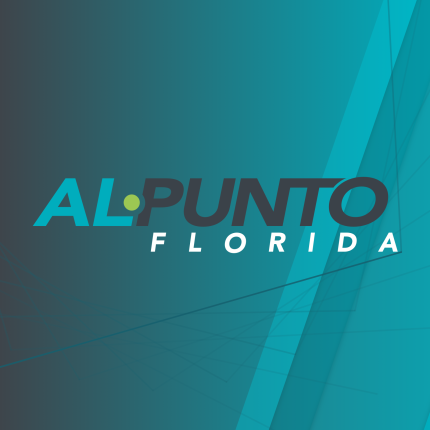 ---
WHAT:
Univision WLTV Channel 23 presents, "Al Punto Florida," the new hour-long Sunday morning program where today's most prominent politicians, newsmakers and celebrities will meet to discuss issues that impact the growing Hispanic community in Central and South Florida. The show marks its debut on April 24, 2016 at 11 a.m. ET with hosts Ambrosio Hernandez, acclaimed Noticias 23 Anchor, and Mariana Atencio, FUSION's award-winning host and correspondent.
Featuring one-on-one interviews with local, state and world leaders as well as other renowned personalities making news today, "Al Punto Florida" will touch upon hot topics of importance to Hispanics, but it will also explore and go beyond matters related to politics. A weekly roundtable comprised of special guests, regular contributors and television's most respected experts and analysts will tackle a variety of cultural affairs. On "Al Punto Florida," politicians, writers, journalists, business leaders and even entertainers, are welcomed to join the debate and, often, the controversy.
"I am very excited to host the new public affairs show Al Punto Florida (To The Point Florida) with my co-host Mariana Atencio," said Ambrosio Hernández, chief anchor, Univision 23 Miami, "A show where we'll analyze issues through interviews and journalistic reports on newsworthy topics to our community, Florida and in our home countries. Politics will play a key role in our program."
The "Al Punto Florida" premiere is set to feature a one-on-one exclusive interview by anchor Ambrosio Hernandez with former republican presidential candidate, Marco Rubio; a segment led by reporter Carolina Rosario who will discuss the impact of the Hispanic vote in Florida; also, the 2016 Miami-Dade County mayoral race will be a topic of discussion with two of the candidates, School Board member Raquel Regalado and Alfred Santamaría, the Colombian-born missionary and one-time government staffer, visiting the studio. Univision Radio's Ninoska Perez Castellon and Joe Arriola, chairman of Jackson Health System, will present their views on Obama's historic visit to Cuba in addition to other key topics; political analyst Alex Penelas and Fernand R. Amandi, principal at Bendixen & Amandi International, will discuss the latest election polls; and to close on a livelier note, "Al Punto Florida" will feature a segment with FUSION's Mariana Atencio and Enrique Santos, the popular Radio/TV host and 2015 Radio Ink's National/Syndicated Radio Personality of the Year, in which Santos talks about his campaign "Bring Radio Back," as well as his satirical view on the 2016 election cycle.
The one-hour show is set to air from 11 a.m. to 12 p.m. on Sundays following Univision's public affairs show, "Al Punto," hosted by Jorge Ramos, the celebrated journalist and co-anchor of the network's award-winning "Noticiero Univision."
WHEN & WHERE:
"Al Punto Florida"
Premieres Sunday, April 24, 2016
11 a.m. to 12 p.m. ET every Sunday
With simultaneous broadcast on WAQI 710 AM
Also available to non-Florida residents via the Uforia app downloadable for iOS and android
ADDITIONAL INFORMATION:
The launch of "Al Punto Florida" builds on Univision's commitment to serve its audience in Central and South Florida, contributing with accurate information and helping to increase civic participation among the region's Hispanic population.
Viewers can follow the conversations on "Al Punto Florida" via @AlPuntoFL and #AlPuntoFL on Twitter, as well as comment along with others on Facebook/AlPuntoFlorida.
CONTACT:
Jose Zamora
305.925.8835
josezamora@univision.net
@UCIPRTeam
###
---
UNIVISION LANZA PROGRAMA LOCAL DE ASUNTOS PÚBLICOS, "AL PUNTO FLORIDA"
"Al Punto Florida" se estrena en WLTV Canal 23, el 24 de abril a las 11 a.m., hora del Este, y cubre una gran variedad de temas de importancia para los hispanos en ese estado
---

---
QUÉ:
Univision WLTV Canal 23 presenta "Al Punto Florida", el nuevo programa de una hora los domingos por la mañana donde los más destacados políticos, celebridades y protagonistas de las noticias de actualidad se congregarán para tratar asuntos que tienen un impacto en la cada vez más numerosa comunidad hispana del centro y sur de Florida. El programa se estrenará el 24 de abril de 2016 a las 11 a.m., hora del Este, bajo la conducción de Ambrosio Hernández, el aclamado presentador de Noticias 23, y Mariana Atencio, galardonada presentadora y corresponsal de FUSION.
"Al Punto Florida" presentará entrevistas personales a líderes locales, estatales y mundiales, como también renombradas personalidades en los titulares de hoy, y tratará temas candentes de importancia para los hispanos. Por otro lado, explorará e irá más allá de lo relacionado a la política. Una mesa redonda semanal con invitados especiales, corresponsales regulares y los más respetados expertos y analistas de la televisión abordará diversos asuntos culturales. En "Al Punto Florida", se invitará a políticos, escritores, periodistas, líderes empresariales y artistas a participar en el debate y, con frecuencia, a ser parte de la controversia.
"Estoy muy entusiasmado de poder presentar Al Punto Florida, nuestro nuevo programa de política con mi copresentadora Maria Atencio," dijo Ambrosio Hernández, presentador en jefe, Univision 23 Miami, "Un programa donde analizaremos a fondo, con entrevistas y reportajes, los temas que son noticia para nuestra comunidad, la Florida y nuestros países de origen. La política jugará un papel clave en nuestro programa."
Para el estreno de "Al Punto Florida" se ha programado una entrevista exclusiva de Ambrosio Hernández al ex candidato republicano a la presidencia Marco Rubio y un segmento a cargo de la reportera Carolina Rosario, quien hablará sobre el impacto del voto hispano en Florida. Además, la contienda para alcalde del condado Miami-Dade de 2016 será el tema de conversación con dos de los candidatos, Raquel Regalado, miembro de la Junta Escolar, y Alfred Santamaría, el misionero de origen colombiano y ex miembro del personal gubernamental, quienes visitarán el estudio. Ninoska Pérez Castellón de Univision Radio y Joe Arriola, presidente del Jackson Health System, ofrecerán su opinión sobre la histórica visita de Obama a Cuba, además de otros temas de importancia; el analista político Alex Penelas y Fernand R. Amandi, principal de Bendixen & Amandi International, hablarán sobre las más recientes encuestas electorales, y para terminar con una nota más animada, "Al Punto Florida" presentará un segmento con Mariana Atencio de FUSION y Enrique Santos, el popular presentador de radio y televisión, quien fue seleccionado por Radio Ink como la personalidad de radio nacional/sindicado del año en el 2015. Santos hablará sobre su campaña "Bring Radio Back", además de dar su opinión satírica sobre el ciclo electoral de 2016.
El programa de una hora se trasmitirá de 11 a.m. a 12 p.m. los domingos después de "Al Punto", el programa de asuntos públicos de Univision, presentado por Jorge Ramos, el renombrado periodista y copresentador del galardonado "Noticiero Univision" de la cadena.
CUÁNDO Y DÓNDE:
"Al Punto Florida"
Se estrena el domingo, 24 de abril de 2016
11 a.m. a 12 p.m., hora del Este, todos los domingos
Con trasmisión simultánea en WAQI 710 AM
También lo pueden ver quienes no viven en la Florida vía la aplicación Uforia, que se puede descargar para iOS y Android
INFORMACIÓN ADICIONAL:
El estreno de "Al Punto Florida" es parte del compromiso de Univision de prestar servicios a su audiencia en el centro y sur de Florida, contribuir con información exacta y ayudar a aumentar la participación cívica de los hispanos en la región.
Los televidentes pueden seguir las conversaciones de "Al Punto Florida" vía @AlPuntoFL y #AlPuntoFL en Twitter y comentar junto con otros en Facebook/AlPuntoFlorida.
CONTACTO:
Jose Zamora
305.925.8835
josezamora@univision.net
@UCIPRTeam
###