In a Network First, Tournament to Open with Simultaneous Broadcasts across Univision, UniMás and UDN
---
MIAMI – APRIL 11, 2016 – Univision Deportes, the multimedia sports division of Univision Communications Inc. (UCI) that includes UDN, the No. 1 Spanish-language sports network, today announced the full match schedule for this summer's Copa America Centenario, the most highly anticipated sporting event of the year in the Americas. The tournament will run from June 3rd to June 26th and will include a total of 32 matches.  Matches will be aired across Univision Deportes' portfolio of networks including UDN, UniMás and Univision Network. The first match of the tournament will be simultaneously broadcast on all three networks, the first for a sports event on UCI.
"Univision Deportes is the choice destination for soccer fanáticos in the U.S.," said Juan Carlos Rodriguez, President of Univision Deportes. "It is only fitting that we are the home of this very special edition of the Copa America tournament, marking not only its 100-year anniversary but also the first time that the tournament is played in the U.S. We continue to deliver on our strategy to have the best-in-class soccer content for our passionate and engaged viewers."
Hosted in the United States for the first time ever, Copa America Centenario will unite all of the Americas in the name of soccer and Univision Deportes will be at the forefront of coverage for Spanish-language viewers. Sixteen teams will compete for the special anniversary edition of the tournament, the oldest international continental football competition. Copa America Centenario features two confederations, Conmebol and CONCACAF, and will kick off with the United States versus Colombia on June 3rd. Other highlights include a reunion between 2015 Copa America finale teams Argentina and Chile and a Gold Cup 2015 final rematch between Mexico and Jamaica.
For this highly anticipated event, UDN will be the 24-hour home of Copa America Centenario. All 32 games will be broadcast live and coverage will include at least two hours of live pre and post-game commentary on UDN. Special editions of live studio shows will air each day of the tournament to ensure that viewers get access to all of the latest Copa America news instantaneously.
The opening game of Copa America Centenario will be played in Levi's Stadium in Santa Clara, California, and will air live on Univision, UniMás and UDN at 9:00 p.m. ET, the first ever three-network simulcast in the history of Spanish language television. The final game will be broadcast live in 4k on Univision and UDN, with coverage beginning live at 3:00 p.m. ET from MetLife Stadium. The game will begin at 7:30 p.m. ET.
Schedule of Copa America Centenario 2016 Matches around the Country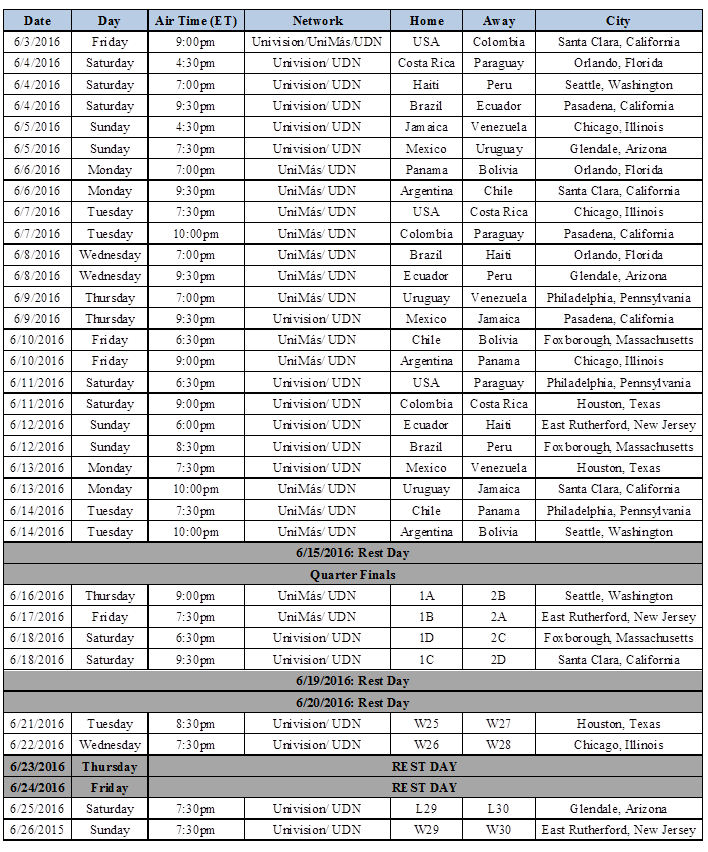 Viewers can join the conversation regarding Univision Deportes Copa America Centenario coverage using the hashtag #UDCentenario on all social media platforms and follow each play on Twitter via @UnivisionSports. They can also comment along with other fans on Facebook.com/UnivisionDeportes and follow all related content on Instagram.com/UnivisionDeportes.
ADDITIONAL INFORMATION:
Fútbol fans can also visit UnivisionDeportes.com for exclusive stories and the latest news on Copa America Centenario.
When the tournament starts on June 3rd, viewers can continue to watch every match LIVE on their computer, phone or tablet on the Univision Deportes app. Livestreaming is also available on Univision Now and UnivisionDeportes.com.
CONTACT:
Jennifer Morales
305.640.3592
jemorales@univision.net
@UCIPRTeam
###
---
UNIVISION DEPORTES ANUNCIA EL CALENDARIO DE PARTIDOS DE COPA AMÉRICA CENTENARIO
Por Primera Vez, El Torneo Se Iniciará Con Trasmisiones Simultáneas En Las Cadenas Univision, UniMás Y UDN
---
MIAMI – 11 DE ABRIL DE 2016 – Univision Deportes, la división deportiva multimedia de Univision Communications Inc. (UCI) que también incluye a UDN, la cadena número uno de deportes en español, anunció hoy el calendario completo de partidos Copa América Centenario, el evento deportivo más esperado del año en el continente americano. El campeonato será del 3 al 26 de junio e incluirá un total de 32 partidos. Se trasmitirán los partidos en la cartera de cadenas de Univision Deportes que incluye a UDN, UniMás y la Cadena Univision. El primer partido del campeonato se trasmitirá simultáneamente en las tres cadenas, en lo que será la primera vez para UCI con un evento deportivo.
"Univision Deportes es el destino preferido de los fanáticos del fútbol en los Estados Unidos", dijo Juan Carlos Rodríguez, Presidente de Univision Deportes. "Por esa misma razón, seremos los anfitriones de esta edición especial de Copa América Centenario, que no solo cumple 100 años sino que por primera vez sus partidos de fútbol se jugarán en los Estados Unidos. Seguiremos con nuestra estrategia de brindar contenido futbolístico de la más alta calidad a nuestra apasionada y dedicada audiencia".
Copa América Centenario, que se realizará en los Estados Unidos por primera vez en la historia, unirá a todo el continente en nombre del fútbol, y Univision Deportes estará a la delantera de la cobertura para los televidentes en español. Dieciséis equipos competirán en la edición especial de aniversario del campeonato, el más antiguo torneo futbolístico entre diversos países del continente. Copa América Centenario incluye dos confederaciones, Conmebol y CONCACAF, y se iniciará con Estados Unidos contra Colombia el 3 de junio. Otros partidos destacados incluyen uno de rencuentro de los equipos del partido final de la Copa América 2015, Argentina y Chile, y uno en el que se volverán a enfrentar los contrincantes de la final de la Copa Oro 2015, México y Jamaica.
Para este evento muy esperado, UDN será la sede de Copa America Centenario las 24 horas del día. Los 32 partidos se trasmitirán en vivo, y la cobertura incluirá por lo menos dos horas de comentario en vivo antes y después de los partidos en UDN. Se trasmitirán ediciones especiales en vivo de programas en estudio todos los días del torneo para asegurar que los televidentes obtengan acceso a todas las últimas noticias sobre Copa América instantáneamente.
El partido inicial de Copa América Centenario será en el Estadio Levi's en Santa Clara, California, y se trasmitirá en vivo en Univision, UniMás y UDN a las 9:00 p.m. hora del Este, en lo que será la primera vez en la historia de la televisión en español que las tres cadenas trasmiten simultáneamente. El partido final se trasmitirá en vivo en 4k en Univision y UDN, con cobertura en vivo a partir de las 3:00 p.m. hora del Este desde el Estadio MetLife. El partido se iniciará a las 7:30 p.m. hora del Este.
Calendario de los partidos de 2016 de Copa América Centenario en todo el país
Los televidentes pueden participar en la conversación sobre la cobertura de Copa América Centenario por Univision Deportes usando el hashtag #UDCentenario en todas las plataformas de redes sociales y siguiendo cada jugada en Twitter vía @UnivisionSports. También podrán comentar con otros fanáticos en Facebook.com/UnivisionDeportes y seguir todo el contenido relacionado en Instagram.com/UnivisionDeportes.
INFORMACIÓN ADICIONAL:
Los fanáticos también tendrán acceso por UnivisionDeportes.com a artículos exclusivos y las más recientes noticias sobre Copa América Centenario.
Cuando el campeonato se inicie el 3 de junio, los televidentes podrán seguir viendo todos los partidos en su computadora, teléfono o tableta con la aplicación de Univision Deportes. Los partidos también serán presentados vía streaming por Univision Now y UnivisionDeportes.com.
CONTACTO:
Jennifer Morales
305.640.3592
jemorales@univision.net
@UCIPRTeam
###