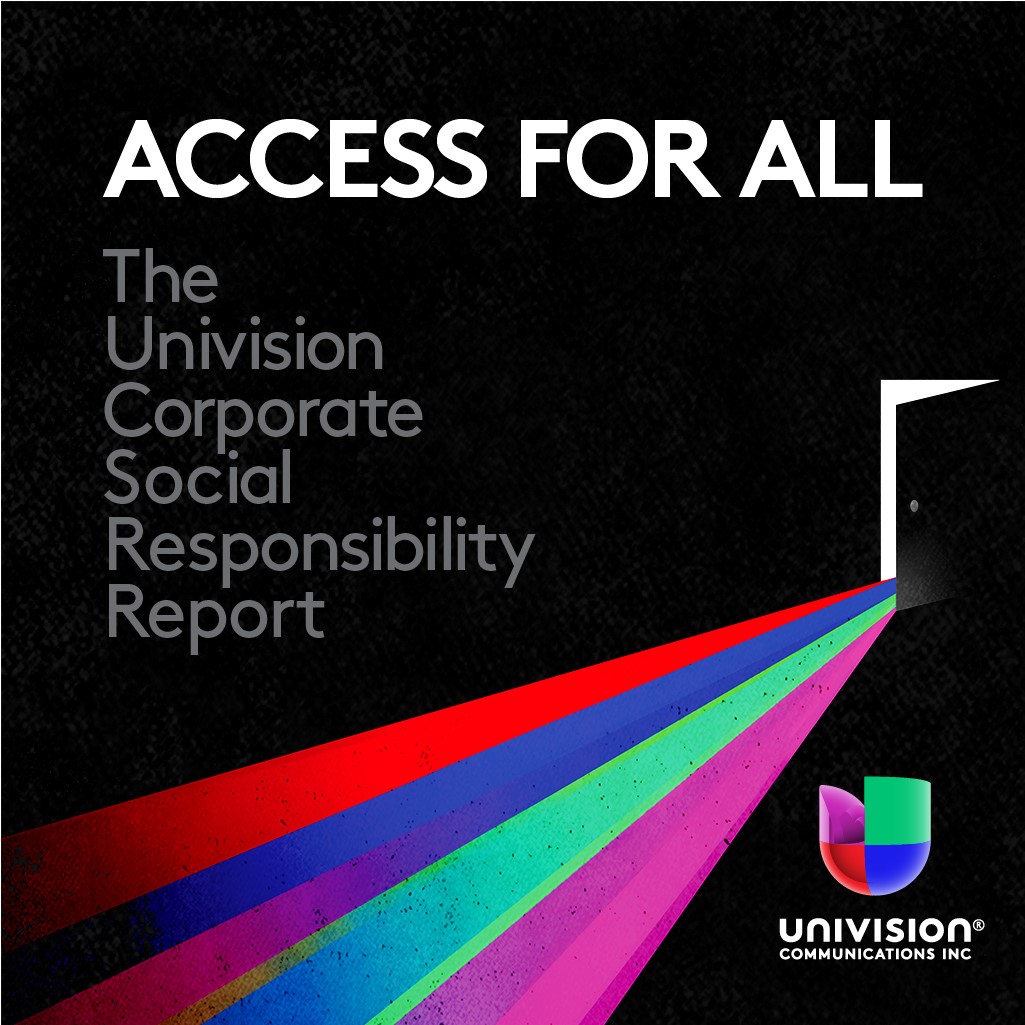 ---
NEW YORK, MARCH 18, 2016 – Univision Communications Inc. (UCI), the leading media company serving Hispanic America, today announced the release of "Access for All," the Company's first-ever corporate social responsibility report. The report showcases how UCI's corporate values of integrity, collaboration, innovation, diversity, service and excellence help the Company deliver on its responsibility to the Hispanic and multicultural communities it serves.
"For nearly 60 years, Univision's mission has been to entertain, inform and empower the Hispanic community in the United States. And as our community grew and became increasingly more diverse, so did we," said Randy Falco, president and chief executive officer, UCI. "Today, we find ourselves at the center of a new America, energized by the potential that lives within our country's most vibrant multicultural populations. Now more than ever we are proud of how, working with our partners, we continue to deliver on our responsibility to the communities we serve. Our inaugural corporate social responsibility report showcases how our corporate values of integrity, collaboration, innovation, diversity, service and excellence come to life."
"Over the course of our history we have strived to deliver the best information and resources to Hispanic families across the U.S. During this time, we have cultivated deep community relationships based on trust, service and results," said Ivelisse Estrada, senior vice president, Corporate and Community Relations, UCI. "Univision has proudly served our communities thanks to the hard work of dedicated community partners, employees, talent and news teams from San Antonio to Los Angeles and Miami to Chicago."
"Access for All" includes insights, initiatives and stories about how UCI's commitment to corporate social responsibility is strategically aligned with its mission of informing, empowering and entertaining Hispanic America. Key focus areas captured in the report are detailed below.
The Company We Keep
Diversity
As a mission-driven company, diversity and inclusion are the backbone of Univision. Univision believes that companies should be diverse by design, and has created and implemented a number of programs – including employee impact groups such as eMERGE (millennials), Orgullo@UCI (LGBTA) and the Women's Leadership Council – that promote professional development among all employees regardless of race, religion, age, sexual orientation, or gender identity. By accelerating access to professional growth among all employees, from interns to top executives, Univision is growing and retaining a diverse workforce at all levels – setting the bar for diversity in the industry.
Looking ahead, UCI plans to break more barriers by offering ambitious new programs to ensure even more opportunity for media careers among the U.S. Hispanic population. In partnership with Televisa, Univision recently announced it is launching efforts to increase the pipeline of Latinos in media and technology by supporting the education of future leaders and professionals in these fields through writer's programs, incubator programs, and development fellowships.
The Content We Deliver
Access and Empowerment
For more nearly 60 years, Univision has provided vital news and information to the community it serves in language and in culture – all day, every day. Univision's national and local newscasts have earned the trust of the community by doing whatever it takes to deliver the news that matters to its community most – from daily challenges like navigating school systems to lifelong concerns like immigration, family, faith, and finances.
Celebrating Culture
Univision celebrates Latino culture through its extensive distribution of entertainment, music, and sports content. With the growth of FUSION and Flama and recent acquisitions of The Root and The Onion, Univision is more inclusive than ever before, investing in multicultural content and a commitment to reach more people on a growing number of platforms.
The Communities We Serve
Making Lives Better Through Univision Contigo
Univision advocates tirelessly for the communities it serves through Univision Contigo, which promotes awareness and provides access to resources in areas such as education, health, prosperity, and civic participation.
Education
Univision understands that a lifelong pursuit of learning, from pre-school to post-grad, helps Latinos to succeed. Children are the key to our future, and as the largest and fastest-growing minority group in grade school, it's not a stretch to say that Hispanic children in particular will be very influential to the development of our country. As America's longest-running public service campaign on education, the Univision Contigo Educación initiative brings awareness to the importance of education, and puts valuable tools and resources into the hands of parents and students alike. In 2015, more than 40,000 attendees participated in Univision education fairs nationwide.
Health
Part of the American dream is having a healthy family and leading a healthy life. Univision Contigo is helping the community to achieve these goals by informing and empowering Hispanic America through a multitude of health and wellness initiatives, with a special focus on promoting healthy lifestyles and providing for children in need. As part of the Camino A La Salud (Road To Health) fairs, which visited 12 markets in eight days, Univision served more than 32,000 attendees and facilitated 10,000 free health screenings. In June 2015, 342,000 people nationwide registered for the interactive nutritional and fitness challenge Reto 28. Additionally, in 2015, Univision rallied viewers and listeners to raise $15.7 million for Teletón USA and another $3.5 million for St. Jude Children's Research Hospital.  Together, we can ensure that Latinos of all ages have the information and motivation they need to live long, thriving lives.
Prosperity
Latinos today are a powerful and growing force in America's economic landscape and their prosperity is critical to the growth of this country. Univision and its partners are laying the groundwork for U.S. Hispanic financial success — arming U.S. Hispanics with an understanding of the inner workings of personal finances and professional entrepreneurship. More specifically, Univision Contigo's Prosperity initiative promotes financial literacy through a series of informative events aimed to help families across the country set goals, manage finances, rely less on loans, save money, protect themselves from debt, and understand helpful services from financial institutions. In 2015, 3,000 business owners participated in business boot camp sessions and another 60,000 people attended prosperity fairs and town halls from Los Angeles to Miami.
Civic Participation
Through its nonpartisan Civic Participation initiatives, Univision Contigo is taking strides to ensure Hispanic voices have access to the information they need to be heard in the electoral process. In February 2016, Univision unveiled the groundbreaking "Vote For Your America" campaign to engage multiculturals, millennials and 27 million eligible Hispanic voters. The effort includes the first-ever "Vote For Your America" Digital Election Guide, a Bilingual Text Message Tool, on-air and multiplatform messaging, and hundreds of local events leveraging 126 local TV and radio stations. Univision Contigo is also proactively helping eligible Latinos become citizens through the "Hazte Ciudadano" campaign that, in turn, allows them to play an integral role in the U.S. democracy.
Further commenting on the report, Falco said: "The brilliant work featured in this report is the result of collaboration among many amazing individuals and organizations. We are extremely thankful to the teams that continue to make the power of Univision come to life and make a difference through the important initiatives detailed in the report. By working together – from our dedicated Univision employees to neighborhood grassroots organizations to some of the biggest philanthropic and nonprofit groups in the country – we can help ensure access for all, as this report so clearly articulates."
The full report can be viewed or downloaded on the company's website at www.univision.net/csr.
CONTACT: Yvette Pacheco, 646.560.4879, ypacheco@univision.net, @UCIPRTeam
###
---
UNIVISION COMMUNICATIONS PUBLICA PRIMER INFORME SOBRE RESPONSABILIDAD SOCIAL CORPORATIVA: "ACCESS FOR ALL"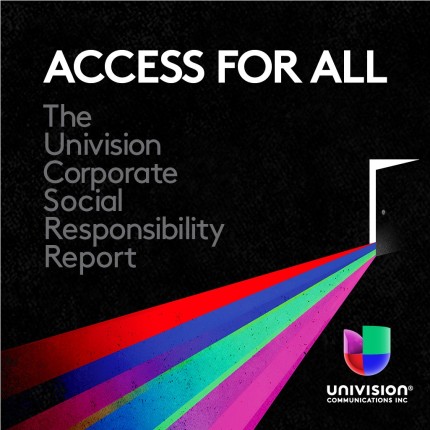 ---
NUEVA YORK, 18 DE MARZO DE 2016 – Univision Communications Inc. (UCI), la principal empresa de medios de comunicación al servicio de la comunidad hispana en los Estados Unidos, anunció hoy la publicación de "Access for All" (Acceso para todos), el primer informe sobre responsabilidad social corporativa en la historia de la compañía. El informe muestra las formas en que los valores corporativos de UCI de integridad, colaboración, innovación, diversidad, servicio y excelencia ayudan a la compañía a cumplir con su responsabilidad con los hispanos y las comunidades multiculturales a las que presta servicios.
"Durante casi 60 años, la misión de Univision ha sido entretener, informar y empoderar a la comunidad hispana en los Estados Unidos. Y a medida en que nuestra comunidad se ha vuelto cada vez más numerosa y diversa, nosotros también lo hemos hecho", dijo Randy Falco, presidente y director ejecutivo de UCI. "Hoy nos encontramos en el centro de un nuevo Estados Unidos, impulsado por el potencial que radica en los grupos demográficos multiculturales más dinámicos del país. Ahora más que nunca, nos enorgullece que, en colaboración con nuestros socios, seguimos cumpliendo con nuestra responsabilidad hacia las comunidades a las que prestamos servicios. Nuestro primer informe sobre responsabilidad social corporativa destaca las formas en que cobran vida nuestros valores de integridad, colaboración, innovación, diversidad, servicio y excelencia".
"Durante el transcurso de nuestra historia nos hemos esforzado por ofrecer los mejores recursos e información a las familias hispanas en todo Estados Unidos. Durante este tiempo hemos cultivado profundas relaciones comunitarias basadas en la confianza, el servicio y los resultados", afirmó Ivelisse Estrada, vicepresidenta principal de Relaciones Corporativas y Comunitarias de UCI. "Univision ha prestado servicios con orgullo a nuestras comunidades gracias al arduo esfuerzo de socios dedicados en la comunidad, empleados, talento y equipos de noticias desde San Antonio hasta Los Ángeles, y desde Miami hasta Chicago".
"Access for All" incluye análisis, proyectos e historias sobre las formas en que el compromiso de UCI con la responsabilidad social corporativa se alinea estratégicamente con su misión de informar, empoderar y entretener a las comunidad hispana en los Estados Unidos. A continuación se detallan los ámbitos clave que contiene el informe.
La Compañía que conservamos
Diversidad
Como compañía impulsada por una misión, la diversidad e inclusión son centrales para Univision. Univision considera que se debe diseñar las compañías para que sean diversas y ha creado e implementado varios programas –entre ellos los grupos de impacto de empleados como eMERGE (millennials), Orgullo@UCI (LGBTA) y el Consejo de Liderazgo Femenino (Women's Leadership Council)–  que promueven el desarrollo profesional entre todos los empleados, independientemente de raza, religión, edad, orientación o identidad sexual. Al acelerar el acceso al desarrollo profesional de todos los empleados, desde pasantes hasta altos ejecutivos, Univision aumenta la diversidad de su fuerza laboral y la retiene en todos los niveles, y con ello eleva los estándares de diversidad en la industria.
Con miras al futuro, UCI planea derrumbar más barreras ofreciendo ambiciosos programas nuevos para asegurar incluso más oportunidades de carreras en medios de comunicación en la población hispana de los Estados Unidos. En sociedad con Televisa, Univision recientemente anunció que se está esforzando por aumentar la oferta de latinos en medios de comunicación y tecnología al apoyar la educación de líderes y profesionales futuros en estos campos por medio de programas de guionistas e incubación, además de becas de desarrollo.
El contenido que ofrecemos
Acceso y empoderamiento
Por más de 60 años, todos los días, todo el día, Univision ha ofrecido información y noticias vitales a la comunidad a la que presta servicios, en su idioma y conforme a su cultura. Los noticieros nacionales y locales de Univision se han ganado la confianza de la comunidad haciendo lo necesario para presentar las noticias más importantes para ella, desde los desafíos diarios de abrirse paso en los sistemas escolares hasta las inquietudes de toda la vida como inmigración, familia, religión y finanzas.
Celebración de la cultura
Univision celebra la cultura latina por medio de su extensa distribución de contenido de entretenimiento, música y deportes. Más que nunca, con el crecimiento de FUSION y Flama, y las adquisiciones recientes de The Root y The Onion, Univision incluye a todo tipo de personas, invierte en contenido multicultural y se dedica a llegar a más gente con plataformas cada vez más numerosas.
Las comunidades a las que prestamos servicios
Mejoramos vidas por medio de Univision Contigo
Univision vela incansablemente por las comunidades a las que presta servicios por medio de Univision Contigo, que promueve información y brinda acceso a recursos en los campos de educación, salud, prosperidad y participación cívica.
Educación
Univision comprende que la dedicación al aprendizaje durante toda la vida, desde preescolar hasta los estudios de posgrado, ayuda a los latinos a tener éxito. Los niños son la clave del futuro y, ya que los niños hispanos constituyen el grupo minoritario más numeroso y de más rápido incremento en la escuela primaria, no es ninguna exageración decir que tendrán, en particular, mucha influencia en el desarrollo del país. La iniciativa de Educación de Univision Contigo, la campaña de servicio público dedicada a la educación de más larga trayectoria en los Estados Unidos, genera consciencia sobre la importancia de la educación y pone herramientas y recursos valiosos en manos de padres de familia y estudiantes. En 2015, más de 40,000 personas participaron en las ferias de educación de Univision en todo el país.
Salud
Parte del Sueño Americano es tener una familia saludable y llevar una vida sana. Univision Contigo está ayudando a la comunidad a lograr esos objetivos al informar y empoderar a los hispanos en los Estados Unidos por medio de una cantidad de iniciativas de salud y bienestar, con particular atención a promover un estilo de vida saludable y velar por los niños necesitados. Como parte de las ferias Camino a la Salud, que visitaron 12 mercados en ocho días, Univision prestó servicios a más de 32,000 concurrentes y facilitó 10,000 pruebas gratuitas de salud. En junio de 2015, 342,000 personas en todo el país se inscribieron en Reto 28, un desafío interactivo de nutrición y aptitud física. Además, en el año 2015, Univision alentó a sus televidentes y radioescuchas a recaudar 15.7 millones de dólares para Teletón USA y 3.5 millones de dólares adicionales para St. Jude Children's Research Hospital. Juntos podemos asegurar que latinos de todas las edades tengan la información y motivación que necesitan para llevar una vida larga y fructífera.
Prosperidad
Los latinos hoy en día tienen cada vez más influencia y poder en el entorno económico de los Estados Unidos, y su prosperidad es crucial para el crecimiento del país. Univision y sus socios están sentando las bases para el éxito económico de los hispanos en los Estados Unidos al dotar a los hispanos del país de un entendimiento de los mecanismos de finanzas personales y empresariado profesional. Específicamente, la iniciativa de Prosperidad de Univision Contigo promueve los conocimientos financieros por medio de una serie de eventos informativos que tienen como propósito ayudar a familias en todo el país a alcanzar sus objetivos, administrar sus finanzas, depender menos de préstamos, ahorrar dinero, protegerse de las deudas y comprender los útiles servicios de las instituciones financieras. En 2015, 3,000 dueños de negocios participaron en sesiones intensivas de capacitación comercial y 60,000 personas adicionales acudieron a ferias de prosperidad y asambleas públicas desde Los Ángeles hasta Miami.
Participación cívica
Por medio de sus iniciativas no partidistas de participación cívica, Univision Contigo se esfuerza por asegurar que los hispanos tengan acceso a la información que necesitan para que se escuche su voz en el proceso electoral. En febrero de 2016, Univision dio a conocer la innovadora campaña "Vota por tu América" para promover la participación de la generación del milenio y los 27 millones de hispanos que pueden votar. El esfuerzo incluye la primera guía electoral de "Vota por tu América", un recurso bilingüe de mensajes de texto, que se difunden y salen en plataformas múltiples, y cientos de eventos locales que aprovechan las 126 estaciones locales de radio y televisión. Por medio de la campaña "Hazte Ciudadano", Univision Contigo se dedica activamente a ayudar a los latinos que cumplen con los requisitos para que hagan los trámites de ciudadanía, que a su vez les permite desempeñar un papel integral en la democracia de los Estados Unidos.
En sus comentarios sobre el informe, Falco agregó: "La brillante labor que se presenta en este informe es el resultado de la colaboración de muchas personas y organizaciones extraordinarias. Estamos sumamente agradecidos con los equipos que siguen haciendo que el poder de Univision cobre vida y tenga un impacto por medio de los importantes proyectos que se detallan en este informe. Al trabajar juntos –desde nuestros dedicados empleados de Univision hasta las organizaciones comunitarias y algunos de los más grandes grupos filantrópicos y sin fines de lucro del país– podemos ayudar a asegurar el acceso de todos, como lo manifiesta claramente este informe".
Se puede leer o descargar el informe completo en la página web de la compañía en www.univision.net/csr.
CONTACTO: Yvette Pacheco, 646.560.4879, ypacheco@univision.net, @UCIPRTeam
###