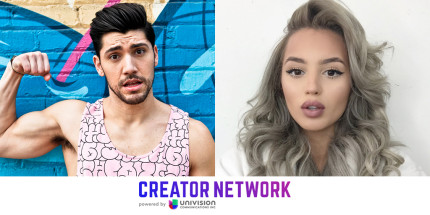 Josh Leyva & Val Mercado
---
NEW YORK – FEBRUARY 4, 2016 – Univision Digital, the digital division of Univision Communications Inc. (UCI), which includes the leading digital platforms serving multicultural audiences, today announced the addition of YouTube sensation Josh Leyva and Instagram star Val Mercado to Univision Creator Network's growing repertoire of high-performing, high-potential content creators. A curated network of content producers from YouTube, Vine, Snapchat and other platforms, the Univision Creator Network (UCN) garners more than 140M views each month across platforms—a 20% increase from when it first launched just over six months ago.
"The addition of these hugely popular creators speaks to the growing reach of the Univision Creator Network and further extends UCI's engagement with millennials and creators through unparalleled experiences across all our digital, linear and radio platforms," said Steven Benanav, VP, Content Partnerships & general manager of Flama, UCI. "Univision's aggressive strategy to reach younger, digitally-engaged users wherever they are consuming content is working; more than 80% of the Univision Creator Network audience is consuming the content on mobile, in line with the millennial consumer's propensity to over-index in consumption of digital, mobile and social content."
Leyva, whose comedic skits garner more than 7 million views per month, is a first-generation Mexican-American who hails from the West Coast. Recent collaborations include a six-episode web series called "Saving Lives," about two overconfident college bros holding down their old lifeguard shifts at the local beach, and branded content "Tamal Taste Test." The series and video are both featured on Flama, the English-language digital video destination created for, with and by Hispanic millennials.
Mercado boasts more than a million Instagram followers and is an aspiring singer and model with Dominican roots. She also holds a Broadcast Journalism degree from York College. Mercado has been featured in Buffalo Jeans campaigns and was named "The Instagram Girl of the Week" by Maxim Magazine.
Leyva and Mercado join other leading creators such as SuperEEEgo, Louis Giordano, SpaceJamGardenz, What Would Lizzy Do, MiCocinaRapida, and RonnieBanks. UCN provides these creators with a community of support including access to industry experts and collaboration opportunities, and enables them to expand their audiences and brands across various ecosystems—such as TV, digital, radio and live events. Through UCN, creators also gain resources such as access to Univision's new music division, which encompasses all music efforts across the company's many platforms and award shows such as the Latin GRAMMY® Awards, Premio Lo Nuestro and Premios Juventud.
The Network fosters emerging influencers while providing consumers with diverse content, and partners with added integration opportunities—expanding UCI's multicultural offerings with a 360° value proposition. UCI advertising partners can tap Univision Creator Network to expand their marketing efforts through branded content integrations across the creators' networks and applicable Univision properties like Flama, as well as through participation at events.
More details about the Univision Creator Network can be found at univisioncreators.com.
About the Creators:
Josh Leyva is a YouTube phenomenon known for his comedic sketches and shorts featuring different characters. With more than 1.8M subscribers across his two channels and garnering more than 7M views per month, Leyva has collaborated with top digital talent including SuperEEEgo and choreographer Chachi Gonzales. In addition, he has worked with numerous brands on integrated content. Follow Leyva on Facebook, Instagram, Snapchat (YoMuscleBoii), Twitter, Vine and YouTube.
Val Mercado is a model, journalist, blogger and aspiring actress known as clothesmindedx3 on social media. She created an alter ego through her selfies, which have gained international recognition. Before becoming an internet sensation, Mercado was a full time nursing student in New York City balancing two jobs and modeling. She went on to work for Seventeen Magazine as a fashion blogger and reporter for red carpet events – discovering her new passion and switching her major to journalism. Follow Mercado on Facebook, Instagram, Snapchat (val.jpg), Twitter, Vine and YouTube.
CONTACT: Carolina Valencia, (212) 455-4712, cvalencia@univision.net
###
---
LA SENSACIÓN DE YOUTUBE JOSH LEYVA Y LA ESTRELLA DE INSTAGRAM VAL MERCADO SE UNEN A LA CADA VEZ MÁS GRANDE UNIVISION CREATOR NETWORK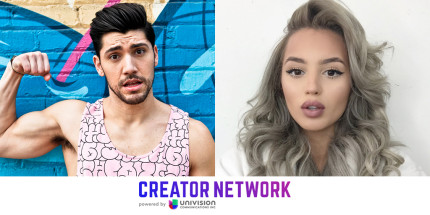 Josh Leyva & Val Mercado
---
NUEVA YORK – 4 DE FEBRERO DE 2016 – Univision Digital, la división digital de Univision Communications Inc. (UCI), que incluye las principales plataformas digitales al servicio del público multicultural, anunció hoy que la sensación de YouTube Josh Leyva y la estrella de Instagram Val Mercado se unen al Univision Creator Network (UCN), el creciente grupo de creadores de contenido de alto potencial y alto desempeño. UCN es una cadena de productores de contenido que fueron seleccionados de YouTube, Vine, Snapchat y otras plataformas y recibe más de 14M de visitas cada mes en todas las plataformas, un aumento de 20% desde su lanzamiento hace seis meses.
"El hecho de que estos popularísimos creadores se hayan unido a Univision Creator Network es evidencia del creciente alcance de UCN que amplía aún más la interacción de UCI con los jóvenes del milenio y los creadores a través de experiencias sin paralelo en todas nuestras plataformas digitales, televisivas y radiales", dijo Steven Benanav, vicepresidente de Alianzas de Contenido y Gerente General de Flama, UCI. Está funcionando la enérgica estrategia de Univision para llegar a usuarios más jóvenes conectados digitalmente, dondequiera que consuman contenido: más de 80% de la audiencia de Univision Creator Network consume contenido en dispositivos móviles, de manera consistente con la propensión del consumidor del milenio a consumir muchísimo contenido digital, móvil y social".
Leyva produce cortos cómicos que reciben más de 7 millones de visitas por mes, es México-americano y vive en la Costa Oeste. Sus colaboraciones recientes incluyen una serie en la red de seis episodios llamada "Saving Lives" (Salvavidas) sobre dos arrogantes amigos que trabajan de salvavidas en la playa local, y el contenido de marca  "Tamal Taste Test". La serie y el video fueron trasmitidos por Flama, el destino de video digital en inglés creado por latinos del milenio, con ellos y para ellos.
Mercado, de familia dominicana, tiene más de un millón de seguidores en Instagram y aspira a ser cantante y modelo. También estudió Periodismo Televisivo en York College. Mercado ha participado en campañas de Buffalo Jeans y fue elegida como "La chica Instagram de la semana" por la revista Maxim.
Leyva y Mercado se unen a otros principales creadores como SuperEEEgo, Louis Giordano, SpaceJamGardenz, What Would Lizzy Do, MiCocinaRapida y RonnieBanks. UCN les brinda a estos creadores el apoyo de una comunidad, el acceso a expertos de la industria, oportunidades de colaboración y les permite expandir su audiencia y marcas en varios ecosistemas, como eventos televisivos, radiales, digitales y en vivo. Con UCN, los creadores también obtienen recursos, como acceso a la nueva división musical de Univision, que reúne todos los esfuerzos musicales de todas las plataformas de la compañía y ceremonias de premiación, como los premios Latin GRAMMY®, Premio Lo Nuestro y Premios Juventud.
UCN promueve artistas emergentes con influencia en los consumidores dándoles a estos un contenido diverso y a los socios, integración adicional, expandiendo así los servicios que UCI le ofrece al público multicultural con una propuesta de valor de 360°. Los socios anunciantes en UCI pueden utilizar Univision Creator Network para ampliar sus esfuerzos de mercadeo con integraciones de contenido de marca en las cadenas de creadores y propiedades aplicables de Univision, como Flama, así como con la participación en eventos.
Si desea más detalles sobre Univision Creator Network visite univisioncreators.com.
Sobre los creadores:
Josh Leyva es un fenómeno de YouTube conocido por sus videos y cortos cómicos con diferentes personajes. Cuenta con más de 1.8M de suscriptores en sus dos canales y recibe más de 7M de visitas por mes. Leyva ha colaborado con artistas digitales de mucho talento, entre ellos SuperEEEgo y el coreógrafo Chachi Gonzales. Además, ha trabajado con numerosas marcas en contenido integrado. Siga a Leyva en Facebook, Instagram, Snapchat (YoMuscleBoii), Twitter, Vine y YouTube.
Val Mercado es modelo, periodista y blogueadora, además de aspirar a actriz. Se le conoce como
clothesmindedx3 en los medios sociales. Creó su alter ego por medio de sus selfies, que lograron reconocimiento internacional. Antes de convertirse en una sensación del Internet, Mercado estudiaba enfermería a tiempo completo en la ciudad de Nueva York, tenía dos empleos y hacía modelaje. Empezó a trabajar en la revista Seventeen como blogueadora de moda y reportera de eventos de alfombra roja, donde descubrió su nueva pasión y estudió periodismo. Siga a Mercado en Facebook, Instagram, Snapchat (val.jpg), Twitter, Vine y YouTube.
CONTACTO: Carolina Valencia, (212) 455-4712, cvalencia@univision.net
###