Univision, Verizon and Hologram USA Have Partnered to Reward One Univision Conecta App User with a First-of-its-Kind Fan Immersion during the Live Semifinal Episode
Using this Revolutionary Technology for the first time on a Live Music Talent Competition, Superfan Jorge Sanchez from Los Angeles will Join Judges Ricky Martin, Laura Pausini & Alejandro Sanz to Help Determine which LA BANDA Contestants will Reach Next Week's Season Finale
THIS SUNDAY WILL ALSO FEATURE SPECIAL GUEST PERFORMANCES BY LUIS CORONEL AND REIK, AND THE LAST PERFORMACE OPPORTUNITY FOR THE REMAINING EIGHT "LA BANDA" CONTESTANTS TO REACH THE FINAL ROUND
                      "La Banda" Airs Live at 8 p.m. ET/7 p.m. CT/5 p.m. PT and again at 8 p.m. PT 
The eight remaining La Banda finalists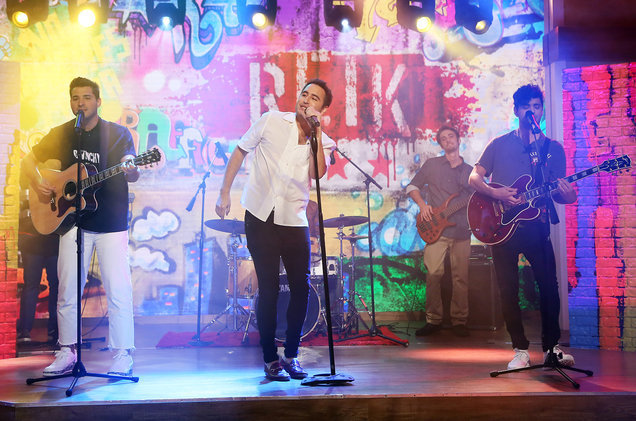 Reik
 Luis Coronel
---
WHAT: Univision Networks invites you to the semi-finale of "La Banda" airing live on December 6th at 8 p.m. EST/ 7 p.m. CT/ 5 p.m. PT and 8 p.m. PT.
The semi-finale episode will feature "La Banda" superfan Jorge Sanchez, 22, who will be hologrammed into the show from Los Angeles as a 4th judge. Univision and Verizon partnered to reward one fan with the experience of a lifetime. The 4th judge will share their feedback with contestants during the live broadcast on Sunday.
Singers Luis Coronel and Reik will perform live on the "La Banda" stage, to connect with Sunday night's "most socially engaged TV program audience." Other chart-topping Latin artists who have graced the "La Banda" stage this season include Marc Anthony and Gente de Zona, Becky G, Jesse and Joy, and Calibre 50.  
The music-based reality competition show was developed by Univision Communications Inc. (UCI), Simon Cowell's SYCO Entertainment and Haim Saban's Saban Brands. Executive produced by Simon Cowell and Ricky Martin, "La Banda" is the search for the ultimate Latino super group with the help of superstar judges Ricky Martin, Laura Pausini, Alejandro Sanz and host Alejandra Espinoza. Representing all Hispanic cultures, contestants compete for their place in "La Banda" and for a coveted recording contract with Sony Music Latin, label home to the most prolific Latin music artists, and Simon Cowell's SYCO Music, the recording label responsible for some of the world's biggest selling artists, including One Direction. Ricky Martin will manage the winning band.
Fans can continue to vote for their favorite contestants via phone call, texting, or on the official "La Banda" site, using a hashtag on Facebook and Twitter, and via our Univision Conecta App. Viewers can also catch the show live via Univision NOW, UCI's live streaming service of the Univision Network available on iOS, android and the web.
WHEN: Members of the press are invited to attend the semi-finale of "La Banda's" broadcast in Miami on Sunday, December 6, 2015. Press check-in begins at 6:30PM.
RSVP is required; please contact Jennifer Morales, jemorales@univision.net by Friday, December 4th.
6:30pm-7:00pm          Media Check in
7:00pm- 8:00pm         Executive Remarks
8:00pm-10:00pm        Live Show Airs
10:00pm-11:30pm      Media Press Room will be open
WHERE: Univision Studios, 9405 NW 41 St., Miami, FL 33178
CONTACT:  Jennifer Morales (305) 640-3592 jemorales@univision.net @UCIPRTeam
###
---
LA NOCHE DEL DOMINGO (6 DE DICIEMBRE) EN LA BANDA, UN SÚPER FAN TENDRÁ UNA EXPERIENCIA ÚNICA EN LA VIDA: SALIR EN EL PROGRAMA EN VIVO COMO UN CUARTO JUEZ VÍA HOLOGRAMA
Univision, Verizon y Hologram USA se han asociado para premiar a un usuario de la aplicación Univision Conecta logrando por primera vez la inmersión de un fan en el episodio semifinal en vivo
Usando esta revolucionaria tecnología por primera vez en una competencia de talento musical en vivo, el súper fan Jorge Sánchez de Los Ángeles se sumará a los jueces Ricky Martin, Laura Pausini y Alejandro Sanz para ayudar a determinar cuáles concursantes de LA BANDA llegarán al episodio final de la temporada la próxima semana
LA EDICIÓN SEMIFINAL Y EN VIVO DE "LA BANDA" DE LA CADENA UNIVISION ESTE DOMINGO TAMBIÉN CONTARÁ CON ACTUACIONES DE LUIS CORONEL Y REIK COMO INVITADOS ESPECIALES, Y ES LA ÚLTIMA OPORTUNIDAD DE QUE LOS OCHO CONCURSANTES QUE QUEDAN EN LA BANDA LLEGUEN CON SUS PRESENTACIONES A LA RONDA FINAL
La Banda se trasmite en vivo a las 8 p.m. Este/ 7 p.m. Centro/ 5 p.m. Pacífico y nuevamente a las 8 p.m. Pacífico
Los ocho finalistas de La Banda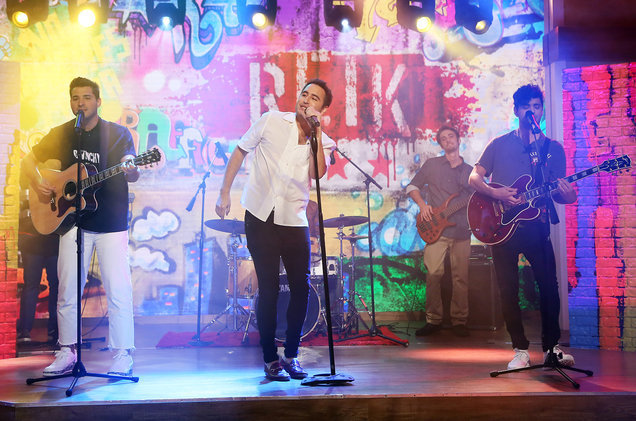 Reik
 Luis Coronel
---
QUÉ: Las Cadenas Univision los invita al episodio semifinal de La Banda, que se trasmitirá en vivo el 6 de diciembre a las 8PM Este/7PM Centro/5PM Pacífico y 8PM Pacífico.
En el episodio semifinal de La Banda, el súper fan Jorge Sánchez, de 22 años, saldrá en el programa en un holograma desde Los Ángeles como el 4to juez. Univision y Verizon se asociaron para premiar a un fan con una experiencia única en la vida. El 4to juez les hará comentarios a los concursantes durante la trasmisión en vivo del domingo.
El cantante Luis Coronel, candidato al Premio Lo Nuestro 2016 y designado 'mejor cantante masculino del año' en la categoría de música regional mexicana en el Premio Lo Nuestro en 2015, y el trío Reik, ganadores del Latin Grammy, se presentarán en vivo en el escenario de La Banda, para conectarse con la "audiencia más activa en medios sociales" entre los programas de televisión del domingo en la noche. Estos se une a otros populares artistas latinos que ya han pasado por el escenario de La Banda esta temporada, como Marc Anthony y Gente de Zona, Becky G, Jesse y Joy, y Calibre 50.  
La competencia musical tipo reality fue creada por Univision Communications Inc. (UCI), SYCO Entertainment de Simon Cowell y Saban Brands de Haim Saban. "La Banda", que cuenta con Simon Cowell y Ricky Martin como productores ejecutivos, está en busca del mejor grupo musical de muchachos latinos, con la ayuda de las súper estrellas Ricky Martin, Laura Pausini, Alejandro Sanz, quienes se desempeñan como jueces, y la conductora Alejandra Espinoza. Los concursantes compiten por un lugar en "La Banda" y un codiciado contrato con Sony Music Latin, disquera de los más prolíficos músicos latinos, y SYCO Music de Simon Cowell, la disquera responsable por algunos de los artistas de más venta en el mundo, incluido One Direction. Ricky Martin será el mánager de la banda ganadora.
Los fans pueden seguir votando por sus concursantes preferidos por teléfono celular, mensaje de texto, el sitio web oficial de La Banda, usando un hashtag en Facebook y Twitter, y vía nuestra aplicación de Univision Conecta. Los televidentes también pueden ver el programa en vivo vía Univision NOW, el servicio de trasmisión en vivo de la Cadena Univision disponible en iOS, Android y por el web.
CUÁNDO: Se invita a los miembros de la prensa a que estén presentes en la trasmisión del episodio semifinal de La Banda en Miami el domingo, 6 de diciembre, 2015. La inscripción de los miembros de la prensa se inicia a las 6:30PM.
Se requiere confirmar su asistencia; por favor comuníquense con Jennifer Morales, jemorales@univision.net el viernes, 4 de diciembre, a más tardar.
6:30pm-7:00pm          Registro de los miembros de la prensa
7:00pm- 8:00pm         Declaraciones de ejecutivos
8:00pm-10:00pm        Trasmisión en vivo del programa
10:00pm-11:30pm      Se abrirá la sala de prensa
DÓNDE: Estudios de Univision, 9405 NW 41 St., Miami, FL 33178
CONTACTO: Jennifer Morales (305) 640-3592 jemorales@univision.net @UCIPRTeam
###