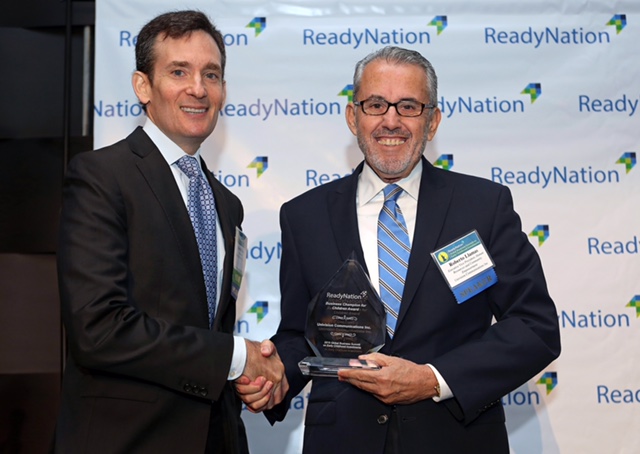 David Kass, CEO, Council for a Strong America, the nonprofit umbrella of ReadyNation, the preeminent business leader organization working to strengthen business through better policies for children and youth, presents Roberto Llamas, Executive Vice President of HR & Community Empowerment, Univision Communications Inc. with the Business Champion for Children Award to Univision Communications Inc.
---
NEW YORK – OCTOBER 7, 2015 – ReadyNation, the preeminent business leader organization working to strengthen business through better policies for children and youth, honored Univision Communications Inc. (UCI) for its overarching, award-winning, empowerment platform Univision Contigo (Univision With You) at the 2015 ReadyNation Global Business Summit on Early Education and Investments.
"Univision has created a wonderful initiative for investing and championing children that we hope will encourage others in the business community to take their own actions," said Sara Watson, national director of ReadyNation. "The vision and dedication by the leadership team has helped create a results-driven program that will contribute to the goal of helping children get on the right track to succeed in school and in life, compete in today's global marketplace and build a foundation for lasting economic security."
"As a mission-driven Company, Univision has made investing in children core to our corporate social responsibility efforts by creating measurable programs that have a positive impact in our country," said Randy Falco, president & CEO, Univision Communications Inc. "I could not be more proud of the work we are doing through Univision Contigo to inform and empower families so that they can achieve their potential."
ReadyNation highlighted Univision's efforts around Pequeños y Valiosos (Young and Valuable), a joint initiative of Too Small to Fail, Next Generation and Vroom, an initiative of the Bezos Family Foundation, which enriches the lives of America's youngest Hispanics, ages 0 to 5. This national public action campaign has secured over 50,000 pledges from families to actively engage with their young children in verbal and cognitive skill-building activities for at least 15 minutes a day. These parents are now part of a community that routinely receives useful information and tips on how to create "brain building moments" with their children.
Pequeños y Valiosos is one component of Univision Contigo's education platform, which provides year-round resources, tools and programs to help Hispanic families be more engaged in their children's education, from early childhood development to college readiness and on through completion.
Over the campaign's first 18 months, Univision Contigo has provided more than 200,000 families with information and resources on early childhood development online at www.univision.com/educacion, through social media and via text messages.
In 2015, Univision Communications Inc. has been honored with the Cynopsis Social Good Award for Best Integrated Campaign, the National Association of Latino Elected and Appointed Officials Presidents Award, and the League of United Latin American Citizen Corporation of the Year Award, among others, for its unparalleled corporate social responsibility initiatives that align with the its mission of informing, entertaining and empowering the community it serves. UCI also was recently honored by the Walter Kaitz Foundation as Diversity Champion, an award given to organizations that act as catalysts for diversity throughout the cable industry.
Other companies honored by ReadyNation with the 2015 Business Champions for Children Awards at the Summit event included Eli Lilly and Company and KPMG; individuals honored included Robert H. Dugger, Managing Partner, Hanover Provident Capital; John "Jack" Brennan Chairman Emeritus and Senior Advisor at Vanguard and; Dr. Candace Kendle, President, Read Aloud 15 MINUTES National Campaign.
ReadyNation is a part of Council for a Strong America. Council for a Strong America is the umbrella nonprofit for five membership organizations comprising the unique and powerful voices of business, military, law enforcement, faith & sports – working together to prepare young Americans for success. ReadyNation was originally created in 2006 by The Pew Charitable Trusts and a dozen other funders. In 2014, ReadyNation merged with America's Edge, and started to operate under the nonprofit Council for a Strong America. In July 2014, the merged entity switched to using the ReadyNation name.
CONTACT: Yvette Pacheco 646-560-4879 ypacheco@univision.net @UCIPRTeam
###
---
UNIVISION COMMUNICATIONS RECIBE EL PREMIO A EMPRESA DEFENSORA DE LOS NIÑOS DE 2015 DE READYNATION
---
NUEVA YORK – 7 DE OCTUBRE DE 2015 – ReadyNation, preeminente líder en el sector corporativo que se dedica a aumentar la solidez empresarial propiciando una mejor política a favor de los niños y adolescentes, homenajeó a Univision Communications Inc. (UCI) por su galardonada plataforma global de empoderamiento Univision Contigo en la Cumbre Empresarial Global sobre la Educación Inicial e Inversiones de 2015 de ReadyNation.
"Univision ha creado una maravillosa iniciativa para invertir en los niños y velar por sus intereses que esperamos aliente a otros en la comunidad empresarial a tomar sus propias medidas", dijo Sara Watson, directora nacional de ReadyNation. "La visión y dedicación del equipo de líderes ha ayudado a crear un programa dedicado a obtener resultados que contribuirá al objetivo de ayudar a los niños a ir por buen camino para obtener buenos resultados en la escuela y la vida, competir en el mercado internacional actual y sentar las bases para una seguridad económica perdurable".
"Como empresa impulsada por una misión, Univision ha hecho de la inversión en los niños un elemento central en nuestros esfuerzos de responsabilidad social creando programas mensurables que tienen un impacto positivo en el país", dijo Randy Falco, presidente y director ejecutivo de Univision Communications Inc. "Me siento sumamente orgulloso de la labor que estamos haciendo por medio de Univision Contigo para informar y empoderar a las familias a fin de que puedan alcanzar su potencial".
ReadyNation destacó los esfuerzos de Univision con Pequeños y Valiosos, una iniciativa conjunta de Too Small to Fail, Next Generation y Vroom, proyecto de la Bezos Family Foundation, que mejora la vida de los hispanos más pequeños en los Estados Unidos, desde que nacen hasta los 5 años. Esta campaña nacional de acción pública ha logrado que más de 50,000 familias se comprometan a interaccionar positivamente con sus hijos pequeños mediante actividades orales y cognitivas durante por lo menos 15 minutos al día. Estos padres ahora son parte de una comunidad que rutinariamente recibe información y consejos útiles sobre cómo crear "momentos para el desarrollo cerebral" con sus hijos.
Pequeños y Valiosos es un componente de la plataforma educativa de Univision Contigo, que ofrece recursos, herramientas y programas todo el año para ayudar a las familias hispanas a participar más en la educación de sus hijos, desde el desarrollo infantil hasta la preparación para los estudios universitarios y hasta que se concluyan.
En los primeros 18 meses de la campaña, Univision Contigo ha proporcionado información y recursos sobre el desarrollo infantil a más de 200,000 familias por Internet, www.univision.com/educacion, por medios sociales y con mensajes de texto.
En 2015, Univision Communications Inc. recibió el Premio al Bien Social de Cynopsis a la mejor campaña integrada, el Premio del Presidente de la National Association of Latino Elected and Appointed Officials y el Premio a la Corporación del Año de la League of United Latin American Citizens, entre otros, por sus iniciativas corporativas de responsabilidad social, que no tienen comparación y que cumplen con su misión de informar, entretener y empoderar a la comunidad que sirve. UCI también fue homenajeada recientemente por la Walter Kaitz Foundation como Promotora de la Diversidad, galardón otorgado a organizaciones que se desempeñan como catalizadoras de la diversidad en el sector de cable.
Entre otras compañías homenajeadas por ReadyNation con Premios a Empresas Defensoras de los Niños de 2015 en la cumbre estuvieron Eli Lilly and Company y KPMG; las personas homenajeadas incluyeron a Robert H. Dugger, socio administrativo de Hanover Provident Capital; John "Jack" Brennan, presidente emérito y asesor principal de Vanguard, y la Dra. Candace Kendle, presidenta de la campaña nacional Read Aloud 15 MINUTES.
ReadyNation es parte del Council for a Strong America. Council for a Strong America es un grupo de cinco organizaciones sin fines de lucro que representan voces únicas y fuertes en negocios, fuerzas armadas, agencias de la ley, religión y deportes, y que trabajan juntas para preparar a jóvenes estadounidenses para el éxito. ReadyNation fue creada en el año 2006 por The Pew Charitable Trusts y una decena de otros fundadores. En 2014, ReadyNation se unió a America's Edge y comenzó a operar bajo Council for a Strong America, entidad sin fines de lucro. En julio de 2014, esa nueva entidad comenzó a usar el nombre ReadyNation.
CONTACTO: Yvette Pacheco 646-560-4879 ypacheco@univision.net @UCIPRTeam
###