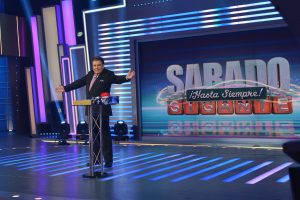 Iconic TV Personality Mario Kreutzberger "Don Francisco" gives final farewell from the set of Univision Network's "Sábado Gigante – ¡Hasta Siempre!" (Giant Saturday – Forever!) during the last telecast in Miami, Florida on September 19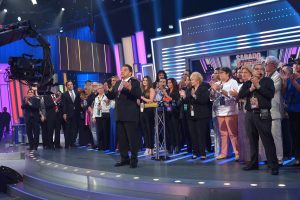 Beloved TV Personality Mario Kreutzberger "Don Francisco" leads full team in final farewell during Univision Network's "Sábado Gigante – ¡Hasta Siempre!" (Giant Saturday – Forever!) last telecast in Miami, Florida on September 19 
---
MIAMI, FL – SEPTEMBER 20, 2015 – With more than a thousand loyal fans in the studio and outside along the Golden Carpet, Univision Network's "Sábado Gigante – ¡Hasta Siempre!" (Giant Saturday – Forever!) final telecast more than lived up to its name. The live, 3-hour show provided viewers an emotion-filled evening celebrating the show that has been a Saturday night tradition in millions of Hispanic households around the globe for more than 53 years.
Host and creator Mario Kreutzberger, known the world over as Don Francisco, led the festivities as he welcomed a parade of stars who got their start on the "Sábado Gigante" stage, former cast members, and numerous dignitaries who came to recognize the legendary host and program.
Opening the show, viewers were treated to a musical number entitled "Gracias a la Vida" (Thanks to Life) featuring an international cast of singers including Colombian songstress Carolina La O, ex-Menudo member and actor Alexis Grullon, "Va Por Ti" (This One's for You) finalist Fernando Corona, "Viva el Sueño" (Live the Dream) finalist Fedro, "Sábado Gigante" singers Bea, Olga Lidia and Muriel, as well a children's chorus comprised of "Estrellas del Futuro" (Stars of the Future) winner Mateo Yunga and finalists Jazmín Lujan and Adrián Ángel.
In a special moment, the President of the United States of America, Barack Obama, along with the First Lady Michelle Obama, sent a congratulatory message to Don Francisco and the cast of "Sábado Gigante."
Musical performances throughout the show included; Puerto Rican pop star Luis Fonsi singing "Corazón en la Maleta;" Regional Mexican idol Espinoza Paz, Norteño supergroup Intocable performing "El Poder de tus Manos;" Colombian singer/songwriter Juanes singing "Volverte a ver;" and Italian recording artist and current "La Banda" judge Laura Pausini interpreting "Inolvidable." In addition, Puerto Rican reggeaton sensation Daddy Yankee presented a special number live from his concert at Madison Square Garden in New York.
Other celebrity tributes were offered by superstar recording artists Shakira, Marc Anthony, Enrique Iglesias, and an emotion-filled final segment featuring Gloria Estefan performing a song co-written with her husband Emilio especially for the evening's festivities entitled "Hasta Siempre" (Forever).
Between musical numbers, a seemingly unending parade of past cast members and other stars who attributed the start of their careers to "Sábado Gigante" paid homage by recalling their experiences with the show. Former members of the "Clan Infantil" (Children's Panel) made appearances including current co-anchor of Univision's newsmagazine "Primer Impacto" (First Impact) Pamela Silva Conde, telenovela actress Sherlyn, Press Secretary for the Los Angeles Mayor's office Connie Llanos, Univision Radio personality José Felipe Padrón, and recent heart transplant recipient Daniela Núñez making her first return appearance on the show.
In addition, a special celebrity edition of the show's popular talent search segment featuring El Chacal de la Trompeta showcased the talents of "Primer Impacto" correspondent Tony Dandrades, actor/singer Eduardo Antonio, former panelist Luis Alfonso Borrego, "Sal y Pimienta" co-host Carlos Calderón, actress/singer and former "Sábado Gigante" spokesmodel Sissi Fleitas, Venezuelan singer Karolina con K, and Zuleyka Rivera, 2006 Miss Universe and current host of the UniMás show "Revista de Zuleyka."
In another salute to the program's games and prize giveaways, three brand new automobiles were awarded to lucky participants, including two vehicles presented by longtime sponsor Gus Machado who started tradition by giving away the first auto in the U.S. show's history.
Among the dignitaries who appeared to pay tribute were Dr. Carissa Etienne, Director of the World Health Organization, President of Miami-Dade College, Eduardo Padrón, who presented Don Francisco the Presidential Medal, Representative Ileana Ros-Lehtinen, recalling her first-ever interview as a newly elected Congresswoman, and a presentation of the 4th certificate from Carlos Martinez of the Guinness World Records once again designating "Sábado Gigante" as the longest-running variety show in television history. In addition, Univision News anchor Jorge Ramos recognized "Sábado Gigante" for its immense contribution and importance to the Hispanic community in the United States.
After some final words from the host, the show's final segment concluded appropriately with Don Francisco leading his cast and crew down the Golden Carpet among his adoring fans, who have been such an integral part of the show throughout the years, as they boarded a bus specially decorated with the "Hasta Siempre" (Forever) logo and rode off into television history.
Media can access the "Sabado Gigante" Press Kit for photos of the event, video footage of the performances, press releases and other promotional show material. Photos courtesy of Univision.
CONTACT: Jenisei Couso Univision Communications, Inc. jcouso@univision.net 786-338-3736 @UCIPRTeam
###
---
"SÁBADO GIGANTE" CELEBRA SUS 53 AÑOS EN LA TELEVISIÓN, UN RÉCORD MUNDIAL, EN UN EMOTIVO E INOLVIDABLE PROGRAMA DE DESPEDIDA REPLETO DE ESTRELLAS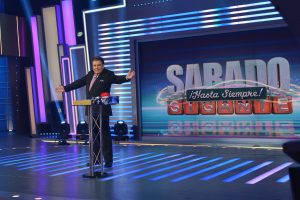 La icónica personalidad de TV Mario Kreutzberger "Don Francisco" se despide por última vez del set de "Sábado Gigante" -¡Hasta Siempre! en La Cadena Univision durante la 'ultima transmisión en Miami, Florida en septiembre 19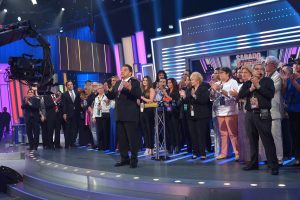 La querida personalidad de TV Mario Kreutzberger "Don Francisco" se une a su equipo para la despidida final de "Sábado Gigante – ¡Hasta Siempre!" de la Cadena Univision en su 'ultima transmisión desde Miami Florida el 19 de septiembre
---
MIAMI, FL – 20 DE SEPTIEMBRE, 2015 – Más de mil leales fans se apostaron en el estudio y a lo largo de la Alfombra Dorada para el evento de despedida del programa de la Cadena Univision que realmente hizo honor a su nombre, "Sábado Gigante – ¡Hasta Siempre!" El especial de tres horas en vivo ofreció a los espectadores una emotiva velada en la que se rindió homenaje a un programa que durante más de 53 años todos los sábados de noches ha sido parte de la tradición familiar para los hispanos en todo el mundo.
El conductor y creador, Mario Kreutzberger, conocido en todo el mundo como Don Francisco, encabezó las celebraciones y les dio la bienvenida a un desfile de artistas lanzados al estrellato desde el escenario de "Sábado Gigante," antiguos miembros del elenco y numerosos dignatarios que acudieron a rendir homenaje al legendario presentador y su programa.
Para iniciar el programa, los espectadores se deleitaron con un número musical titulado "Gracias a la Vida" con la participación de un elenco internacional de artistas, como la cantante colombiana Carolina La O, el actor y ex miembro de Menudo Alexis Grullón, el finalista de "Va Por Ti" Fernando Corona, el finalista de "Viva el Sueño" Fedro, las cantantes de "Sábado Gigante" Bea, Olga Lidia y Muriel, así como un coro de niños compuesto por el ganador de "Estrellas del Futuro" Mateo Yunga y los finalistas Jazmín Luján y Adrián Ángel.
En un momento especial, el presidente de los Estados Unidos Barack Obama, junto a la Primera Dama Michelle Obama, enviaron un mensaje de felicitación a Don Francisco y al elenco de "Sábado Gigante."
Se presentaron artistas a lo largo de todo el programa, como la estrella pop de Puerto Rico Luis Fonsi cantando "Corazón en la maleta;" el ídolo de la música regional mexicana Espinoza Paz; el súper grupo norteño Intocable, que cantó "El poder de tus manos;" el cantautor colombiano Juanes, quien interpretó "Volverte a ver," y la cantante italiana y actual jueza de La Banda Laura Pausini, quien entonó "Inolvidable." Además, la sensación puertorriqueña del reggeatón Daddy Yankee presentó un número especial en vivo desde su concierto en el Madison Square Garden en Nueva York.
Otras celebridades que participaron en el homenaje fueron las superestrellas Shakira, Marc Anthony, Enrique Iglesias y, en un emotivo segmento final, Gloria Estefan interpretó una canción titulada "Hasta Siempre" que compuso especialmente para las festividades de la velada junto con su esposo Emilio.
Intercalado entre los números musicales hubo un desfile interminable de ex miembros del elenco y otras estrellas que atribuyen su éxito profesional a "Sábado Gigante," quienes recordaron su experiencia en el programa. Se presentaron los ex miembros de "Clan Infantil" y la actual conductora del magacín de Univision "Primer Impacto" Pamela Silva Conde, la actriz de telenovelas Sherlyn, la secretaria de prensa de la oficina del alcalde de Los Ángeles Connie Llanos, el locutor de Univision Radio José Felipe Padrón y la reciente benefactora de un trasplante de corazón Daniela Núñez, quien regresó al programa por primera vez.
Asimismo, una edición especial con celebridades del popular segmento de búsqueda de talentos del programa, con El Chacal de la Trompeta, destacó el talento del corresponsal Tony Dandrades de "Primer Impacto," el actor y cantante Eduardo Antonio, el ex panelista Luis Alfonso Borrego, el copresentador de "Sal y Pimienta" Carlos Calderón, la actriz y cantante y ex vocera de "Sábado Gigante" Sissi Fleitas, la cantante venezolana Karolina con K y Zuleyka Rivera, Miss Universo 2006 y actual presentadora del programa en UniMás "La Revista de Zuleyka."
Para recordar los concursos y premios regalados en el programa, se obsequiaron tres flamantes automóviles a afortunados participantes, entre ellos dos vehículos regalados por Gus Machado, el auspiciador consagrado que inició la tradición cuando donó el primer auto en la historia del programa en los Estados Unidos.
Entre los dignitarios que se presentaron para rendir homenaje a Don Francisco estuvieron la Dra. Carissa Etienne, directora de la Organización Mundial de la Salud; Eduardo Padrón, rector de Miami-Dade College, quien otorgó a Don Francisco la Medalla del Rector; la Congresista Ileana Ros-Lehtinen, quien recordó su primera entrevista cuando recién fue elegida al Congreso, y Carlos Martínez de Guinness World Records, quien entregó un cuarto certificado designando a "Sábado Gigante" nuevamente como el programa de variedades de más larga trayectoria en la historia de la televisión. Además, el presentador de Noticias Univision Jorge Ramos reconoció a "Sábado Gigante" por sus enormes aportes e importancia para la comunidad hispana en los Estados Unidos.
Tras unas cuantas palabras finales por el conductor, el segmento final del programa terminó de manera apropiada, cuando Don Francisco llevó a su elenco y el resto de su equipo por la alfombra dorada, entre los afectuosos fans, quienes han sido un aspecto integral del programa a través de los años. El grupo se subió a un autobús especialmente decorado con el logotipo de "Hasta Siempre" y partió, cerrando un capítulo de la historia de la television.
Los miembros de la prensa pueden obtener accesar el  "Sábado Gigante" Press Kit, para material promocional, entre ellos, videos de las actuaciones, fotos del evento y comunicados de prensa. Las fotos son cortesía de Univision.
CONTACTO: Jenisei Couso Univision Communications, Inc. jcouso@univision.net 786-338-3736 @UCIPRTeam
###