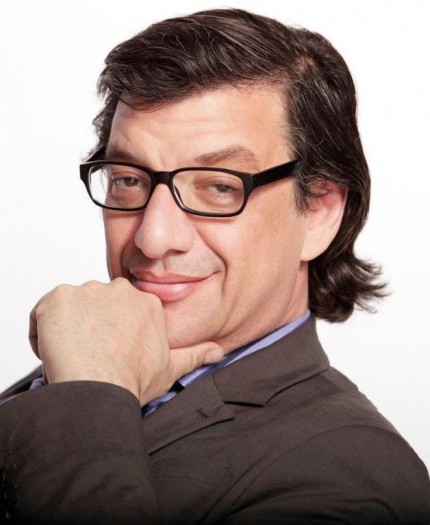 Keith Summa, senior vice president, Content Innovation, Univision News
---
MIAMI – JULY 6, 2015 – Univision News, the award-winning news division of Univision Communications Inc. (UCI), the leading media company serving Hispanic America, has appointed Keith Summa as senior vice president, Content Innovation. He will report directly to Isaac Lee, president of News and Digital for UCI and CEO of Fusion.
From his new position, Summa will spearhead the exploration and development of innovative journalistic tools, models and narratives, experimenting with new platforms and storytelling formats to produce high-impact, quality reporting aimed at increasing the engagement of Univision News' existing audience and broadening the division's reach of tech-savvy news consumers. To that end he will also work closely with Fusion, the multi-platform media company that serves a young, diverse and inclusive millennial generation across its television and digital platforms (Fusion.net). Fusion is an ABC-Univision joint venture.
Prior to this appointment, Summa was vice president of News Partnerships for Univision News, in charge of developing journalistic alliances for UCI's news division as well as supporting and expanding the culture of investigative and enterprise reporting in both Univision and Fusion.
Before joining Univision in 2012, Summa was head of the CBS News Investigative Unit, where under his leadership, his team of investigative reporters and producers received the Emmy® Award for Outstanding Investigative Journalism for three consecutive years. Previously, Summa spent 15 years as a producer for ABC News and Peter Jennings Productions. He has won numerous journalism awards including six Emmys, two Peabody Awards, an Alfred I. duPont-Columbia University Award, a George Polk Award and an Edward R. Murrow Award.
"Keith has been a valuable asset to Univision News and Fusion for the past three years and we are excited to give him new responsibilities in an area with limitless potential: the search for creative, cutting-edge ways to present news stories to our audiences," said Isaac Lee. "With his impressive background, leadership skills and forward thinking, he will be instrumental in helping us ensure that Univision News stays at the forefront of journalistic innovation and excellence in every format and platform."
Summa holds a Bachelor of Fine Arts from New York University's Tisch School of the Arts.
CONTACT: Jose Zamora, 305.925.8835, josezamora@univision.net
---
NOTICIAS UNIVISION NOMBRA A KEITH SUMMA VICEPRESIDENTE PRINCIPAL, INNOVACIÓN EN CONTENIDO
---
MIAMI – 6 DE JULIO DE 2015 – Noticias Univision, la galardonada división de noticias de Univision Communications, Inc. (UCI), la principal empresa de medios de comunicación al servicio de la comunidad hispana en los Estados Unidos, ha designado a Keith Summa para el cargo de vicepresidente principal, Innovación en Contenido. Summa le reportará directamente a Isaac Lee, presidente de Noticias y Digital para UCI y director ejecutivo de Fusion.
Desde este nuevo puesto, Summa liderará la exploración y el desarrollo de innovadoras herramientas, narrativas y modelos periodísticos, experimentando con nuevas plataformas y formatos para hacer periodismo de alto impacto y calidad con el fin de aumentar el nivel de interés de la audiencia existente de Noticias Univision y ampliar el alcance de la división entre los consumidores de noticias que dominan las tecnologías actuales. Con ese objetivo también trabajará cercanamente con Fusion, la empresa de medios multiplataforma que sirve a una generación de jóvenes "millennials" diversos e inclusivos a través de sus plataformas de televisión y digital (Fusion.net). Fusion es una empresa conjunta de ABC y Univision.
Previo a este nuevo nombramiento, Summa desempeñaba el cargo de vicepresidente de Asociaciones de Noticias para Noticias Univision, cuyas responsabilidades incluían la creación de alianzas periodísticas para la división de noticias de UCI, además de apoyar y expandir la cultura del periodismo independiente y de investigación tanto en Univision como en Fusion.
Antes de incorporarse a Univision en 2012, Summa fue jefe de la Unidad Investigativa de CBS News, donde, bajo su liderazgo, su equipo de reporteros y productores investigativos recibió el premio Emmy® en la categoría de Periodismo Investigativo Excepcional por tres años consecutivos. Previamente, Summa fue productor para ABC News y Peter Jennings Productions durante 15 años. Su trabajo ha sido reconocido con numerosos galardones periodísticos, entre ellos seis premios Emmy, dos premios Peabody, un Alfred I. duPont-Columbia University Award, un George Polk Award y un Edward R. Murrow Award.
"Keith ha sido una figura muy valiosa en Univision y Fusion durante los últimos 3 años y ahora nos complace enormemente darle nuevas responsabilidades en un ámbito con potencial ilimitado: la búsqueda de formas novedosas y creativas de presentar reportajes noticiosos a nuestra audiencia", dijo Isaac Lee. "Con su impresionante historial, sus habilidades de líder y su visión de futuro, Keith jugará un papel clave al ayudarnos a garantizar que Univision se mantenga al avance de la innovación y la excelencia periodística en todos los formatos y plataformas".
Summa es egresado de la facultad Tisch School of the Arts de la Universidad de Nueva York (NYU), donde recibió su licenciatura en Bellas Artes (Bachelor of Fine Arts).
CONTACTO: Jose Zamora, 305.925.8835, josezamora@univision.net
###