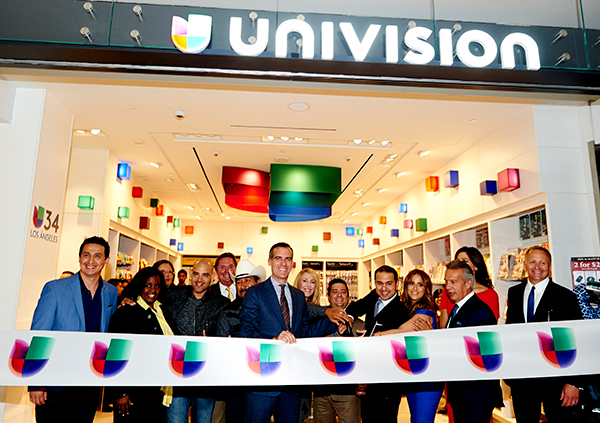 Los Angeles Mayor Eric Garcetti joins Univision and guests for ribbon cutting ceremony for the opening of two Univision-branded stores at the Los Angeles International Airport (LAX) on Thursday, June 4, 2015. Photo Source: Phillip Angert – Univision***
---
NEW YORK – JUNE 04, 2015 – On Thursday, June 4, 2015, Univision Communications Inc. (UCI), the leading media company serving Hispanic America; Paradies, the leader in airport retail; and Westfield as terminal developer, hosted a ribbon cutting ceremony for the opening of two Univision-branded stores at the Los Angeles International Airport (LAX).
Please visit the complete photo gallery here.
ADDITIONAL INFORMATION:
The two first-ever, nation-wide Univision-branded stores feature an array of products that include snacks and beverages that represent Latin America, as well as all the basic travel essentials. The two spaces are located in Terminal 2 on the Departures Level (post-security) and on the Arrivals Level (pre-security). Each location also features Spanish-language Univision programming throughout the day on large media screens, including UCI's most trusted newscast, Noticiero Univision.
CONTACT: Paola Hernandez 646.560.4979 pahernandez@univision.net @UCIPRTeam
###
---
UNIVISION CELEBRA LA APERTURA DE TIENDAS ESPECIALIZADAS CON LA MARCA DE UNIVISION EN LAX
---
NUEVA YORK – 4 DE JUNIO DE 2015 – El Jueves, 4 de junio de 2015, Univision Communications Inc. (UCI), la principal empresa de medios de comunicación al servicio de los hispanos en los Estados Unidos; Paradies, líder en tiendas al menor en aeropuertos; y Westfield como constructor del terminal, tuvieron una ceremonia de inauguración de dos tiendas con la marca Univision en el Aeropuerto Internacional de Los Ángeles (LAX).
Por favor, visite la galería de fotos completa aquí.
INFORMACIÓN ADICIONAL:
Las primeras tiendas con la marca Univision en el país tendrán una variedad de productos, incluyendo bocadillos y bebidas representativos de Latinoamérica, como también productos esenciales de viaje. Las dos tiendas están ubicadas en el Terminal 2 en el nivel de Salidas (después de pasar seguridad) y en el nivel de las Llegadas (antes de pasar seguridad). Durante todo el día, cada tienda también pasará en pantallas gigantes programas en español, incluyendo el Noticiero Univision, el más fidedigno de la televisión en español en los Estados Unidos.
CONTACTO:  Paola Hernández 646.560.4979 pahernandez@univision.net @UCIPRTeam
###