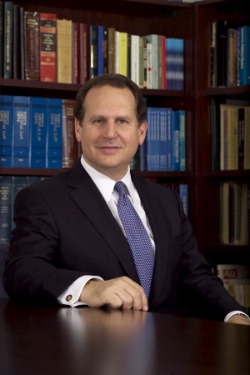 ---
MIAMI – APRIL 28, 2015 – Univision News, the award-winning news division of Univision Communications, Inc. (UCI), the leading media company serving Hispanic America, today announced that former U.S. Representative Lincoln Díaz-Balart has joined the Company as a political analyst, a role that will extend across all of UCI's television, radio and digital platforms.
Díaz-Balart, a Republican, represented South Florida in the U.S. House of Representatives from 1993 to 2011. He had previously served in the Florida House of Representatives (1986-1989) and the Florida Senate (1989-1992).
During his tenure at the U.S. House of Representatives, Díaz-Balart was a member of the House Foreign Affairs Committee and was the first Hispanic in history to be appointed to the House Rules Committee, taking several historic pieces of legislation to the House Floor for passage. Among his accomplishments in Congress, Lincoln Diaz-Balart was the author of the Nicaraguan Adjustment and Central American Relief Act of 1997 (NACARA), which granted legal residency to hundreds of thousands of immigrants in the United States. Upon his retirement from Congress in 2011, he returned to Miami to head his own law firm. Lincoln Diaz-Balart is currently the Chairman of the Congressional Hispanic Leadership Institute and is active in El Instituto La Rosa Blanca (The White Rose Institute). A graduate of New College of Florida in Sarasota, he received his law degree from Case Western Reserve University.
"Lincoln's extensive experience as a legislator and his profound knowledge of the issues and challenges facing our country make him an asset to Univision News," said Daniel Coronell, executive vice president and executive director, Univision News. "His valuable contributions to the political discussion will strengthen our news and electoral coverage throughout the 2016 election cycle, bringing our audience expert commentary and analysis from the Republican perspective. We are delighted to welcome him to our world-class news team."
CONTACT: Jose Zamora – 305.925.8835 – josezamora@univision.net
---
EL EX-CONGRESISTA LINCOLN DÍAZ-BALART SE UNE A NOTICIAS UNIVISION COMO ANALISTA POLÍTICO REPUBLICANO
---
MIAMI – 28 DE ABRIL DE 2015 – Noticias Univision, la galardonada división de noticias de Univision Communications, Inc. (UCI), la principal empresa de medios de comunicación al servicio de los hispanos en Estados Unidos, anunció hoy que el ex-Congresista de Estados Unidos Lincoln Díaz-Balart se ha unido a la empresa como analista político, un cargo que desempeñará en todas las plataformas de radio, televisión y digitales de UCI.
Díaz-Balart fue Congresista por el partido Republicano en la Cámara de Representantes de Estados Unidos desde 1993 a 2011. Anteriormente, fue Miembro de la Cámara de Representantes de Florida (1986-1989) y el Senado de Florida (1989-1992).
Durante su permanencia en la Cámara de Representantes de Estados Unidos, Díaz-Balart fue miembro de la Comisión de Relaciones Exteriores y fue el primer latino en la historia nombrado a la Comisión de Reglamento, y llevó al Pleno para su aprobación varias leyes históricas. Entre sus logros en el Congreso, Lincoln Diaz-Balart fue el autor de la Ley de Ajuste Nicaragüense y Alivio Centro Americano de 1997 (NACARA), que le concedió la residencia legal a cientos de miles de inmigrantes en Estados Unidos. Tras su retiro del Congreso en 2011, regresó a Miami para encabezar su propia firma de abogados. Actualmente Lincoln Diaz-Balart es el Presidente del Congressional Hispanic Leadership Institute y miembro activo de  El Instituto La Rosa Blanca. Se graduó del New College de Florida en Sarasota, y se graduó de abogado de la Case Western Reserve University.
"La extensa experiencia de Lincoln como legislador y su profundo conocimiento de los asuntos y desafíos que enfrenta el país lo hacen muy valioso para Noticias Univision", dijo Daniel Coronell, vicepresidente ejecutivo y director ejecutivo de Univision Noticias. "Sus valiosos aportes al debate político fortalecerán nuestra cobertura electoral y noticiosa durante el ciclo electoral de 2016, y le brindará a nuestra audiencia sus expertos comentarios y análisis sobre temas políticos desde el punto de vista republicano. Nos complace darle la bienvenida a nuestro equipo de noticias de nivel mundial".
CONTACTO: Jose Zamora – 305.925.8835 – josezamora@univision.net
###