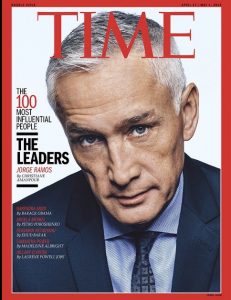 ---
MIAMI – APRIL 16, 2015 – Univision News, the prizewinning news division of Univision Communications, Inc. (UCI), today announced that TIME Magazine has named Univision News and Fusion "Star newscaster of Hispanic TV" Jorge Ramos to the 2015 TIME 100, the magazine's annual list of the 100 most influential people in the world. The full list and related tributes will appear in the April 27 issue of TIME; will be available on newsstands and tablets on Friday, April 17; and are available now at Time.com/Time100.
Called "one of the most aggressive and influential newsmen in America" by Michael Scherer in his profile of Ramos published November 20, 2014, Jorge Ramos, is the host to Noticiero Univision, a nightly Spanish-language newscast; Al Punto, Univision's public affairs show and America with Jorge Ramos, an English-language news magazine on Fusion. Ramos writes a bilingual newspaper column that is published internationally; he also appears regularly on English-language networks, like CNN, MSNBC and FOX News. Ramos has also appeared on PBS' "Charlie Rose" as well as on HBO's "Real Time with Bill Maher."
Ramos is the second-most recognized Latino personality in the United States, after Supreme Justice Sonia Sotomayor. Polls among the U.S. Latino community rank him as the most trusted and influential Hispanic in America, beating all other political leaders, and his Q-score among Latino audiences places him between soccer magus Lionel Messi and the pop starlet Shakira. In fact, at age 28, Ramos had become one of the youngest national news anchors in the history of American television. Since then, he has been called "the voice of the voiceless" for other immigrants like him.
The list, in its 12th year of publication, recognizes the activism, innovation and achievement of the world's most influential individuals. As TIME editor Nancy Gibbs has said of the list in the past, "The TIME 100 is a list of the world's most influential men and women, not its most powerful, though those are not mutually exclusive terms. While power is certain, influence is subtle. As much as this exercise chronicles the achievements of the past year, we also focus on figures whose influence is likely to grow, so we can look around the corner to see what is coming."
Follow Jorge Ramos on Twitter via @jorgeramosnews; on Facebook.com/JorgeRamosNews; on Instagram.com/JorgeRamosNews; online at Fusion: America with Jorge Ramos.
Follow @TIME for updates about the list on Twitter and at Facebook.com/TIME and #TIME100.
CONTACT: Jose Zamora, 305.925.8835, josezamora@univision.net
###
---
JORGE RAMOS, PRESENTADOR DE NOTICIERO UNIVISION Y FUSION, ES SELECCIONADO PARA LA LISTA ANUAL DE LA REVISTA TIME DE LAS 100 PERSONAS DE MAYOR INFLUENCIA EN EL MUNDO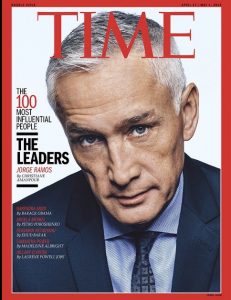 ---
MIAMI – 16 DE ABRIL DE 2015 – Noticias Univision, la galardonada división de noticias de Univision Communications, Inc. (UCI), anunció hoy que la revista TIME ha seleccionado a Jorge Ramos de Noticiero Univision y Fusion, el "presentador estrella de noticias de la televisión hispana", para TIME 100 de 2015, la lista anual de la revista de las 100 personas de mayor influencia en el mundo. La lista completa y homenajes relacionados saldrán en la edición de TIME del 27 de abril; estarán disponibles en puestos de revistas y tabletas el viernes, 17 de abril, y están disponibles actualmente en Time.com/Time100.
Jorge Ramos, descrito como "uno de los periodistas más audaces y de mayor influencia de los Estados Unidos" por Michael Scherer en su reseña de Ramos, publicada el 20 de noviembre de 2014, es presentador del Noticiero Univision, que se trasmite todas las noches en español; Al Punto, el programa de políticas públicas de Univision, y America with Jorge Ramos, un magacín de noticias en inglés en Fusion. Ramos escribe una columna bilingüe que se publica en periódicos por todo el mundo; además de presentarse con frecuencia en cadenas en inglés como CNN, MSNBC y FOX News. Ramos también ha salido en "Charlie Rose" de PBS y en "Real Time with Bill Maher" de HBO.
Ramos ocupa el segundo lugar entre los latinos más reconocidos en los Estados Unidos, tras la jueza de la Corte Suprema Sonia Sotomayor. En encuestas de la comunidad latina en los Estados Unidos figura como uno de los hispanos más fidedignos e influyentes en los Estados Unidos, superando a todos los líderes políticos, y en términos de nivel de familiaridad de las audiencias latinas con él, se encuentra entre el mago del fútbol Lionel Messi y la estrella pop Shakira. De hecho, a los 28 años, Ramos era uno de los presentadores de noticias más jóvenes en la historia de la televisión estadounidense. Desde entonces, ha sido llamado "la voz de quienes no tienen voz" para otros inmigrantes como él.
La lista, publicada por duodécima vez este año, reconoce el activismo, la innovación y los logros de las personas de mayor influencia en el mundo. Como directora de la revista TIME, Nancy Gibbs ha dicho de la lista en el pasado, "TIME 100 es una lista de los hombres y mujeres de mayor influencia en el mundo, no los más poderosos, aunque estos términos no se excluyen entre sí. Mientras que el poder es cierto, la influencia es sutil. Si bien este ejercicio describe los logros del último año, también destacamos a figuras cuya influencia probablemente aumente, para poder mirar a la vuelta de la esquina, para ver lo que se avecina".
Sigan a Jorge Ramos en Twitter vía @jorgeramosnews; en Facebook.com/JorgeRamosNews; en Instagram.com/JorgeRamosNews; en Internet en Fusion: America with Jorge Ramos.
Siga @TIME para novedades sobre la lista en Twitter y en Facebook.com/TIME y #TIME100.
CONTACTO: José Zamora, 305.925.8835, josezamora@univision.net
###