"Fugitivos" (Fugitives), which will air at 9 p.m. ET/PT (8 p.m. CT) on UniMás, features Emmanuel Esparza, Taliana Vargas, Laura Osma, Christian Tappan and José Narváez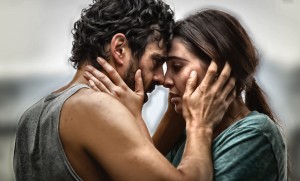 Emmanuel Esparza as Julián & Taliana Vargas as Esperanza in UniMás Network's latest series, "Fugitivos"
---
WHAT: The quest for freedom, vindication and love by a wrongfully convicted man and woman who fall for each other in a co-ed prison will keep viewers riveted during UniMás Network's latest series, "Fugitivos" (Fugitives). It all starts on April 6 at 9 p.m. ET/PT (8 p.m. CT) on UniMás.
The drama begins with Julián (Emmanuel Esparza), under arrest for the murder of his best friend's wife. Found at the scene of the crime, Julián is convicted and sentenced to 26 years in prison. Abandoned by his own wife, who doubts his innocence and keeps their young son from him, Julián finds love with fellow prisoner Esperanza (Taliana Vargas). They eventually attempt an escape, but Esperanza is recaptured while Julián succeeds.
Once a fugitive, Julián's first order of business is to make contact with Esperanza's daughter, Micaela (Laura Osma). This troubled young woman hates her mother for having killed her father. What she doesn't realize is that her father was a monster who abused his daughter from a very young age, and that Esperanza acted to protect her from him. Julián gives Micaela her mother's diary, in which she explains the truth. Since Micaela has legal troubles of her own involving the death of a DEA agent, she and Julián flee together, and she develops strong feelings for the older man.
While Esperanza languishes in prison, it's a race against time as Julián and Micaela set out to prove his innocence. With corrupt DEA agent Steve Houston (Christian Tappan) in hot pursuit, they face double-crossing friends and their hired thugs, and more than one person who tries to help them winds up murdered.
There's no escaping the intrigue, deceit, dark secrets from the past, and forbidden love in this emotional roller-coaster series that is sure to capture viewers from the very start.
WHEN:          Monday, April 6, 2015 at 9 p.m. ET/PT (8 p.m. Central)
WHERE:       UniMás
ADDITIONAL INFORMATION:
A production of Caracol Television premiering for the first time in the U.S. on UniMás, "Fugitivos" cast includes Emmanuel Esparza, Taliana Vargas, Laura Osma, Christian Tappan, María José Martínez, Laura Osma Marcela Agudelo, Alex Letón and Mario Jurado.
Exclusive Sneak peek available at UVideos.
Viewers can join the conversation regarding "Fugitivos" on Twitter via @UniMas and using the hashtag #FugitivosUniMas, as well as comment along with others onFacebook.com/UniMas.
CONTACT:  Candice Georgi 305-471-4057 cgeorgi@univision.net 
###
---
UN HOMBRE INOCENTE CONDENADO DE ASESINATO PASA A SER EL OBJETO DE UNA EXTENSA BÚSQUEDA EN "FUGITIVOS", LA MÁS RECIENTE SERIE DE ACCIÓN QUE SE ESTRENA EL 6  DE ABRIL EN UNIMÁS
 "Fugitivos" se trasmitirá a las 9 p.m. Este/Pacífico (8 p.m. Centro) en UniMás, con Emmanuel Esparza, Taliana Vargas, Laura Osma,Christian Tappan y José Narváez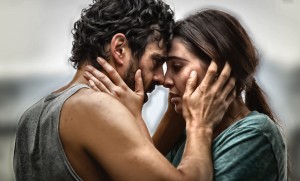 Emmanuel Esparza como Julián y Taliana Vargas como Esperanza en la nueva serie de UniMás, "Fugitivos"
---
QUÉ: La búsqueda de la libertad, la reivindicación, y el amor entre un hombre y una mujer condenados por crímenes que no cometieron y que se enamoran en una prisión mixta, mantendrá cautivados  a los televidentes durante la más reciente serie de la Cadena UniMás, "Fugitivos" que comienza el 6  de abril a las 9 p.m. Este/Pacífico (8 p.m. Centro).
El drama se inicia con Julián (Emmanuel Esparza), condenado por el asesinato de la esposa de su mejor amigo. Al encontrar a Julián en la escena del crimen, lo declaran culpable y sentencian a 26 años de prisión. Abandonado por su propia esposa, quien pone en duda su inocencia y lo separa de su hijo. Julián se enamora de otra presidiaria, Esperanza (Taliana Vargas). En un momento dado los dos tratan de escapar, y si bien las autoridades vuelven a capturar a Esperanza, Julián logra huir.
Al escapar de la carcel, la prioridad de Julián es ponerse en contacto con la hija de Esperanza, Micaela (Laura Osma). La problemática joven odia a su madre por haber asesinado a su padre. Lo que no sabe es que este era un monstruo quien abusó de su hija desde temprana edad y que Esperanza tomó medidas para protegerla de él. Julián le entrega a Micaela el diario de su madre, en el que explica la verdad. Ya que Micaela tiene sus propios problemas legales relacionados con la muerte de un agente de la DEA, huye con Julián y comienza a tener sentimientos intensos por él, quien es mucho mayor que ella. .
Mientras Esperanza languidece en prisión, Julián y Micaela luchan contra el tiempo para probar la inocencia de este. A la vez que Steve Houston (Christian Tappan), el corrupto agente de la DEA, les sigue la pista, se enfrentan a amigos que tratan de traicionarlos y matones a sueldo. Más de una de las personas que trata de ayudarlos termina asesinada.
No hay forma de evitar las intrigas, engaños, secretos tenebrosos del pasado y el amor prohibido en esta serie de emociones encontradas e intensas, que sin duda cautivará a los televidentes desde el principio.
CUÁNDO:    A partir del lunes, 6 de abril, 2015 a las 9 p.m. Este/Pacífico (8 p.m. Centro)
DÓNDE:       UniMás
INFORMACIÓN ADICIONAL:
El elenco de "Fugitivos", una producción de alta calidad de Caracol Televisión que se estrena por primera vez en los Estados Unidos en UniMás, incluye a Emmanuel Esparza, Taliana Vargas, Laura Osma, Christian Tappan, María José Martínez, Marcela Agudelo, Alex Letón y Mario Jurado.
Avance exclusivo estará disponible en UVideos.
Los televidentes pueden participar en la conversación sobre "Fugitivos" en Twitter vía @UniMasy usando el hashtag #FugitivosUniMas, además de comentar junto con otros en Facebook.com/UniMas.
CONTACTO: Candice Georgi305-471-4057cgeorgi@univision.net
###