"Los Reyes del Trueque," to air Wednesdays at 8 p.m. ET/PT (7 p.m. CT), will teach viewers how to get the things they want without spending a cent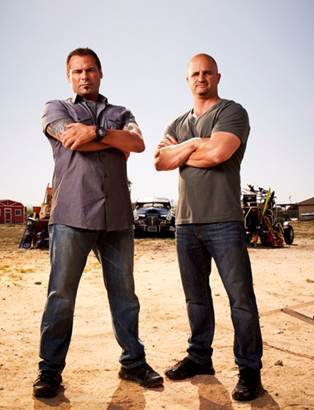 Experts Antonio Palazzola and Steve McHugh, teach the fine art of wheeling and dealing as "Barter Kings" makes its Spanish-language television debut on Galavisión, the #1 Spanish-language cable network
---
WHAT: Galavisión, the #1 Spanish-language cable network in the U.S. and part of Univision Networks, will premiere the Spanish-language "arti-factual" reality series "Los Reyes del Trueque" (Barter Kings), in which hosts Antonio Palazzola and Steve McHugh bartertheir way from, say, a baseball bat to a motorcycle or an engagement ring as they teach viewers the tricks of the trade and entertain them along the way. The weekly show produced by A&E, will be broadcast in Spanish on Wednesdays at 8 p.m. ET/PT (7 p.m. CT), starting March 18 on Galavisión.
During each show, the hosts share their tips and tricks in a friendly, entertaining and fun way, and invite viewers to apply them in order to get what they want without spending a dime.
Palazzola and McHugh are friends and business partners who found an old-fashioned way to earn a good living in modern times. Palazzola, the son of a junkyard owner, has been in the business since the 70s. McHugh fell into it after he unexpectedly lost his car sales job and needed a way to support his family.
The primetime series takes place at bartering shop McHugh opened a fewyears ago, where the two now earn a living acquiring objects and trading up. With their power of persuasion and clever banter, they showcase the art of deal making and offer a clever new solution to battling tough economic times.
WHEN: Wednesday, March 18, at 8 p.m. ET/PT (7p.m. CT)
WHERE: Galavisión Network
ADDITIONAL INFORMATION: "Barter Kings" is a reality television series produced by A&E in the U.S.  It features Antonio Palazzola and Steve McHugh as they trade items for better items without the exchange of currency. The seriesbrings a new TV genre to Galavisión and introduces new talent to Hispanic audiences.
Viewers can join the conversation about "Los Reyes del Trueque" on Twitter via @Galavision and using the hashtag #ReyesDelTrueque as well as comment along with others on Facebook.com/Galavision
Galavision.com will also feature exclusive content, photos and ongoing coverage as the drama unfolds.
CONTACT:  Candice Georgi, 305-471-4057, cgeorgi@univision.net
###