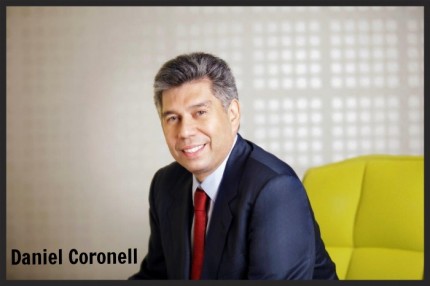 ---
MIAMI, FL. – FEBRUARY 12, 2015 – Univision News, the award-winning news division of Univision Communications, Inc. (UCI), the leading media company serving Hispanic America, has announced that Daniel Coronell has been promoted to Executive Vice President and Executive Director of News. He will continue reporting directly to Isaac Lee, President of News & Digital at UCI, and CEO of Fusion.
This is the second promotion for Coronell since he joined Univision News in early 2011 as Vice President and News Director; in 2012 he was named Senior Vice President and Executive News Director. During his tenure, Univision News has been recognized with important awards for excellence in journalism, including the duPont Award, the Peabody Award, the Walter Cronkite Award, the Gracie Award, the IRE Award and two King of Spain International Journalism Awards, among others.
A renowned investigative journalist with over 20 years of experience in broadcast and print media in his native Colombia, Coronell was formerly the director of "Noticias Uno," a national newscast airing on Colombia's Canal Uno television network, and also directed national newscasts for RCN TV. Additionally, he is a regular columnist for the Colombian news and current affairs magazine, Semana.
Throughout his career, Coronell has been honored with Colombia's prestigious Premio Nacional de Periodismo Simón Bolívar (Simón Bolívar National Journalism Award) on seven different occasions, the most recent of which was in 2013, when he won "Journalist of the Year." In addition to his distinguished work in investigative journalism, he was a professor at Universidad Javeriana and Universidad Externado in Bogota. Moreover, he has been a Senior Research Fellow at Stanford University and is a Senior Visiting Scholar at the University of California, Berkeley.
"We are thrilled to have a journalist of Daniel's stature and experience leading our newsroom and taking Univision News to new levels of excellence and innovation through the most reliable investigative reporting and an increasing focus on digital media," said Isaac Lee. "Daniel has played a key role in the growth and success of Univision News during the past four years, and we are confident that he will continue to make invaluable contributions to Univision going forward."
CONTACT: Jose Zamora, 305.925.8835, josezamora@univision.net
###
---
UNIVISION ASCIENDE A DANIEL CORONELL A VICEPRESIDENTE EJECUTIVO Y DIRECTOR EJECUTIVO DE NOTICIAS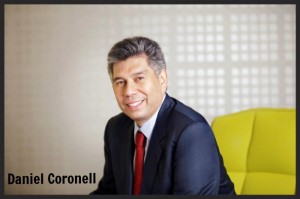 ---
MIAMI, FL. – 12 DE FEBRERO DE 2015 – Noticias Univision, la galardonada división de noticias de Univision Communications Inc. (UCI), la principal empresa de medios de comunicación al servicio de la comunidad hispana en los Estados Unidos, anunció que Daniel Coronell ha sido ascendido a Vicepresidente Ejecutivo y Director Ejecutivo de Noticias. Seguirá reportándose directamente a Isaac Lee, Presidente de Noticias y Digital para UCI, y Director Ejecutivo de Fusion.
Esta es la segunda promoción para Coronell desde que se incorporó a Noticias Univision a principios de 2011 como Vicepresidente y Director de Noticias; en 2012 fue nombrado Vicepresidente Senior y Director Ejecutivo de Noticias. Durante su gestión, Noticias Univision ha sido reconocida con importantes galardones por excelencia periodística, entre ellos los premios duPont, Peabody, Walter Cronkite, Gracie, IRE y dos Premios Internacionales de Periodismo Rey de España entre otros importantes galardones.
Coronell, un renombrado periodista investigativo con más de 20 años de experiencia en medios televisivos e impresos en su país natal, Colombia, fue director del noticiero nacional "Noticias Uno", transmitido por el Canal Uno de Colombia, y también dirigió noticieros nacionales para RCN TV. Además, escribe una columna para la revista de noticias y actualidad colombiana, Semana.
A lo largo de su carrera, Coronell ha sido honrado con el prestigioso Premio Nacional de Periodismo Simón Bolívar en siete ocasiones, la más reciente de las cuales fue en 2013, cuando ganó en la categoría de "Periodista del Año". Aparte de su distinguido trabajo en el periodismo de investigación, fue profesor de la Universidad Javeriana y la Universidad Externado en Bogotá. También recibió una importante beca de investigación en la Universidad de Stanford, donde se desempeñó como Senior Research Fellow, y es profesor visitante de la Universidad de California en Berkeley.
"Estamos encantados de tener a un periodista de la talla y experiencia de Daniel al frente de nuestra sala de noticias, llevando a Noticias Univision a nuevos niveles de excelencia e innovación a través del más confiable periodismo de investigación y un creciente enfoque en los medios digitales", expresó Isaac Lee. "Daniel ha desempeñado un papel clave en el crecimiento y éxito de Noticias Univision durante los últimos cuatro años, y estamos seguros de que sus contribuciones seguirán siendo muy valiosas en el futuro".
CONTACTO: Jose Zamora, 305.925.8835, josezamora@univision.net
###