"Los Héroes del Norte" Season 3 Debuts Tuesday, September 30, 2014 at 9 p.m. ET/PT (8 p.m. Central) on Galavisión, Bringing Fans a Third Round of Zany Adventures in Exotic Locations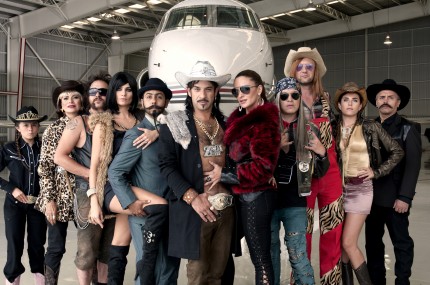 ---
WHAT: Hilarious, outrageous and utterly unique, "Los Héroes del Norte" (Heroes of the North) captivated Hispanic America during its first two seasons. Now, the band of talented misfits returns for a third round of madcap escapades, in totally unexpected places beyond their home turf, Mexico. From Cuba to the high seas to a desert island, the Héroes can't seem to stay out of trouble while trying to recapture their fleeting stardom in the competitive world of Regional Mexican music.
Featuring new songs, new characters, new adventures, and an unanticipated love story, Season 3 of Galavisión's enormously popular comedy will keep viewers rooting for their five favorite characters –"Zacarías" (Miguel Rodarte), "Don Apolinar" (Humberto Busto), "Faquir" (Armando Hernández), "Botarga" (Andrés Almeida), and "Menonita" (Marius Biegai) – from episode 1 until the inevitable cliffhanger.
WHEN: "Los Héroes del Norte"- Season 3
Premieres Tuesday, September 30, 2014 at 9 p.m. ET/PT (8 p.m. Central)
WHERE: Galavisión Cable Network
ADDITIONAL INFORMATION:
"Los Héroes del Norte" (The Heroes of the North) centers around five wacky guys who meet by chance in the worst possible circumstances and decide to form a Regional Mexican music band as a means to escape their personal problems. From that moment on, their pursuit of fame takes them on an endless adventure with many triumphs and even more mishaps—making for nonstop fun and laughs. After two highly successful seasons, the show returns this Fall for a third run filled with surprising plot twists and new music.
Viewers can join the conversation regarding "Héroes del Norte" on Twitter via @galavision as well as comment along with others on Facebook.com/Galavision and using the hashtag #HeroesDelNorte? across social media platforms.
UVideos and Galavision.com will also feature sneak peek, exclusive content, cast interviews, photos and ongoing coverage as the drama unfolds.
CONTACT: Candice Georgi (305) 471-4057 georgi@univision.net
###
---
LOS HÉROES MUSICALES MÁS ALOCADOS DE LA TELEVISIÓN REGRESAN A GALAVISIÓN EL 30 DE SEPTIEMBRE EN LA TERCERA TEMPORADA DE "LOS HÉROES DEL NORTE"
 La tercera temporada de "Los Héroes del Norte" debuta el martes 30 de septiembre de 2014 a las 9 p.m. Este/Pacífico (8 p.m. Centro) por Galavisión, trayéndoles a sus fans una tercera vuelta de insólitas aventuras en lugares exóticos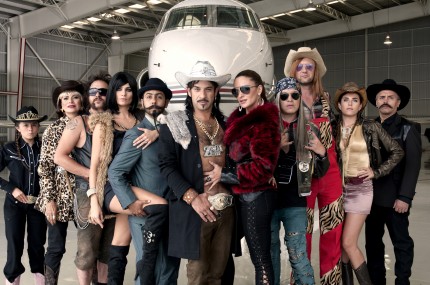 ---
WHAT: Divertidísimos, estrafalarios y absolutamente únicos, "Los Héroes del Norte" cautivaron a la audiencia hispana de EE.UU. durante sus dos primeras temporadas. Ahora, los talentosos amigos regresan para una tercera vuelta llena de peripecias increíbles en lugares inesperados, más allá de su terreno habitual, México. De Cuba a alta mar a una isla desierta, los Héroes no logran evitar los problemas mientras tratan de recobrar su fugaz estrellato en el competitivo mundo de la música regional mexicana.
Con nuevas canciones, nuevos personajes, nuevas aventuras y una historia de amor imprevista, la tercera temporada de la enormemente popular comedia de Galavisión  tendrá al público apoyando entusiastamente a sus cinco personajes favoritos –"Zacarías" (Miguel Rodarte), "Don Apolinar" (Humberto Busto), "Faquir" (Armando Hernández), "Botarga" (Andrés Almeida) y "Menonita" (Marius Biegai) – desde el primer episodio hasta el emocionante final de la temporada.
CUÁNDO: "Los Héroes del Norte"- Tercera Temporada
Gran estreno – martes 30 de septiembre de 2014 a las 9 p.m. Este/Pacífico (8 p.m. Centro)
DÓNDE: Cadena de Cable Galavisión
INFORMACIÓN ADICIONAL:
"Los Héroes del Norte" gira alrededor de cinco alocados personajes que se conocen por azar en las peores circunstancias posibles y deciden formar una banda de música regional mexicana para escapar de sus problemas personales. A partir de ese momento, su búsqueda de la fama los lleva a vivir una interminable aventura en la que experimentan numerosos triunfos y aún más contratiempos… lo cual garantiza diversión y risas constantes para la audiencia. Luego de dos temporadas de gran éxito, la serie regresa este Otoño para una tercera, repleta de giros sorprendentes y música nueva.
Los televidentes pueden unirse a la conversación en torno a  "Los Héroes del Norte" en Twitter vía @galavision y también comentar junto con otros en Facebook.com/Galavision y usando el  hashtag #HeroesDelNorte? en las redes sociales.
UVideos y Galavision.com también incluirán un avance de la serie, contenido exclusivo, entrevistas con el elenco, fotos y cobertura continua a medida que se desarrolla la trama.
CONTACTO: Candice Georgi (305) 471-4057 cgeorgi@univision.net
###