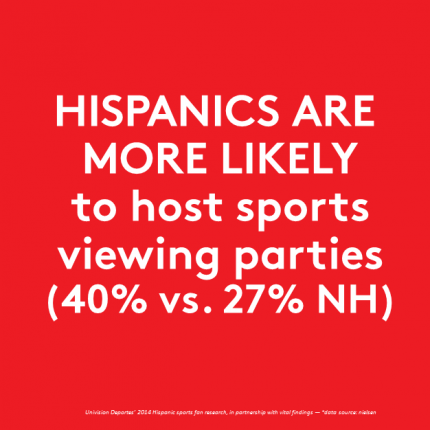 We can all agree that food is a big part of watching any sporting event – making it, ordering it, eating it. Here at Univision, we're preparing for the men's national soccer rivalry matchup between Mexico vs. USA in the Inaugural CONCACAF Cup. All signs point to a perfect opportunity for restaurant chains to drive sales with this consumer.
According to our latest casual dining study, Hispanics are more likely than non-Hispanics to eat off premise, either at home (43% vs. 38% NH) or someplace else (16% vs. 11% NH). Mintel data also shows that Hispanics with children are more likely than non-Hispanics to order takeout (91% vs. 88% NH). And when we look at Hispanic soccer viewers, more of them have children in their homes (53%) than non-Hispanics (33%). This can be lucrative market for restaurant chains as larger families result in larger orders.
In addition, our Fanatico research shows that Hispanics are more likely to host sports viewing parties than non-Hispanics (40% vs. 27% NH). Fanaticos are a lively bunch and their tendency to celebrate more means enjoying good food with lots of friends and family.
As the big game draws near, we can infer that Hispanics are likely to order food and make it a major part of game day. Are you taking note for your marketing plans? The last time these teams faced each other, the game delivered 2.3 million adults 18-49. That's a lot of hungry fans.
Source: Burke, Casual Dining Restaurants Landscape Research 2014. Mintel "Family Leisure Trends – January 2015." Base: internet users aged 18+ who are parents with children under the age of 18 living in the household. Simmons NCS/NHCS Base: A18+. Univision Deportes' 2014 Hispanic sports fan research, in partnership with vital findings — *data source: nielsen