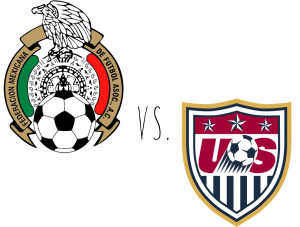 Forget about Red Sox vs. Yankees or Giants vs. Cowboys. The biggest sports rivalry in the hemisphere is not between two teams, but between two nations: Mexico and the United States.
On Saturday, October 10, live from the Rose Bowl in Pasadena, California, Univision Deportes will air one of the biggest Mexico vs. USA men's national soccer team matches in years – the inaugural CONCACAF Cup.
Why is it important?
It's a match between the previous two Gold Cup winners. The U.S. beat Panama in the 2013 Gold Cup final, but couldn't defend this summer. Instead, Mexico squeaked through to the final by beating Costa Rica and dispatched Jamaica in the championship. This playoff between the 2013 and 2015 winners will determine the true champion of North America, Central America and the Caribbean.
There's drama surrounding the fate of "El Tri." The events that led to the dismissal of Mexico's head coach Miguel 'El Piojo' Herrera belongs in the storyline of a telenovela. His stint ended the day after his controversial 2015 Gold Cup win for allegedly punching a Mexican journalist at the Philadelphia International Airport. Although Tigres coach Ricardo 'Tuca' Ferretti is the new interim manager, the team's fate is still up in the air.
What's next for the Stars and Stripes? The U.S. Men's National Team, unlike its women's counterpart, is struggling. The future of head coach, Jürgen Klinsmann, will be determined over the course of the team's next few matches. After the CONCACAF Cup, a new cycle of World Cup qualifying starts in early November.
The stage is set and the biggest soccer match of the year will air live on Univision and UDN (9:30pm ET kickoff). Match coverage on Univision Deportes studio shows will begin well before Oct. 10, followed by game-day coverage on Futbol Central. This one will be an epic match for the ages that will keep the continent talking for years.